Last week was Learning Disability Week 2022. It is a time to raise awareness about learning disabilities in the UK. I caught up with Delmar, a student who studies BSc Learning Disabilities Nursing and Social Practice (Integrated Practice) to find out more about the course.
According to the NHS, a learning disability affects the way a person learns new things throughout their life. The University of Salford have Disability and Learner Support available to ensure all student have fair and equal access to education. If you're applying to university with us, tell us about your disability or learning difficulty via your UCAS form or at registration. If you're a current student, you can access support via the Student Hub. Find out more information here.
I caught up with Delmar, a first year student who studies BSc Learning Disabilities Nursing and Social Work (Integrated Practice) at the University of Salford.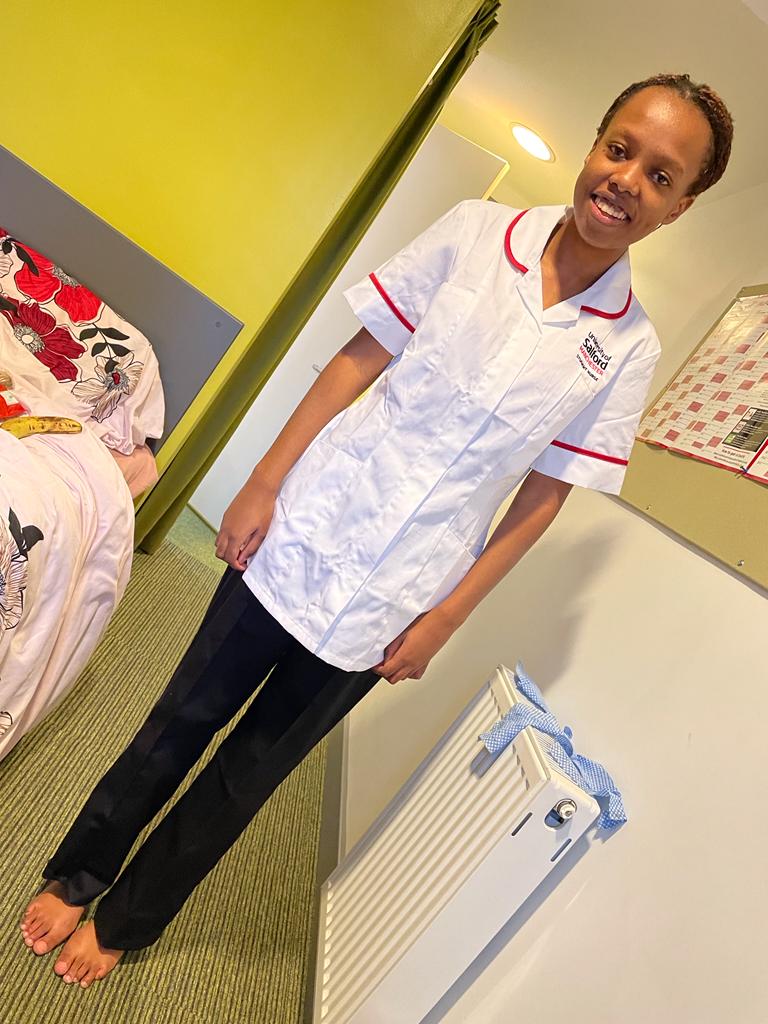 WHAT IS LEARNING DISABILITIES NURSING AND WHY DID YOU CHOOSE TO STUDY IT ?
It is a type of nursing that involves looking after people with learning disabilities by having high awareness of the relevant clinical skills that can help ensure that the needs of these people are met, to maintain their physical and mental health, supporting them with daily activities so that they live independent and healthier lives. I chose it because I believe there is a significant need to further understand both spectrums of dealing with individuals who present all sorts of disabilities. From volunteering at a nursing home, I gained valid experiences that helped me to indicate what sort of degree I wanted to purse which was learning disabilities nursing and social work. I realised that there was a need for more integrated services for individuals with learning disabilities, so they receive adequate care.
TELL ME ABOUT THE COURSE AT THE UNIVERSITY OF SALFORD
Lectures are taught by a range of highly accomplished and well experienced tutors which help students to understand different perspectives within the scope of the degree programme and outside of the degree programme.
The course is comprised of different types of assessments, and they can be in the form of group work, essays, placement, or stimulation practices.
In this course, assessment mostly comes from placement as you spend most of your academic time there. Placement can be very intensive depending on what type of setting you are working in. For example at A&E.
My coursemates are friendly and are a great source of help when it comes to ideas, opinions, and thoughts about a particular topic of discussion.
What do you do at work placement ?
At placement, you do supervised work where you are assessed on various aspects of work such practicing and doing client meetings, attending appointments, practicing clinical social work, marriage and family therapy, clinical work on a voluntary basis under direct supervision as well as liaising with other professionals in the same field.
I had work placement at a supported living for men with learning disabilities and the professionals who were there (LD nurses, support workers and key workers) allocated me the same tasks that they do on a daily basis as well as shadowing the service users there.
WHAT ADVICE WOULD YOU GIVE TO SOMEONE LOOKING TO STUDY LEARNING DISABILITY NURSING?
I would say be more confident in yourself, approachable and sociable so that you can deliver the best care to individuals who need it the most. Also, you need to be keen to accomplish complex tasks in timely manner and to be hardworking with resilience.