Happy Pride month ! This June we have been celebrating our LGBTQIA+ students. This week, we'll be chatting to members of the Students' Union LGBTQ+ Society. The society hosts drag nights, book clubs, film nights, cocktail nights and more. I caught up with members Ben, Aaron and Matty to find out more.
BEN
Before Ben came along, the LGBTQ+ Society had been run by a student who had since graduated. Societies are student-led. Find out how you can start a society here. I caught up with Ben, a Film Production student who restarted the LGBTQ+ Society in 2020 to find out more. He said: "At the start of the year [2020] I noticed that there wasn't a functioning LGBTQ+ society and there wasn't any sign-posting towards one". Recognising the need for safe spaces, Ben went on to say "I think a lot of people don't feel safe in wider spaces so it is very important to have a place that they know they are not going to be judged, discriminated against or marginalised and that's what we try to create with the society".
Ben said that managing the society can be stressful, but the community and experiences the LGBTQ+ Society has created is totally worth it. He said: "Pride is very important and I think with pride comes community because it's a celebration of love and acceptance. People make the community and people make pride".
AARON
Aaron is a TV and Radio student and a member of the LGBTQ+ society. He described the society as "a really big community on campus for members of the LGBTQ+ community. It's fun, it's inclusive, we get together every week and have a really good time and it's just a great way to feel included on campus".
Aaron is from Belfast, Northern Ireland and described the society as like a new home. He said he was worried about readjusting when moving to a different city, but he said Salford has been "really warm, really inviting, really welcoming" and the LGBTQ+ society had "enhanced my university experience and it's made it much more enjoyable".
"The LGBTQ+ Society at the University of Salford is so inclusive and it's so brilliant and the community for the University itself is incredibly welcoming, incredibly inviting – it's difficult not to feel comfortable here", said Aaron.
When asking Aaron what advice they would give to someone moving to study at the University of Salford, he said: "Don't panic, it'll all be fine and if it's not, just roll with it". And with his strong Irish accent he ended with "It'll be grand".
MATTY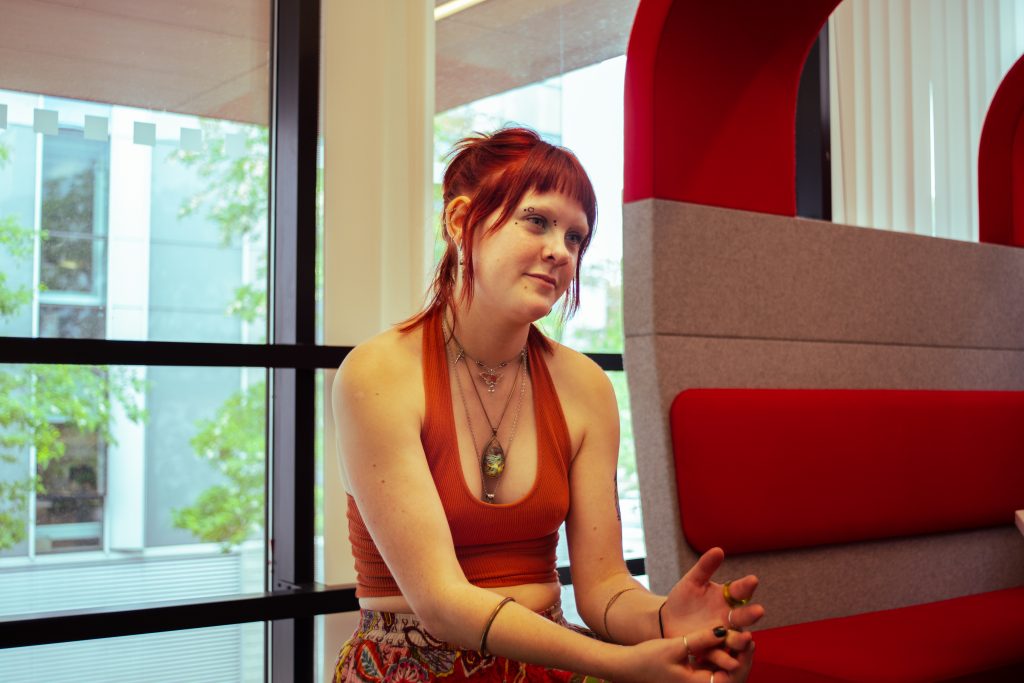 Matty is a TV and Radio student and social media manager for the LGBTQ+ Society. Since joining the society she said "it's been really good just having that space where you are surrounded by queer people – it is really comforting."
She said they meet up once a week and "just chat, just natter, and have a good time". Matty recommends everyone to join the society whether "you're discovering your sexuality or very comfortable with it. It's definitely worth coming along because it's really nice just knowing that there are queer people there and to be in a room with people where you can talk about those shared experiences is really valuable".
Matty joined the society in second year and "meeting loads of queer people was honestly so joyous and comforting and knowing that every week I could check in with those people and further those friendships and nurture those experiences".
Friendships, experience and comfort is something Ben, Aaron and Matty continuously mention about the LGBTQ+ Society. You can follow their social media here and find out more about the society here.