As an international student, when I was preparing to come to the UK, I was bubbling with expectations, but I also had some fears of the unknown as it was my first time abroad, away from family and friends. When choosing where to live, I settled for university accommodation (which is managed by specialist student accommodation provider Campus Living Villages) because the convenience and the requirements were favourable for me.
Read on to find out why I decided to live in Student accommodation and my tips to help you find somewhere suitable to stay during your time at Salford.
A convenient location
It was important to me to find somewhere to live close by to the university campus. Being new, the last thing I wanted was to get lost on my way to school by taking the wrong route (although I must admit I've had my fair share of going the wrong way to places despite using Google Maps while in the UK!).
I also wanted to be able to get to campus easily, so I would have no excuses for getting to my classes late!
I decided to stay at John Lester and Eddie Colman Courts, as this accommodation is only a 15-minute walk from Salford's main Peel Park campus. I should point out – that is a 15-minute walk at a snail's pace, but if you are a fast walker you can get there in 10 minutes!
John Lester and Eddie Colman Courts are also conveniently located near grocery shops like Aldi (a budget option) at the Salford Shopping centre, which is 5 minutes away. You can also get the bus from the shopping centre to the city centre and around Salford. The number 50 bus to the MediaCity Campus is free for students as long as you have your student identification card.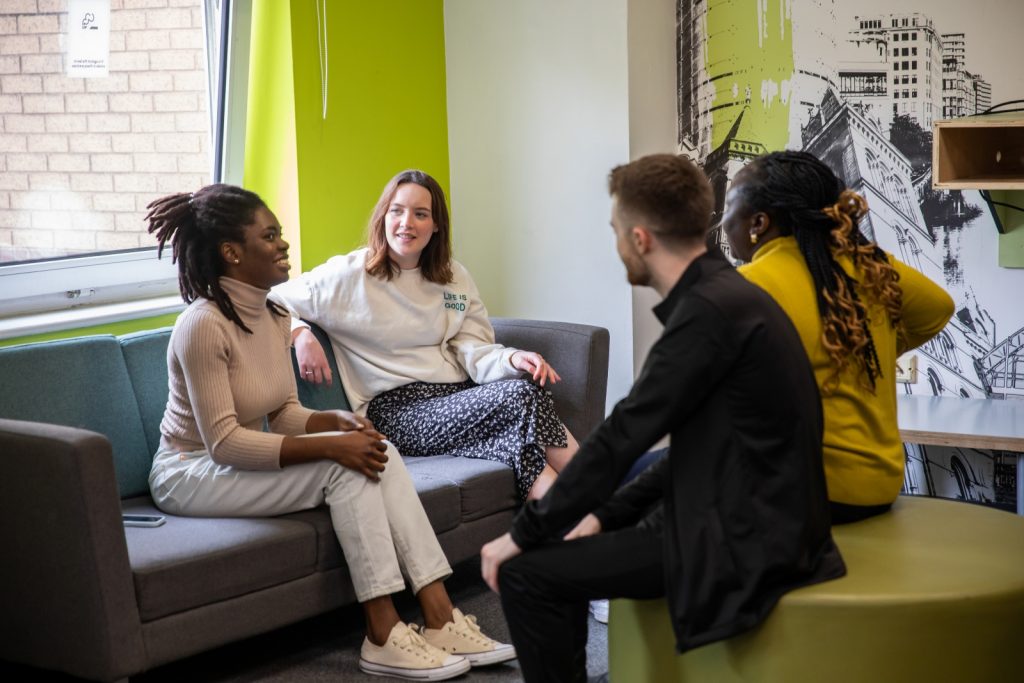 Excellent facilities and security
I also really liked John Lester and Eddie Colman Courts because the facilities and services are top-notch. There's always staff in the reception area who are friendly and ready to help students with any enquiries and concerns.
There's a common room where you can play pool or relax with your fellow flatmates. You can also find a study room, bike storage, a free gym exclusively for residents, laundry facilities, free on-site parking, and even a cinema room and a library!
There are a variety of rooms to suit different budgets, and all come fully furnished. For example, it was super handy to have a desk in my room where I could finish assignments and study conveniently. I also appreciated the well-equipped kitchen with an oven and fridge where I could cook and store my food.
The area was very safe and secure as there was 24-hour 7 days per week CCTV surveillance. It is also next to a police station, talk of maximum security! But don't worry, I never had a reason to visit the police station!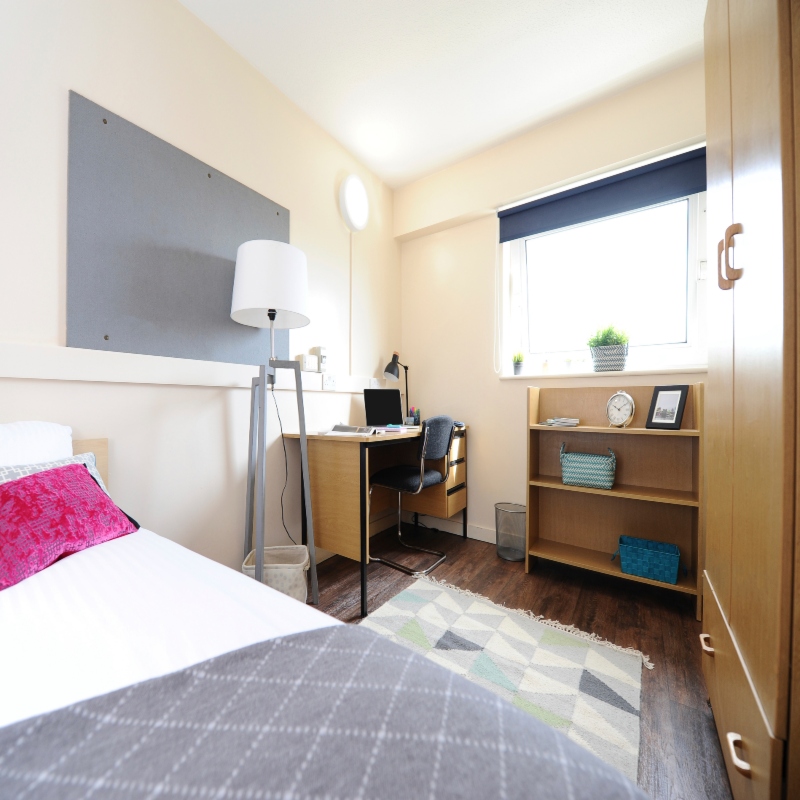 A friendly community
The management team also hosts regular events for students for them to interact and socialize. Through these events, I got to meet new friends and enjoy good company and food as the accommodation provided drinks and snacks too.
Some of the events I fondly remember include Pancake Day (Shrove Tuesday) where we got to taste delicious pancakes and hot chocolate. There was also 'Smoothie a Smoothie Wednesday' where residents got to enjoy a smoothie of their choice and interact with fellow residents.
Also, around university assessment periods, the accommodation staff ran mental health awareness days as these were stressful times for students as they had a lot to juggle. They also provided self-help envelopes for residents to help make students feel at ease during these periods. These nice touches made me feel really supported, and that isn't something you get with private accommodation!
There were also occasional game nights which were full of buzz and excitement. Movie-themed nights were a norm such as 'Pyjama night' where we would go to the cinema room in pyjamas and enjoy the popcorn and thrilling movies.
My friends and I used to love sitting in the beautiful garden outside with refreshments, enjoying each other's company. Come to think of it – there was never a dull moment at my university accommodation as there were always activities for everyone to join!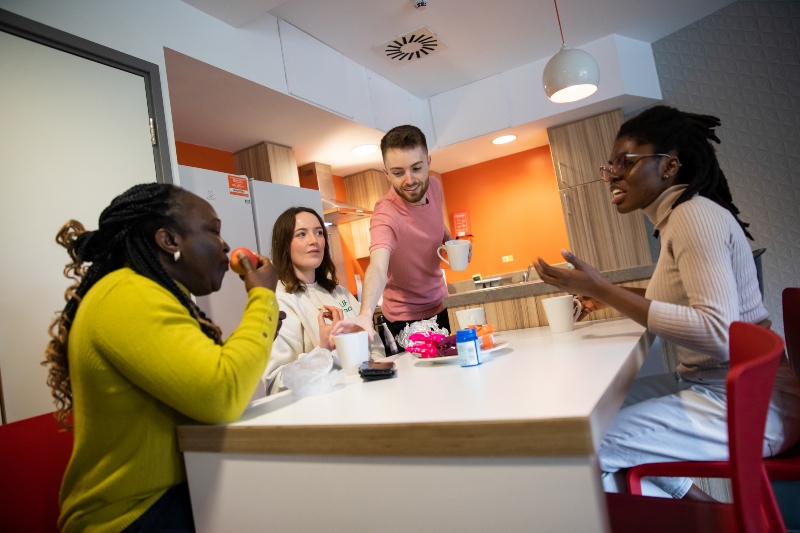 Affordable, all-inclusive costs
I found the student accommodation quite affordable as the costs included rent, energy costs, water, and wireless internet. It was handy to have the utility bills included in the rent, as I knew what I had to pay every month, and there were no hidden costs.
Currently, a room in John Lester and Eddie Colman Courts starts from £104.50 per week for the academic year. But for prices from September 2023, you should contact CLV directly at salford@clvuk.com or +44 7803 149 902.
It was also handy because the university accommodation did not require a UK guarantor which is often compulsory when renting privately and can incur a fee if you don't have one. I could use a guarantor (my parents) from my home country which made moving to the UK easier and hassle-free.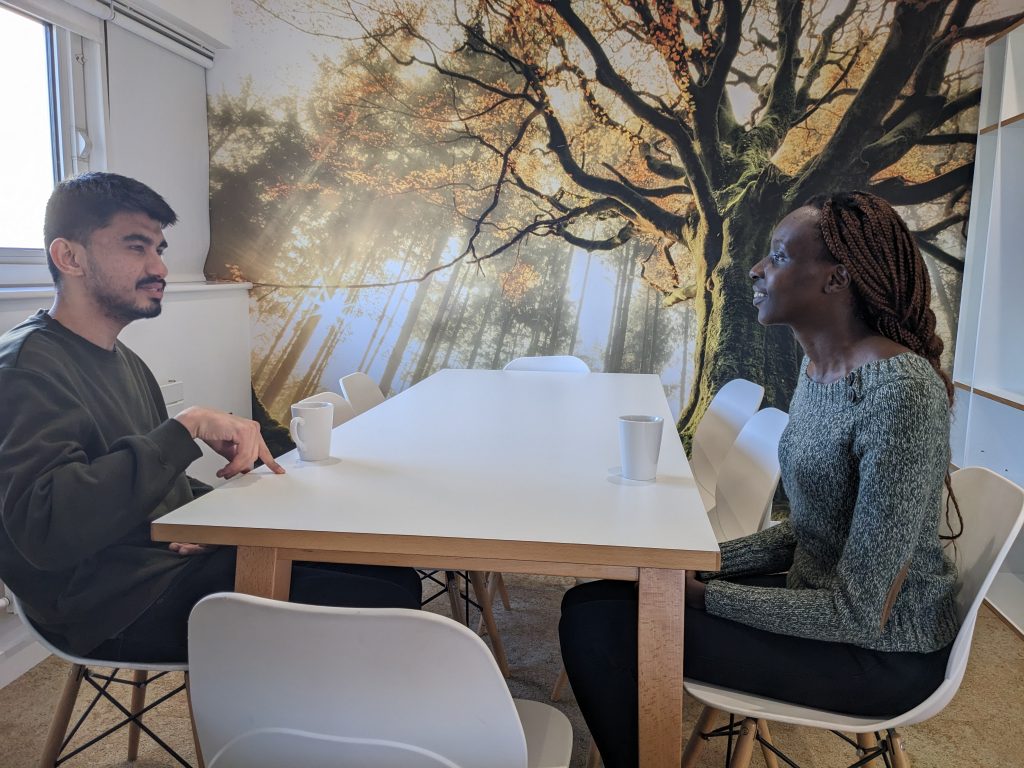 No charge if you don't get your visa
It was reassuring to me to know that in the unlikely event my Student Visa was rejected, I could have cancelled my room in student accommodation with Campus Living Villages and gotten a refund of the deposit (as long as I provided proof of the visa rejection within 7 days).
Also, first-year undergraduates can get a refund on their deposit if they don't get the grades they need to secure a place at Salford, provided they show proof within 7 days of their results being published.
This means students can book their place in student accommodation with Campus Living Villages early, to make sure they get a spot.
You can read the detailed terms and conditions on the CLV website.
Tips for finding suitable accommodation
Choose student accommodation if you can – such as Peel Park Quarter or John Lester and Eddie Colman Courts, as you will have fun and can make the most of the international student experience in the UK.
Follow the University of Salford's guidance for finding private rented accommodation if you choose this option, so that you find somewhere safe and of good quality. The requirements may be different, for example, you will most likely need a UK-based guarantor to secure a place, and bills may not be inclusive meaning electricity, water and other bills will be paid separately from the rent.
Research carefully – I would advise students to explore their options carefully and weigh up the pros and cons before making a decision. You should also contact askUS who can give you advice, and you should also use this free contract checking service from Manchester Student Homes.
Book very early! Once you have been accepted into a program and accepted your offer at Salford, you should start looking and arranging accommodation right away. Don't wait until you get your visa, as places fill up very quickly and demand often exceeds supply. The advantage of getting booked early is you have a variety of rooms and packages to pick from while if you wait until the last minute, you will have to choose what is left as the choices are very limited at this stage.
I wish you good luck with your search, and you can find more information about Student Accommodation here. If you have any questions for me, feel free to comment using the button below.