Dr Jackie Leigh, Reader Teaching and Learning at the University of Salford, moved into academia from being a Senior Nurse Manager in the NHS. After qualifying as a registered nurse Jackie has since gained a BSc (Hons) in Nursing, MSc in Health Professional Education and completed her PhD in 2012.  In February 2017 she became a Principal Fellow of the HEA, as well as recently being awarded a prestigious HEA National Teaching Fellowship (NTF) in September. The NTF award recognises, rewards and celebrates individuals who have made an outstanding impact on student learning and the teaching profession.
I became an HEA Fellow in 1999, then a Senior Fellow in 2015. I thought I'd been in education a long time and that I met the criteria for Principal Fellow so decided to apply. It was a good time to start the process as it's similar to the route of becoming a future professor in teaching and learning.
I'm the first Reader in Teaching and Learning, Nursing and Health Professional Education here at Salford and I'm a strong advocate for supporting healthcare workforce development through teaching and learning excellence. As a strategic champion here at the University and Non-Executive Director at Healthwatch Salford, I'm able to influence the healthcare services being developed to improve patient experience in Salford.
The process of applying for Principal Fellow was a very useful reflective practice for me, especially considering the impact of my teaching on the student experience and consequently on patients. Ultimately what we do at university level has to be about the needs of the patients.
The timing has been great due to the incredible synergy between becoming an NTF, Principal Fellow and receiving a University of Salford Vice-Chancellor's Distinguished Teaching Award. I feel I can now truly demonstrate the impact I've had at institutional and national level. It's a win, win on both a personal and institutional level. For anyone seeking a chair in teaching and learning, I'd say becoming a Principal Fellow is a must; it gives you the evidence you need and is a great way of demonstrating national presence.
Since becoming National Teaching Fellow I've been working with the quality and enhancement team on academic leadership across the university which has been fantastic.
Becoming recognised through the Principal Fellowship definitely helps to open up a whole range of new opportunities. It's really amazing what's happened so far, and my recent award of a National Teaching Fellowship has also been fantastic.
I applied for National Teaching Fellow recognition so that I could showcase my achievements in teaching and learning, as well as emphasising my ability to enhance the student experience. I was also keen to highlight the quality of teaching at Salford and instil pride in both the nursing profession and student learning.
In the future I will continue to work with others to help them face the challenges of an evolving higher education system and the changes which are taking place within the field of nursing and health professional education.
Leave a comment
---
HEIs are responding to the Nursing & Midwifery Council (NMC) Consultation on Standards of Proficiency for Registered nurses. Also required is for HEIs to tell the NMC their views on the Education Framework: Standards for Education and Training.
The NMC refer to their standards as being ambitious, setting out the enhanced knowledge and skills that people can expect from nurses in the future. It will be interesting to see if this view is reflected in the results of the consultation.
It is interesting to look at the two documents in terms of practice learning, particularly in relation to by whom and how nurses will be supervised and assessed in clinical practice and what should be the educational requirement.
A key message and what will not change from the current pre-registration standards is the fundamental requirement for partnerships between HEIs and healthcare organizations to provide the practice based learning for the student nurse.
What is new is the introduction of the Five Pillars for education and training:
Learning culture
Educational governance and quality
Student learning and empowerment
Educators and assessors
Curricula and assessment
What seems to be absent from this new consultation and draft document are the prescriptive elements for the education and on-going continuing professional development needs of educators and assessors of student nurse in practice. The current requirements for mentorship are set out in the 2008 NMC Standards to Support Learning and Assessment in Practice: Preparation for Mentors, Practice Teachers and Teachers, and have led to the proliferation of credit and non- credit bearing programmes that prepare the qualified nurse for the role of mentor. Prescriptive annual updates are also required in order to comply with maintaining 'live' mentorship recognition.
In the current NMC education framework consultation document, new roles are introduced such as practice supervisor (Pillar 3), educator and assessor (Pillar 4). When reading this document is it clear the difference in roles and preparation for the role?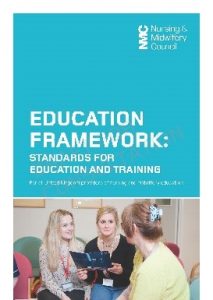 The NMC state:
"Our education framework and the new requirements for learning and assessment provide flexibility for approved education institutions, practice placement and work placed learning providers in developing innovative approaches to education for nurses and midwives while being accountable for the local delivery and management of NMC approved programmes in line with our standards" (NMC 2017:5).  Is this statement permission by the NMC for entrepreneurialism or are they being vague with no real ideas of their own?
Taking a position that the NMC are offering some flexibility regarding practice based learning, timely is the need for HEIs and healthcare organizations to work collaboratively and to set their benchmark for quality teaching and learning. Reconsidering models of student support is imperative. This includes the use of coaching as opposed to mentoring and to redefine the practice roles required. Be creative and entrepreneurial adopting service improvement and transformation tools and techniques.
Flexible should not mean reduced quality. Indeed, Health Education England whose wider remit for ensuring that there are high quality learning environments for all healthcare learners in England makes clear their expectations of what constitutes a quality clinical learning environment.
Within the Greater Manchester we are in a strong position, already adopting coaching approaches to supporting student clinical leadership development. The Greater Manchester Practice Education Group that is attended by all 4 HEIs and healthcare practice organisations provides the platform for leading innovations in healthcare delivery models. Clear is the need for academic leadership to deliver on any new models of education and to create the culture shift required.
What do you feel are the top 3 leadership behaviours required to affect change and to change cultures for practice learning?
Find out more:
Leave a comment
---
Alix Chadwell, a PhD student in the Rehabilitation Technologies and Biomedical Engineering research group (http://www.salford.ac.uk/research/health-sciences/research-groups/rehabilitation-technologies-and-biomedical-engineering) recently presented on her work at the Myoelectric Control Symposium (http://www.unb.ca/conferences/mec/), a prestigious conference held in Canada every 3 years. Alix's presentation on work she has carried out to characterise the real world use of prosthetic hands was awarded the prize for the best student presentation . Alix's work, carried out in collaboration with Malcolm Granat's group, was the first study to report on the long term patterns of use of upper limb prosthesis outside of the laboratory. The conference was attended by leading research groups from all over the world, including teams from Northwestern University, and Yale, making her achievement all the more impressive. Well done Alix!
Leave a comment
---
This year OPTIMAX, a 3 week residential summer school, was hosted by Oslo and Akershus University College of Applied Sciences, Norway, during July and August 2017. This was the 5th rendition of OPTIMAX and to date 189 students and 65 tutors from 12 countries have participated in it.
The purpose of OPTIMAX is to give radiography students a chance to participate in multinational team-based research. This is consistent with providing a near to real life experience, because quality research is often conducted in multinational teams. Each OPTIMAX team comprises students and tutors and they work together on an equal basis; tutor-student contact is extremely high and tutors spend around 40 hours per week working within their research team. This has significant benefit to the student learning experience as they receive constant feedback and support throughout the entire research process. OPTIMAX commences with the development of effective [research] teams; it then progresses rapidly to doing research about medical imaging. The latter includes formulating and testing methods, gathering and analysing data and finally producing outputs (draft journal paper, physical conference poster and also a PowerPoint presentation which is delivered on the final day in a formal conference). Beyond the conference a book is published in which the research articles become chapters; the abstracts are always submitted to the European Congress of Radiology (Vienna, Austria) and normally they are accepted for presentation. All student participants become authors, which is an important first step in establishing a professional CV. So far 3 books and 14 journal papers have been published and also 29 conference presentations have been delivered (see Appendix I). Another book and 4 conference presentations are planned to arise from this year's summer school.
Participant countries this year included Norway, Switzerland, Netherlands, Brazil, South Africa, Portugal, Ireland and the UK (University of Salford). As always students gained immense benefit from the experience, not simply in terms of the research skills and knowledge they acquired but also through learning about other cultures. There is always a high emphasis on learning about the host country and this is achieved through formal and informal activities. Examples of formal activities include cultural trips on Saturdays; informal activities include student-led social events organised in the evenings. Each research team is multicultural which can comprise 7 or 8 nationalities and we have found that simply working in such a team allows for the development of intercultural awareness and understanding.
OPTIMAX is an intense target-driven experience. Each week day runs from 9-5 and often the students and tutors need to do additional work in the evenings and at the weekends. Production of the 3 outputs is essential as failure to do so would result in a fail; all students are awarded European Credit Transfer Scheme credits and a certificate but these can only be achieved if the 3 outputs are completed and reach the pass standard. Not surprisingly OPTIMAX is a tiring experience, but the approach is fully consistent with how researchers work to achieve their goals within strict deadlines. Nevertheless it is a very rewarding experience.
The funding model was originally based on a successful Erasmus grant. This paid for travel, accommodation and subsistence for tutors and students for the first two years. From then on it became self-sustaining with no need for external grant funding because good value for money was sought in various ways. For instance, the host organisation does not charge for the use of its teaching / research facilities. Accommodation costs are driven down through the use of student accommodation which has self-catering facilities. Student and tutor participants give approximately £100 each to pay for lunch on all working days, a welcome and farewell party and the Saturday socio-cultural events, this approach allows for better buying power / value for money.
OPTIMAX 2018 will be held in University College Dublin and planning will commence in September 2017 with monthly Skype meetings by members of the multinational steering committee.
Leave a comment
---
On the anniversary of the death of Emily Wilding Davison, the suffragette who lost her life through injuries sustained falling under the King's horse on Derby Day in June 1913, it is important to reflect on her role in the women's campaign for the right to vote, and her daring approach in attempting to achieve this goal.
The anniversary of her death on 8 June 2017 has coincided with the general election and is a timely moment to reflect on Emily's determination to obtain the franchise fo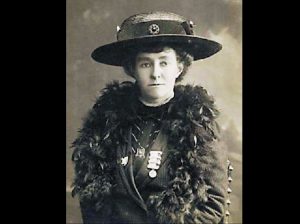 r women. 104 years later, two UK female Prime Ministers have attained the highest office in politics, yet it seems not so long ago that Emily and her other suffragette colleagues were fighting for something much simpler, merely for a democratic voice in a society which expected women to pay taxes but denied them even the most basic of political representation.
Emily, like other women of her time, faced discrimination from the outset where she attained a university education but was not allowed to formally graduate like her male counterparts. Emily joined the Women's Social and Political Union (WSPU) in 1906. She had worked as a teacher but gave this up in 1909 to become a full time and unpaid suffragette, never actually being remunerated for her efforts. Some have argued that this was because Emmeline and Christabel Pankhurst, the force behind the WSPU, held tight reigns on the strategy of the suffragette movement and Emily's physical tactics were not universally welcome within the organisation.
It did not take Emily long to engage in direct action for the suffragettes, such as breaking windows, setting fire to post boxes and causing public disturbances. In 1909 sh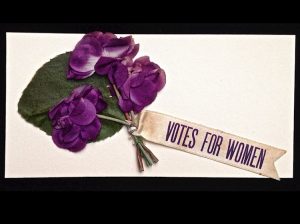 e faced one of her toughest stints in prison when she was incarcerated in Manchester's Strangeways prison and endured a month's hard labour for throwing rocks at the carriage of the then Chancellor of the Exchequer, David Lloyd George. Like other suffragettes who faced prison, she went on hunger strike and faced the horrors of force feeding. Emily's misdemeanors in the name of the suffrage campaign caused increasing friction between her and the Pankhursts, who saw her as a loose cannon in an otherwise tightly run campaign. In Parliament a plaque was placed by Tony Benn MP in 1991 acknowledging the role of Emily in the fight for the women's franchise, since on the evening of the 1911 census she hid in a broom cupboard so that she could record her address as the 'House of Commons' in a bid to symbolize the same political rights as men.
Despite tensions within the suffragette movement, Emily's death ensured that she was brought back into the fold and her funeral was filled with symbolism associated with the organisation. It has been debated ever since whether her actions on Derby Day were deliberate or an unfortunate miscalculation. She was prone to actions that endangered her safety, such as throwing herself over railings twice whilst in Holloway Prison. Whilst these acts were dangerous they created attention and public awareness in a society that was so dismissive of women's rights, and who regarded women as hysterical and irrational if they dared to challenge the status quo. In this respect she played into the hands of prejudice but also gained much needed attention for a cause that was so fundamental to the basis of a proper democracy. Emily has been described as 'mad', but by targeting the King's horse on Derby Day she aimed directly at the State and pricked the conscious of a society facing deep inequality.
Leave a comment
---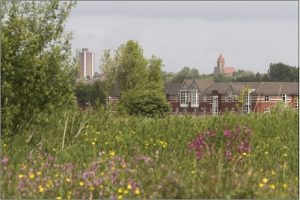 This project involves piloting innovative methods to understanding active travel inequalities. In collaboration with Colleen Donovan-Togo from St Clement's Community Centre, Ordsall, Nick Davies organised a workshop in April which involved input from community members and practitioners from numerous organisations involved in the low-carbon travel agenda in Greater Manchester, including TGFM, Sustrans, Living Streets and Salford City Council.   The workshop drew out community-specific issues for the Ordsall area which are now being taken forward in a series of focus groups, community engagement events and interviews.
The project will also result in a short film which will be used to highlight the issues, barriers and enablers for walking and cycling in the area. Discussing the progress of the project, Nick suggests that: 'So far the research has highlighted the role infrastructure plays. Construction, development and the roads in the area can be seen as sometimes discouraging active travel to, from and within the Ordsall area.  This can be remedied by a more joined up approach to highlighting safe routes, connectivity and intermodality; and in particular more attention to ensuring low-carbon options are more accessible in the whole of the area'.  It is intended that this will lead onto a longer-term project and research council bid.
Dr Nick Davies, Research Fellow, UPRISE
Leave a comment
---
Dr John Thompson and Sinead Donnelly won a certificate of merit at this year's British Nuclear Medicine Society's annual conference. Sinead is an MSc dissertation student on our MSc Nuclear Medicine (Radiography) at the University of Salford and John is her supervisor. The poster focused on a quantitative assessment of simulated respiratory motion using a lung phantom. A bespoke piece of equipment known as the 'skateboard', on loan from The Christie, was used to simulate the speed and amplitude of respiratory motion. The aim was to determine whether this simulation of breathing motion had an impact on lung cancer detection performance; a comparison was made between breathing and breath hold. Detection performance was found to be statistically worse when motion was simulated, suggesting an advantage of a breath-hold technique for nodule detection in low-resolution CT images.
This work continues a 7 year stream of work from the Diagnostic Imaging Research Programme where the value of the x-ray computed tomography [coincidental] image has been evaluated for diagnostic value from heart imaging using SPECT/CT. SPECT/CT is a common technique used for assessing heart muscle viability in cases of ischemia and infarct.
Leave a comment
---
The School of Arts and Media has played host over the last week and a half to Dr Wang Wei, Lecturer in International History, Faculty of History, Nankai University, Tianjin, PR China. Dr Wang delivered a paper at New Adelphi on Thursday afternoon, 4 May, on the subject of her current research: 'Arnold J. Toynbee and British Planning for the Post-war World Order during the Second World War'. She has also been undertaking research at the People's History Museum, as well as examining some of the collections held in the Working-Class Movement Library in Salford.
Alaric Searle, Professor of Modern European History, and Distinguished Visiting Professor at Nankai University, said: 'It has been a great pleasure to organise this visit to Salford by Dr Wang while she is spending time in the UK. This is not only because I am anxious to strengthen ties between Salford and Nankai, but also because her research interests fit very closely with those in Politics and Contemporary History, where we have considerable expertise in international history during the twentieth century. It has been very enjoyable for colleagues in Politics and Contemporary History to engage in a productive dialogue with Wei over the last week.'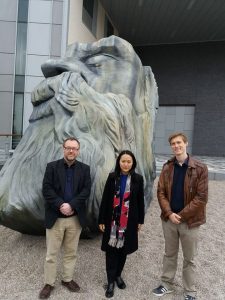 Prof Alaric Searle, Dr Wang Wei (Nankai University)
and Dr Moritz Pieper
Dr Wang commented: 'It is such a wonderful experience to visit Salford University. I immensely enjoyed meeting staff and students in Salford. In particular, I am very grateful to Professor Alaric Searle for inviting me, to Dr Moritz Pieper for chairing my lecture, and to Professor Allan Walker for supporting the visit. The conversations with scholars in Salford and the visits to the People's History Museum and the Working-Class Movement Library have helped me to understand more about the significance of history from below, to view my current project from different angles, and to pose new research questions. I am hopeful that the ties between Nankai and Salford will be further strengthened with future research collaboration.'
Leave a comment
---
In December, Prof Mark Reed, Professor of Socio-Technical Innovation at Newcastle University and the man behind Fast Track Impact, tweeted some thoughts on how to write a 4* paper for the REF and wrote a blog about it. This post is published here with the author's permission.
How do you write a 4* paper for the Research Excellence Framework (REF)? It is a question I've asked myself with some urgency since the Stern Review shredded my REF submission by not allowing me to bring my papers with me this year to my new position at Newcastle University.
Obviously the answer is going to differ depending on your discipline, but I think there are a few simple things that everyone can do to maximize their chances of getting a top graded research output.
I'm going to start with the assumption that you've actually done original, significant and rigorous work – if you haven't then there is no point in reading any further. However, as I am increasingly asked to pre-review papers for colleagues across a range of disciplines, I am seeing examples of people who write up work as a 2* or 3* paper that has the potential to get a better score. I should point out that I believe that there is an important role for 1* and 2* papers, and that I regularly write these on purpose to address a problem of national significance and frame it for the specific, narrow audience that is likely to be able to benefit most from my work. However, whether I like it or not, as a Professor in a research-intensive University, there is an expectation that I will be submitted as a 4* researcher, which means I need a few 4* papers as well.
You can see some more detailed thoughts on what I think makes 4* for different types of paper in this Tweet:
https://twitter.com/profmarkreed/status/801348612345253888/photo/1
As you'll see from the discussion under that tweet though, my more detailed thoughts probably only apply to Units of Assessment across panels A-C, and probably isn't relevant to the arts and humanities.
Having said this, I think there are a number of things we can all do to maximize the chances of our work being viewed favourably by REF panelists.
Write to the criteria:when I was learning to drive, my instructor told me that in the test I should make sure I moved my head when I was looking in the rear view mirror, to make sure the examiner noticed I was using my mirrors. We're all used to writing to the criteria of funding calls, and in fact we are all perfectly used to writing papers to the criteria of our target journals. In the last REF, research outputs were judged against three criteria: originality, significance and rigour. Whatever the interpretation of these criteria in your discipline, have you made it explicit to REF panelists reading your work exactly what is original, and why it is so original? Have you explained and effectively justified the significance of your work? And have you included evidence that your methods, analysis and interpretation is rigorous, even if you have to use supplementary material to include extra detail about your methods and data to get around journal word limits?
Get REF feedback before you submit your work for publication:find out who is going to be reviewing research outputs for REF internally within your Unit of Assessment at your institution and ask them to review your work before you submit it. They may be able to make recommendations about how you might improve the paper in light of the REF criteria. Sometimes a little bit of extra work on the framing of your research in relation to wider contexts and issues can help articulate the significance of your work, and with additional reading and thinking, you may be able to position your work more effectively in relation to previous work to demonstrate its originality more clearly. Adding a few extra details to your methods and results may re-assure readers and reviewers that your approach is indeed rigorous. This is not just about doing world-leading research; it is about demonstrating to the world that your work is indeed world-leading. For me, these criteria are nothing new and are worth paying attention to, whether or not we are interested in REF. Meeting these three criteria will increase the chances that you get through peer-review and will increase the likelihood that your work gets cited.
Analyse and discuss good practice in your own area: the only way to really "get your eye in" for REF is to actually look at examples of good and poor practice in your own area. Below, I've described how you can design an exercise to do this with your colleagues. You can do it yourself and learn a lot, but from my own experience, you learn a lot more by doing this as a discussion exercise with colleagues who work in your area. If you can, take notes from your discussion and try and distill some of the key lessons, so you can learn collectively as a group and more effectively review and support each other's work.
How to organize a discussion to work out what makes a 4* paper in your area:
Identify top scoring institutions for your Unit of Assessment (UOA): download the REF2014 results, filter for your UOA (columns E or F), then filter so it only shows you the outputs (column J), and then filter for 4* (column L), showing only the institutions from your UOA that had the highest percentage of 4* outputs. Now for those institutions, look across the table (columns L-P) to see which has the highest proportion of outputs at either 3* or 4*. For example, an institution may have 80% of its outputs graded at 4* and 15% graded at 3*, meaning that 95% of its outputs were graded at 3-4*
Download a selection of papers from the top scoring institutions: go to your UOA on the REF website, find and click on the institutions you've identified in step 1, under "view submission data", click on "research outputs", copy and paste output titles into Google Scholar (or your search engine of choice) and download the articles. You may want to select outputs randomly, or you may want to go through more selectively, identifying outputs that are close to the areas your group specialize in
Repeat for low scoring institutions so you can compare and contrast high and low scoring outputs
Discuss examples: print copies of the high and low scoring outputs, labeled clearly, and in your next UOA meeting, let everyone choose a high and a low-scoring example. Given them 10-15 minutes to quickly read the outputs (focusing on title, abstract, introduction, figures and conclusions so you're not there all day) and then ask the group (or small groups if there are many of you) to discuss the key factors that they think distinguish between high and low scoring outputs. Get your group(s) to distill the key principles that they think are most useful and disseminate these more widely to the group, so that anyone who wasn't present can benefit.
It would be great if I could tell you that these are my "three easy ways to get a 4* paper" but doing work that is genuinely original, significant and rigorous is far from easy. If you have done work that is of the highest quality though, I hope that the ideas I've suggested here will help you get the credit you deserve for the great research you've done.
Leave a comment
---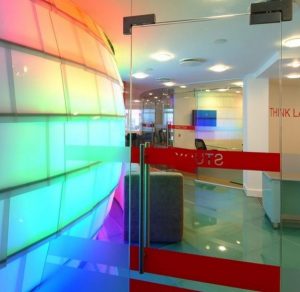 THE University of Salford will lead the way in helping to create more energy efficient cities, after receiving a €425,000 grant from the EU.
Buildings waste huge amounts of energy but annually just 1-2% of the building stock of cities is upgraded for efficiency – a process known as retrofitting.
It is estimated that the majority of European building stock will need to retrofit at a rate of 2.9% a year to achieve the target, versus the current 1.2% rate, in order that EU achieve its emission reduction targets by 2050.
However, current retrofitting processes are expensive, and face many uncertainties and complexities. Experts in the School of the Built Environment are partners in a €8.7 million project, and will lead the development of a knowledge-based tool which will select the integrated solutions with highest impact.
The other nineteen industry and academic partners involved in the project are from the UK, Spain, Belgium, Bulgaria, Germany, Italy, Greece, Bulgaria and Estonia. The wider project will explore innovative components, processes and decision making methodologies to guide all value-chain actors in the building renovation process; including a specific knowledge based tool for Real Estate Industry.
Professor Fernando, Director of the School of the Built Environment's THINKlab and an expert in digital visualisations and simulation, said: "This project offers us further funding to continue our work on designing energy efficient buildings and neighborhoods that we have been doing over the last three years as a part of the Design4Energy project.
"We plan to apply our knowledge in advanced visualisation and collaboration in creating an interactive platform for the stakeholders involved in the retrofit market to create innovative solutions that can not only enhance the energy efficiency of the building but also the value of the property."
This new technology platform will be built on the THINKlab's ongoing work on advance data visualisation and building simulation.
Leave a comment
---