Public & Community Engagement
Engagement Priorities
The University's Innovation Strategy 2021-26 has committed to the priority of "Delivering successful public and community engagement" that will focus on developing our knowledge exchange with communities in our region and beyond.
To support achievement of the strategy, R&E will be working on coordinating the variety of existing engagement activities delivered by different areas of the University, providing resources and delivering training to expand what we offer in-person and in the digital space. This will ensure maximum social benefit from our research and expertise.
As an institution we are a part of the Greater Manchester Civic University Agreement launched in September 2021. This focuses the efforts of five GM universities on improving the lives of GM's 2.8 million residents across 6 areas: Education & Skills; Reducing Inequalities; Jobs & Growth; Digital Economy; Net Zero; and Creative & Cultural Economy.
University of Salford Engagement Forum
In September 2021 we set up the University's first-ever Engagement Forum. The Forum is chaired by Professor Andy Miah, Chair in Science Communication & Future Media, and acts as an advisory and consultative group at key stages of the design, development and delivery of a wide range of engagement activities, encompassing research, teaching, industry collaboration and enterprise. It is informed by University values around widening participation, corporate social responsibility, public involvement and communication and has a broad membership across the University's Professional Services and Academic divisions.
The Forum developed a Public & Community Engagement Sub-Strategy in 2022 to support its work in effectively channeling engagement activities across the University:
Our Activities
Salford University is the lead educational partner for Manchester Science Festival, which is organised by the Science and Industry Museum to create innovative, inspiring and educational experiences around Science, Technology, Engineering and Maths (STEM) subjects. In past festivals we have showcased innovative sci-art experiences created with our industrial and artistic partners. We took part again in this year's festival, which ran from 21 – 30 October 2022.
Professor Helen Marshall, Vice-Chancellor, University of Salford said of this year's Festival:
"The relationship between the University of Salford and Manchester Science Festival goes to the heart of our mission as a University—to collaborate with partners to inspire the next generation of scientists, engineers and innovators. 

"Manchester Science Festival is a perfect example of how we can engage with a wide range of audiences and remind people that science can make lives better. A place of innovation, surprise and meaning, where curiosity is ignited. Curiosity and learning should never stop and should never be out of reach, no matter your age, background, education, gender or ethnicity.

"Collaboration and experimentation are at the heart of this festival. It brings us closer together, creating long-lasting partnerships, which is why we love being part of it. This year's programme is packed with activities to make people look, listen and learn and provides a wonderful opportunity for people to be inspired by science."
Further information can be found at: https://www.scienceandindustrymuseum.org.uk/manchester-science-festival/
xxxxxx
The Festival of Social Science is a national event now in its 20th year. Salford partners with the University of Manchester and Manchester Metropolitan University to produce a local programme of events to showcase recent developments in social science research across the Greater Manchester area. Past events have covered contemporary themes including ageing and health, education, virtual reality and AI. The focus of the Festival in 2022 was 'Our Local Area' and we were able to celebrate all things Salford!
The festival engages the wider community through a variety of mechanisms including interactive workshops, exhibitions, participatory research and debates. This enables us to showcase our research and also to seek feedback from our local community to contribute to our current research projects and to shape our future research agenda.
Further information on Salford's participation in this year's festival can be found at: https://festivalofsocialscience.com/

xx
Established in 2014, The #SciComm Space develops, supports, and delivers public engagement events, experiences, and projects across the University, most recently launching the University Research Podcast. Working in partnership with teams across the University, the Space has pioneered creative, immersive events that have brought together the University in public engagement collaboration.
Being Human Festival
Each November, Being Human Festival presents hundreds of free events across the UK and beyond. Festival events aim to celebrate and demonstrate the ways in which the humanities inspire and enrich our everyday lives, help us to understand ourselves, our relationships with others, and the challenges we face in a changing world. Each year the festival invites researchers at universities and other research organisations to collaborate with local community and cultural partners to create exciting and engaging events and projects for all to enjoy. 
External funding is available from the festival to support activity both for individual activity and for a university

Here is an example of UoS activity in 2022: https://www.southafricanmodernism.com/beinghuman
Find out more here: https://www.beinghumanfestival.org/
We Invented the Weekend
3-4 June 2023
University of Salford is a lead partner on this new festival of free time.

We Invented the Weekend is a bold and imaginative free festival for the UK, from Salford, taking place on Saturday 3rd and Sunday 4th June 2023. The brand-new two-day event will work with partners including the BBC, RHS, The Lowry, Manchester United and many more to open MediaCity and Salford Quays' spaces and places. The festival will celebrate the joy of free time, taking in sports, music, comedy, theatre, dance, workshops, talks, food, charity, wellness, crafts and more. From water sports on the canal, community feasts and dance performances, to getting your hands dirty with planting workshops and finding gems at vintage markets, festivalgoers will meet new people, try new things, and make memories together.
We Invented The Weekend 2023 – We Invented the Weekend

Sounds From The Other City
Sounds From The Other City – Sunday 30th April
Created for music lovers by music lovers.
Sounds From The Other City has been a firm underground favourite since 2005; delivering a unique annual event that champions local promoters and celebrates the off-kilter beauty of Salford, the oft-overlooked 'other city' to Manchester.
A creative scene is constantly moving and with a line-up booked by a revolving collective of promoters, Sounds has served as an annual snapshot of the Greater Manchester scene, taking place in the pubs, churches, studios, warehouses and 'in-between' spaces of Chapel Street.
UoS activity is coordinated by School of Arts Media and Creative Technology
https://soundsfromtheothercity.com/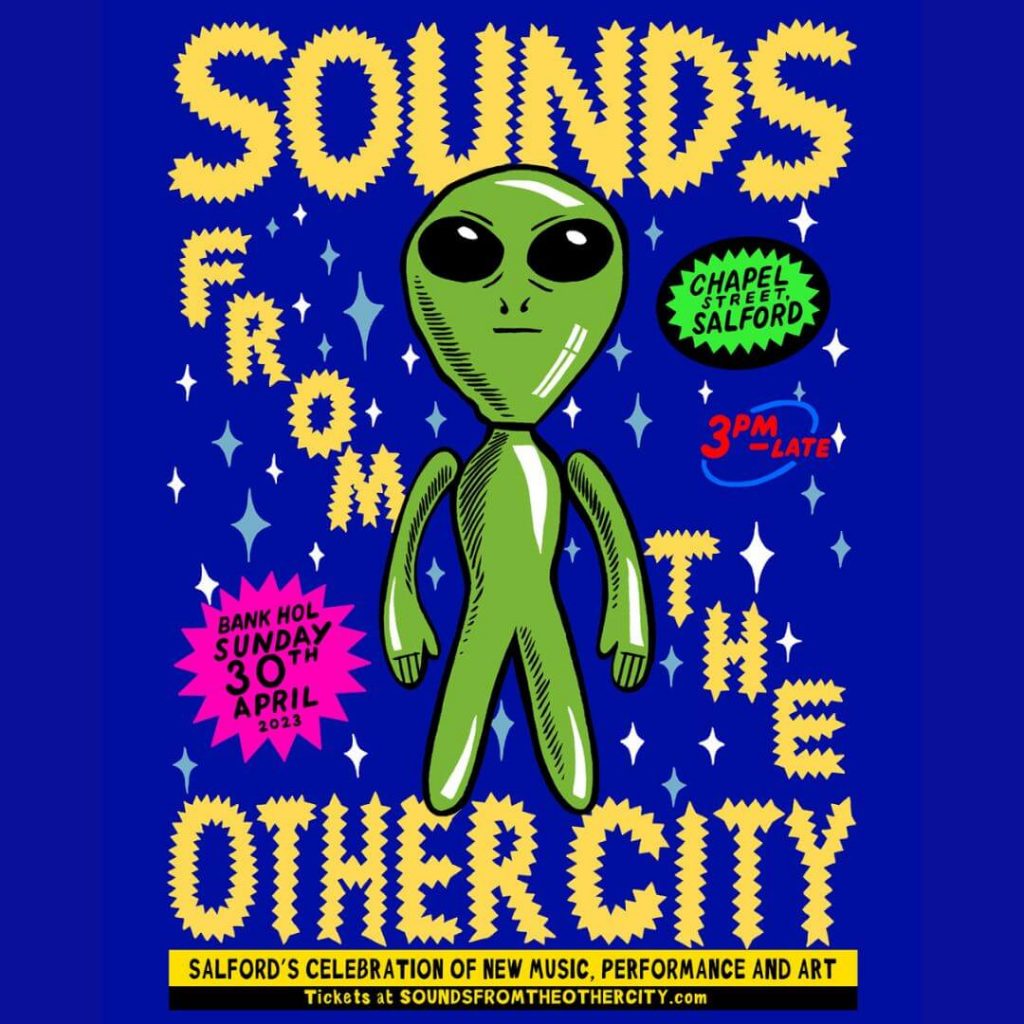 Lightwaves 
The University of Salford are a lead partner on this outdoor festival of light art and culture that takes place across Salford Quays and Media City annually in December.
In 2022 Prof Chloe James worked with artist Paul Miller to produce Microcosmic. Find out more about this engaged sci/art collaboration here: 
​​​​​​​https://blogs.salford.ac.uk/research/2022/12/08/microcosmic-gave-the-public-a-deep-dive-into-science-research-at-university-of-salford/