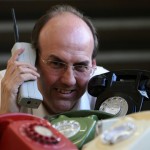 The Research Support Staff would like to pass on our congratulations to Professor Nigel Linge, who has been made an Honorary Fellow of the Institute of Telecommunications Professionals (ITP).
The ITP is the UK's leading independent body for people who work in the telecommunications industry and profession. It draws together members from across the entire industry – from apprentices through to senior executives and key industry players.
According to the ITP, Nigel's 'success and position in the industry are unequivocal'.
As an Honorary Fellow, Nigel, from the School of Computing, Science & Engineering, will help the ITP to drive professional standards in the industry and inspire young engineers.
This isn't the first time Nigel has worked with ITP, he has been working closely with them over many years and has written a regular reflective article for each issue of the members' Journal.
The ITP normally have a rigorous assessment procedure, but due to his standing and previous work with them, the ITP deemed it unnecessary.
Nigel said: "The ITP is the UK's premier institution for representing and promoting the telecommunications industry and profession. Telecommunications lies at the heart of our digital world yet it is often hidden from public gaze and so it is essential that we have strong organisations like the ITP to raise its profile and showcase its importance. I have had the pleasure of working with the ITP at several levels and I am both delighted and honoured to have been granted Fellowship status."
Leave a comment
---