A PROJECT to revive one of Britain's most famous rivers involving the University of Salford is one of three finalists for a European environmental award.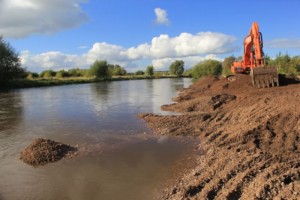 A 6km stretch of the river is being held up as a model for boosting biodiversity and reducing flood risk in rivers across the continent by the International River Foundation (IRF).
The Trent is up against projects for the Aragon and Segura rivers (both in Spain) for the European River Restoration Prize. – never before won by a UK river project.
Dr Neil Entwistle of the School of Environment and Life Sciences and his MSc student Rhys Kibble advised on the project from concept helping advise on river ecology, flow dynamics and habitats, and the researchers are still involved in monitoring the success of the changes.
River 'health'
Historically, the River Trent was heavily engineered into a single, straight and deep watercourse, leaving a 'fossilised' river bereft of natural features and lacking in quality habitat.
Staffordshire Wildlife Trust implemented the Central Rivers Initiative—a multi-partner program to which Salford University was invited to share its expertise in restoring the stretch of the river near Burton-on-Trent.
Works included increasing the channel width to allow shallows to form, re-grading banks, lowering the floodplain, re-connecting backwaters, forming islands and planting woodland.
By 2050, the Trust anticipates the Trent becoming one of Britain's greatest wetlands once again, providing an artery for wildlife.
Scientific basis
Dr Entwistle said: "I am delighted that the University of Salford has played an integral part in the restoration, from data capture for the design concept, through modelling to create what we thought was the best restoration design, in partnership with JBA Consulting and AECOM.
"Outcomes are fantastic, as the river had little diversity and habitat availability before and now it's thriving, plus we've reduced flood risk down river.
The IRF awards the Riverprize annually for outstanding results in sustainable river management and protection. The winner will be announced on 3 March at the European River Symposium in Vienna.
For more about Masters degrees in Environmental Science go here.
Leave a comment
---