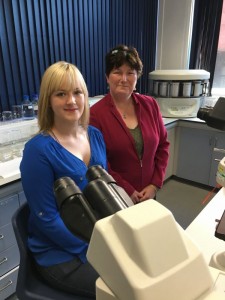 Chloe Jones, 22, who hails from Rochdale, was selected for Kidscan and The University of Salford's prestigious 'Pathways to Excellence' programme, after wowing the selection committee with both her academic achievements and commitment to discovering new, more targeted treatments for childhood cancer. The University of Salford has matched Kidscan's contribution, funding the remainder of the PhD course.
Chloe achieved a first class honours degree in Pharmaceutical Science at the University and has just embarked on her three year PhD research programme with Kidscan. She is already making excellent progress in pursuing pioneering research into gentler, more targeted treatments for leukemia, a devastating cancer which affects young children. Current chemotherapy treatment is 80% effective, but can have severe implications for growth and development in children.
Shortage
Chloe will be supervised by Kidscan grant holder, Dr Lucy Smyth, a lecturer in Human Physiology and Biomedical Science Programme Leader at Salford.
Dr David Pye, Scientific Director of Kidscan, commented: "There is a real shortage of researchers specialising in childhood cancer and we are determined to do everything we can to ensure we attract bright young minds to the field.
"Assisted by Dr Smyth, Chloe will be working on a previously untouched area of research, which if better understood, could have a huge impact on the treatment of childhood cancer patients. We can't thank our charity's supporters enough for allowing us to make such vital steps forward in our quest to make suffering from childhood cancer a thing of the past."
Dr Lucy Smyth added: "Not only is Chloe incredibly talented academically, but she understands the urgency in which we need to find effective yet gentle treatments for children with cancer. She has already got a wide range of work experience in medical environments behind her and is passionate about what she does."
Leave a comment
---