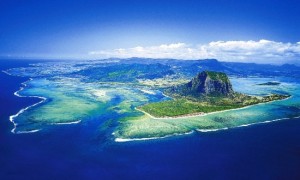 The School of the Built Environment's highly-successful Project Management in Construction Masters is being exported to a second country in the Indian Ocean. The postgraduate course will be available to students and professionals on the island nation of Mauritius and follows the successful delivery of the programme in Sri Lanka. It underlines a growing global demand for courses from the prestigiousSchool of the Built Environment, which is ranked in the Top 40 in the world (QS World University Rankings®) in architecture, construction and the built environment.
A launch event for the Masters programme in the island's capital Port Louis was held yesterday (2 March), featuring a lecture on 'Smart Cities for a bright, sustainable future' by Dean Professor Hisham Elkadi.
The Masters which is accredited by the Royal Institution of Chartered Surveyors (RICS) and the Chartered Institute of Building (CIOB) will be delivered in Mauritius at the Rushmore Business School by its staff and academics from the University of Salford.
The programme has a 100 per cent employment record of graduates going into relevant fields of built environment, civil engineering, heavy engineering and the petrochemical industries.
Dr Nittin Essoo, Director of the Rushmore Business School (RBS), said: "We are very pleased to be introducing this course in Mauritius. RBS has been offering courses in engineering and the built environment and we have created a pool of professionals in areas such as quantity surveying, civil engineering and architectural technology.
"These professionals have been waiting for a postgraduate course to upgrade their skills and move into managerial positions. The MSc Project Management in Construction comes at the right time to fill a professional need for a course that is accredited by the bodies such as RICS, CIOB and APM."
Professor Elkadi said: "There is a growing need in East Africa as a result of the increasing demand for urbanisation and new development. Mauritius has a unique position with its good infrastructure to establish itself as a learning hub in the region so the need for cutting-edge education and training at specialist level in high.
"We are hugely proud of this Masters programme which meets the needs of professionals managing change in a fast-moving business and project environment."
See more about postgraduate courses in the School of Built Environment.
Leave a comment
---