During 2016, an interactive art installation version of Through the Weather Glass (Knives Forks & Spoons 2015), the hybrid novel Dr Lucy Burnett wrote for her Creative Writing PhD at the University of Salford, will be going on UK tour.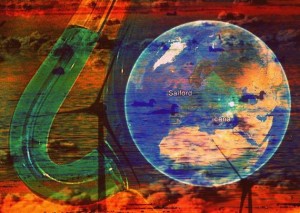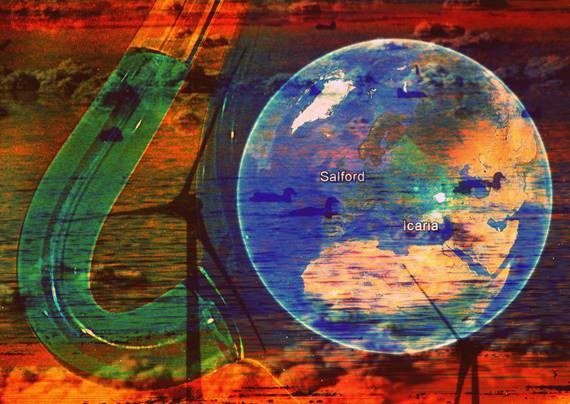 The installation will launch at the Kings Arms Salford – minutes from where the book was written – before touring  book festivals and public spaces around the UK. A series of  public-facing events have been organised under the aegis of  book / art festivals in Bradford, Leeds, Sheffield, Teeside, Durham, Hebden Bridge, Hull and New Mills, including installations in Leeds Trinity Shopping Centre, Sheffield's Winter Gardens and Bradford Broadway! The installation will also spend two long weekends in residence at Tebay Services and will participate in Edinburgh Festival of Cycling.
Through the Weather Glass, ​the cross-genre novel the tour tells a fantastic, fictionalised version of Lucy's struggles to understand environmental change during a 2500 mile cycle from Salford to the Greek island of Ikaria, where Icarus fell. The expedition was undertaken and the book written as part of an extended research inquiry into literature and climate change which Lucy undertook during her Phd at the University of Salford under the supervision of Dr Scott Thurston. Lucy was the first doctoral creative writing student to graduate at the university.
By design interactive – comprising a bike connected to a power generator, a Google Earth animated film of the cycle route, collage poetry and photography, music by Thea Gilmore and Eddie Lang, a writing zone and a large pair of  poetry willow wings – the installation invites us to think about climate change in new ways. Rather than seeking solutions or to persuade us of a point of view, the Through the Weather Glass installation playfully invites us to participate in negotiating more positive stories about climate change than the apocalyptic norm. 
Launch dates:
19th April, the Kings Arms, Salford, 6.30 for 7pm
20th April, second floor of Broadcasting Place, Leeds Beckett University, 5pm
21st April, Kava Cafe, Todmorden, 7pm
To watch a trailer for the poetry film which forms the core of the installation please go to: http://throughtheweatherglass.com/film-trailer/
 http://www.throughtheweatherglass.com; http://www.lucyburnett.net​ 
Leave a comment
---