In collaboration with UPRISE, the second Architecture Matters guest lecture (in a series of three this semester) continues next Thursday 28th April at 16:00 in Peel lecture hall G09, with a talk by renowned design critic, Tim Abrahams.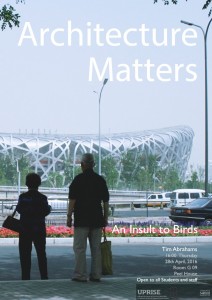 An Insult to Birds: adaptation and the architecture of the modern Olympics. 
With the Rio games just a few months away and the London Olympic stadium nearly ready to begin life as a Premier League football venue, this timely lecture takes a historical perspective on how we build Olympic stadiums and why we immediately have to alter them.
Tim Abrahams is an architectural critic who writes for Architectural Review, Architect's Journal and Icon magazine. His book An Archaeology of the Modern Olympics will be published by Machine Books this summer.
Please spread the word – we warmly invite all students and staff to come along!
Leave a comment
---