Congratulations go to Dr Stephen Parnell, Lecturer in Spatial Epidemiology in the School of Environment and Life Sciences, who has been award the Vice Chancellor's Research Excellence Award. Dr Parnell was presented with his award at the University Day celebrations on 8th June by Dr Jo Cresswell, Associate Director of Research.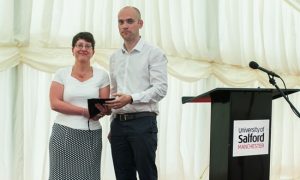 Stephen is a mathematical modeller with research interests in epidemiology and the use of modelling and spatial analysis to better understand disease spread and control. He has an established international reputation as an expert in quantitative approaches to surveillance for emerging diseases.
Stephen's research has attracted national and international attention from grant funding bodies including DEFRA and the USDA, and from international academic communities and national media, with his work leading to changes in our understanding of early detection emerging diseases.
Describing his School and Research at the award ceremony, Stephen said:
"The School of Environment and Life Sciences is a fantastic, supportive environment for research and I'm really grateful for the nomination that led to the award. It's great to have this work recognised by the University and I look forward to developing the work further with another post-doctoral researcher joining the group in August.
"Our research looks at how we can better protect agriculture and the environment from the inundation of exotic plant pests and diseases that threaten them. With increases in global trade and travel, plant pests and diseases are continuing to show up in unexpected places causing sometimes billions of pounds worth of damage and irreversibly changing landscapes and ecosystems. We develop mathematical and computer models of how plant disease epidemics spread and use these to devise better surveillance strategies. With more effective surveillance we can catch new epidemics before they get out of control."
Follow Dr Parnell's work on Twitter @parnells
Leave a comment
---