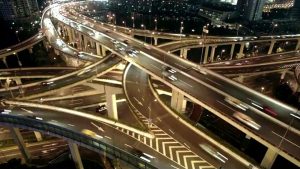 By Sophie King, UPRISE Research Fellow
"I don't believe by me drawing a line I can make things happen. I can't force anybody to do anything or be anyone – but we can make invitations" David Sim, Gehl Architects
This is a quote from The Human Scale, Andreas M. Dalsgaard's 2012 documentary about the work of architect Jan Gehl. This film exploring the relationship between city planning and public life – and particularly the possibility of making cities work for people instead of the other way around, was the perfect start to what we hope will be an annual series of film screenings and public debates convened by UPRISE and UPRISE PhD Student Laura Ager's Film Fringe. During an evening that drew together an eclectic mix of architects, regeneration professionals, creative industry professionals, scholars, and activists from three continents, the film sparked debate about how to make regeneration more people-centred; the role of the creative industries, artists and activists in place-making; and the parallels between activism that works to make cities more people-centred across the global North and South. Following the screening Dr. Sarie Slee, Lecturer in Art and Design at the University of Salford and UPRISE's own Professor Dan Dubowitz shared their reflections on how this beautifully shot documentary which looks at Gehl's work across five cities in Copenhagen, New York, Beijing, Melbourne, Christchurch and Dhaka speaks to their own experiences and practice of place-making.
Salford as a city of makers and making
"we talk to each other but we don't often work together"
Sarie talked about her involvement in a consortium of 12 partners in Salford, including Islington Mill, Artwork Atelier, Hotbed Press, Salford Community Leisure, Salford City Council and Castlefield Gallery who are focused on celebrating and promoting Salford as a city ripe with creative industry – a city of makers and making. She challenged participants to think about how we can sustain the spaces we use for production when creativity and vibrancy often lead to cost inflation, as well as how we can make better use of the spaces and people that already exist in Salford instead of always focusing on new developments. In a rather poetic reflection on why art matters for place, Sarie also called on us to reflect on the disruptive potential of art to move people from passive to active participants in place-making.
Radical incrementalism
"the only way to get started is to get started"
Dan Dubowitz shared his experiences of collaborative urbanism and bottom-up master planning calling on us to 'engage with the unexpected' and 'embrace transformation that can't be planned for'. Taking a more critical stance on the film, Dan questioned the extent to which some of Gehl's work in fact represents another quantitative and ultimately top-down solution to place-making. Critical questions that inform Dan's own practice as place-shaper across the UK – including most locally in the regeneration of Ancoats – include 'how can we take what we are already doing and make it work better' and putting 'people and everyday life front and centre' in city-making.
Mavericks and urbanisation
The event also met our objectives of bringing people together to share practices and initiatives. We learned about We Make Places; who are injecting creativity and spontaneity into place-making in the Liverpool city-region by claiming spaces for community building and bringing together a growing movement of artists, designers and activists delivering grass-roots projects and provocations in communities across Europe through 'The Maverick City'.
Global urbanisation and population growth and a continued focus on high rise solutions also became the topic of the evening with both the need for flexibility and pragmatism within master-planning (or in some quarters preferably the abandonment of this term/practice) and the incredibly challenging nature of the power dynamics that would facilitate that flexibility at the crux of our debate.
Watch this space for announcements about our programme for the 2016/2017 academic year…
---
Tags:
Artwork Atelier
,
Castlefield Gallery
,
Dr Sarie Slee
,
Hotbed Press
,
Islington Mill
,
Jan Gehl
,
Professor Dan Dubowitz
,
Salford City Council
,
Salford Community Leisure
,
Sophie King
,
university of salford
,
UPRISE Film Fringe
Posted in
UPRISE
---
Leave a comment
---