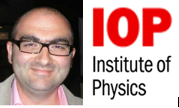 Last week, Professor Stanko Tomic, Chair in Photonics at the University of Salford, was elected a Chair of the IoP Semiconductor Physics Group.
Semiconductor physics is one of the major areas of condensed matter science and forms the core of modern solid-state device technology. The Institute of Physics' Semiconductor Physics Group was formed in 1982 in response to the need for a common forum for industrial and university researchers concerned with the physics, preparation and application of semiconducting materials and device structures. The group has a large membership with a broad range of backgrounds, often extending beyond physics to electronics, chemistry, and materials science.
The group has always interacted closely with government funding bodies. The IoP Semiconductor Physics Group is very active in supporting students and early career researchers, through conference funds, and the organisation of scientific meetings and conferences. The Group also fosters collaborations with similar scientific bodies overseas.
Leave a comment
---