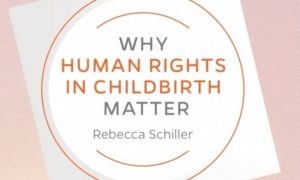 Students and staff are invited to attend a human rights in childbirth discussion to mark the launch of the new book 'Why Human Rights Matter in Childbirth'. Midwifery lecturers at the University are supporting human rights charity Birthrights with a special event on 26 October 2016.
The newly released midwifery book, 'Why Human Rights in Childbirth Matter' was written by Birthrights' chief executive Rebecca Schiller. The charity supports women and their families during pregnancy and beyond. It also provides health care professionals with advice and publications along with conferences.
Some of the University's midwifery lecturers support Birthrights through volunteering and other activities. Among those is senior lecturer Karen Barker who says: "The memories and effects of childbirth are never forgotten by women. This is an essential text to remind us of the importance that dignity and choice have in making memories that will make women smile."
The event is open to all staff and students and will take place in the Mary Seacole building on 26 October 2016 at 2pm. Attendees will be able to participate in a special panel discussion around human rights in childbirth and access some of Birthrights' resources. Everyone there will also get a chance to take part in a raffle in which they could win a handy 'student wellbeing kit'.
The book has been recommended by Cathy Warwick CBE, chief executive of the Royal College of Midwives, who says: "This should become essential reading for all maternity professionals."
The book club event will take place at 2pm on 26 October 2016 in the Mary Seacole building.
Why Human Rights in Childbirth Matter is available to buy now here.
You can find out more about Birthrights here.
For more information about the event please contact Karen Barker at K.E.Barker@salford.ac.uk
Leave a comment
---