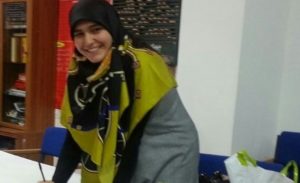 English student Zahra Gohari Darabkhani has been flying the University of Salford flag in her local community. 19-year-old Zahra recently attended a careers day at the Mohebban Al Mahdi Youth Foundation community group, talking to prospective students about the great learning experience she's having at the University.
The community group in Gorton, founded in 1994, organises recreational, social and interfaith activities for the local community. There she spoke to GCSE and A Level students about her English studies and even handed out undergraduate guides about the course.
"I attended the careers day as I wanted to help young people in my community. Students were definitely interested to learn more about English at Salford – I had a lot of questions about the lectures in particular," says Zahra. "I made sure everyone I spoke to was invited to the next Open Day."
Zahra will be attending the University's Open Day on the 29 October 2016. "I'm really looking forward to it. I'm an enthusiastic person so excited to talk to people about my life as a student and hear about other people's aspirations," she said.
You can find out more about the next Open Day here.
Leave a comment
---