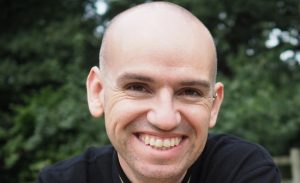 Congratulations to Garry Crawford, Professor of Sociology, who was recently made a Principal Fellow of the Higher Education Academy (HEA).
Garry becomes the third person from the University to achieve this accolade, following Dr Sam Grogan, Pro Vice-Chancellor of Student Experience, who accomplished this 2014. He joins an elite group of under 500 Principal Fellows throughout the UK, all of which have given substantial strategic commitment to Higher Education.
"I am delighted that Garry's achievements and profile have been recognised by the HEA and, on behalf of the University, offer sincere congratulations to him on becoming a Principal Fellow," said Prof Richard Stephenson, Deputy Vice-Chancellor.
He added: "The Principal Fellowship is internationally recognised and reflects Garry's commitment and professionalism in teaching and learning, including a sustained impact and influence through strategic engagement and leadership. Garry is the third person from the University to become a Principal Fellow and I would encourage academic colleagues to consider applying for this excellent external recognition through a HEA Fellowship relevant to their experience."
Garry's award was in recognition of the numerous leading roles and activities he has undertaken over his 20-year teaching career in both the HE and FE sectors. Not only has he has been a programme leader for several degrees but he has also designed many successful programmes including a distance learning master's degree.
Garry has co-authored leading teaching textbooks such as Introducing Cultural Studies and The Sage Dictionary of Leisure Studies, both of which are used widely across the world in teaching. In addition, Garry is the editor and lead contributor to the Discover Sociology website which aims to provide learning material for teachers and students at pre-university level, and in doing so, encourages more to study the subject at university level.
"The number of HEA fellowships at the University of Salford, at all levels, is increasing all the time. I feel this is important as it recognises and reflects the high quality of teaching that is undertaken in this institution," said Garry.
To find out more around becoming a Principal Fellow please visit the HEA website.
Click here to explore the Discover Sociology website.
Follow Professor Crawford on Twitter
Leave a comment
---