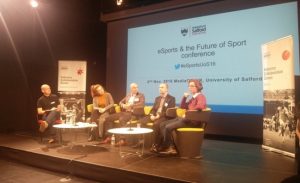 Last week our Media City UK campus hosted a one-day symposium on eSports – a £0.5bn industry which is growing all the time.
With a global audience of 226 million last year, eSports is big business with people tuning in to watch others play games including Call of Duty, League of Legends, Counter-Strike and Starcraft II.
The event was supported by a Higher Education Innovation Funding (HEIF) bid and is a great example of ICZs in action. Combining both sport and digital, it was organised in collaboration with industry partners and engaged Salford academics, along with leading industry figures from a number of different sectors.
The symposium, organised by The Digital Cluster (part of CARe) and the Centre for Sports Business, was very well attended with over 70 people present. Delegates ranged from top academics from across the UK to professionals from top football clubs and video game companies.
The programme on the day featured a panel discussion on the future of sport with profs. Garry Crawford and Andy Miah from the University of Salford and Trevor Keane from Celtic eSports League, as well as a keynote presentation on the development of eSports with Chester King, CEO of International eGames Group.
Prof Garry Crawford, who led the event, said: "eSports is a rapidly growing global phenomenon, but in many respects both industry and academics are still only starting to get to grips with the possibilities and opportunities this exciting new area offers.
"This conference was a key opportunity to engage academics and industry experts in discussing and envisaging the future of eSports, and also how this intersects with, and relates to, more traditional sports, such as football in the UK."
---
Tags:
Call of Duty
,
CARe
,
Centre for Sports Business
,
Chester King
,
Counter-Strike
,
Digital Cluster
,
HEIF
,
ICZs
,
International eGames Group
,
League of Legends
,
Media City UK
,
Professor Andy Miah
,
Professor Garry Crawford
,
Starcraft II
,
Trevor Keane
,
university of salford
Posted in
EERC
---
Leave a comment
---