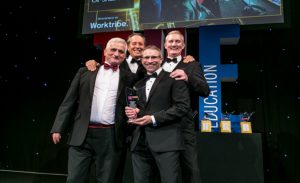 Last night, the University of Salford's Dr Mike Wood collected the Research Project of the Year award at the esteemed Times Higher Education Awards in London. The awards, now in their twelfth year shine a spotlight on the outstanding achievements of those working in UK higher education.
Dr Mike Wood from the School of Environment and Life Sciences collected the Research Project of the Year award for his work around the Chernobyl disaster. His research hugely increased understanding of how nuclear radiation affects animal life and used a ground-breaking technique to provide new evidence about what happens to the diversity and abundance of large and medium-sized mammals after radiation exposure.
He worked alongside academics from the Univeristy, the UK's Centre for Ecology and Hydrology and Ukraine's Chornobyl Center on the international collaboration project. Together they used the area around the Chernobyl accident site as a laboratory to study the continuing effect of the disaster on wildlife.
Mike set up more than 250 motion-activated camera positions and bioacoustic recorders to track animals over a year. The cameras provided more than 45,000 images that allowed the researchers to answer fundamental questions about the relationship between radiation exposure and biodiversity. Dr Paul Kendrick from our Acoustics Research Centre also collaborated on the project by placing special bio-acoustic recording devices across the area, providing more detailed information about the zone's animal life.
The team found a thriving community of large and medium-sized species. This challenges existing academic work, which had suggested that mammals have declined in the area. Their findings have also contributed to high-level debate about the potential creation of a Chernobyl nature reserve and garnered a huge amount of press coverage. The judges said that the research project was impressive in the way that it used "ground-breaking radiological methods to explore the impact of nuclear radiation on wildlife in the Chernobyl area".
On collecting the award, Mike said: "The Chernobyl Exclusion Zone (CEZ), which reached its 30th anniversary this year, represents a unique natural laboratory to study the impact of radiation levels on wildlife.
"This project has not only enabled myself and my colleagues to challenge some of the claims about declining animal populations in the CEZ, it has also allowed us to work closely with international organisations and to contribute to important global debates about nuclear power, about conservation and particularly about the rewilding of our planet's wilderness areas.
"It's a huge honour for the project to have been shortlisted for this award, and it's a testament to the many talented people who have worked with me to make it such a success."
Huge congratulations to Mike and the whole team!
---
Story originally posted on the Internal Comms News page