Prof Alaric Searle, who was appointed Distinguished Visiting Professor in the Faculty of History, Nankai University, Tianjin, PRC, in June of last year, has already started to cooperate with staff from Nankai. Within the framework of his recent Visiting Fellowship to Pembroke College, Oxford, and the Changing Character of War (CCW) Programme in particular, undertaken during his sabbatical in Semester 1 of AY 2016/17, Alaric was able to arrange a guest lecture in Oxford by Dr Wang Wei of Nankai.
Dr Wang, Lecturer in International History in the Faculty of History at Nankai, delivered a talk on 23 January as part of the CCW lecture series entitled, 'British Planning for the Postwar World Order: The Role of the Foreign Research and Press Service, 1939-43' at Pembroke College. Alaric commented: 'It was one of the great blessings of the Visiting Fellowship on the CCW Programme in Oxford that I was able to make the suggestion that Dr Wang deliver a lecture at Pembroke. I am most grateful to the Director of CCW, Dr Rob Johnson, for agreeing so readily to the suggestion. It is one example of the type of cooperation which I am hoping to pursue with the Faculty of History at Nankai in the future.'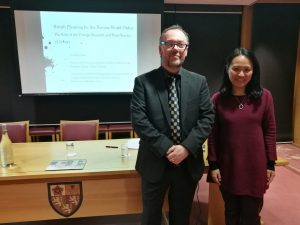 During the course of the visit to Oxford, Prof Searle and Dr Wang also had the opportunity to meet with Rana Mitter, Professor of the History and Politics of Modern China, at the University of Oxford China Centre. Prof Mitter, who is well-known for his research on twentieth century Chinese history, most recently through his book China's War with Japan, 1937-1945: The Struggle for Survival (2013), discussed a variety of topics and projects relating to Chinese history with Alaric and Wei.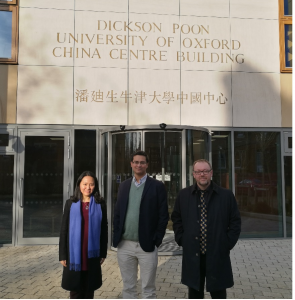 Dr Wang is currently spending a year in the Department of International History, London School of Economics, as a Visiting Scholar. Wei commented: 'I am immensely grateful to Professor Alaric Searle for making it possible for me to give talks in Oxford and soon in Salford. I look forward to visiting Salford; and, I hope more staff and students from Salford can come and visit Nankai in the future.'
Dr Wang will be visiting Salford University in April/May of this year and will be delivering a guest lecture. She also intends to take the opportunity to conduct archival research in the People's History Museum and the Working-Class Movement Library. Alaric noted: 'I am delighted that Wei is able to come to Salford. Much of her research intersects well with the interests of staff in Politics and Contemporary History. It will be a great way to cement the relationship with Nankai and for students and colleagues in English, Politics and Contemporary History to get to know her as well. We look forward immensely to hosting her for two weeks in Salford.'
---
Tags:
1939-43
,
and the Changing Character of War (CCW)
,
British Planning for the Postwar World Order: The Role of the Foreign Research and Press Service
,
Distinguished Visiting Professor
,
Dr Wang
,
International History in the Faculty of History
,
Nankai
,
Nankai University
,
Oxford
,
Professor Alaric Searle
,
University of Oxford
,
university of salford
,
Visiting Fellowship to Pembroke College
,
Working-Class Movement Library
Posted in
AMC
---
Leave a comment
---