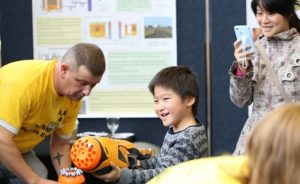 As lead Educational Sponsor of Manchester Science Festival, we are hosting some exciting interactive events as part of this creative celebration of science.
Produced by the Museum of Science and Industry, Manchester Science Festival is the largest science festival in England beginning last Thursday and running through to 29 October. The range of events and activities that make up the festival cater for all ages and a whole host of interests – there really is something for everyone, not just those interested in 'the science bit'.
Throughout last weekend, as part of Manchester Science Festival, we transformed our campus into a massive science experiment over three floors, bringing together interactive and immersive experiences. From controllable floating fish to the latest virtual reality from VR Manchester, eSport demos, retro platforms and interactive VJ events, there was lots to do and see.