Arts and Media PGR Studentships 2019-20
The School of Arts and Media at the University of Salford solicits expressions of interest in Pathway to Excellence PGR studentships for commencement in September 2019. The award constitutes a fee waiver, plus an annual stipend of £14,777 per annum. Candidates are encouraged to declare their interest in applying for one of these studentships, before making a formal application – please see the timeline below for further details.
Research in the School of Arts and Media
Research within the School of Arts & Media focuses on real-world issues underpinned by an interdisciplinary ethos, with key intellectual synergies between researchers developed within its Research Groups. The School has a vibrant PGR community with over 80 students currently working towards their PhDs and also hosts a wide range of research conferences, seminar series and other research events for PGR students to be involved in. Previous PTE students have submitted articles for publication, contributed chapters to edited books and organised academic conferences leading to academic publications. The School is a dynamic and responsive research environment, which brings together academics working in and across the arts, media, creative and cultural industries, history and politics. The work of its members is characterised by a cross-disciplinary curiosity and energy.
Research topics/themes:
This year we welcome applications in or related to the following areas: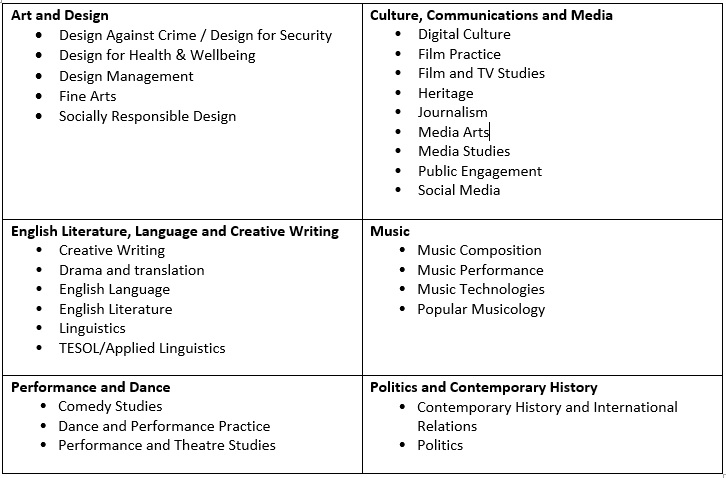 Eligibility:
Only UK/EU candidates are eligible to apply. Candidates should have a first or upper second class honours degree and Masters degree completed or in process.
Contacts:
PGR Coordinator: Leslie McMurtry: l.g.mcmurtry@salford.ac.uk
Arts & Media Research Support: PGR-SupportSAM@salford.ac.uk
Research Group Leads:
Art & Design: Andrew Wootton: A.Wootton@salford.ac.uk
Performance & Dance: Dr Sheila McCormick: S.McCormick@salford.ac.uk
Culture, Communication & Media: Professor Seamus Simpson: S.Simpson@salford.ac.uk
Music: Dr Alan Williams: A.Williams@salford.ac.uk
English & Creative Writing: Dr Scott Thurston: S.Thurston@salford.ac.uk
Politics & Contemporary History: Professor Alaric Searle: D.A.Searle@salford.ac.uk
Timeline
Please forward expressions of interest for the studentships to both the PGR Coordinator, Dr Leslie McMurtry and the SAM Research Support email address above, copying in the relevant research group lead, by Friday 22nd February
Discuss your application with your research group lead, including the development of your proposal and a proposed supervisory team
Submit a formal application through the online application portal by Friday 29th March. Please note that this must include a research proposal and an indication of the supervisory team (first and co-supervisor) that has been agreed in conversation with the research group lead
Shortlisting will take place between 1st and 5th April, with interviews between 29th April and 3rd May
The School meeting to determine the studentships will take place the week beginning 6th May and successful candidates will be notified by 13th May
Leave a comment
---