Being Human is the UK's national festival of the humanities and this year takes place from 10 – 19 November 2022. Here at Salford we are excited to be part of the festival for the first time this year and have a number of events taking place across the festival period.
The festival seeks to define the humanities broadly to encompass the subject areas traditionally associated with the study of the human world. This includes art history, archaeology, architecture, classics, cultural studies, history, film, languages, literature, musicology, philosophy, theatre studies, and religious studies. However, it is not limited to humanities research and welcomes knowledge from all disciplines, celebrating humanities "plus", which includes social science, natural science, performing and fine arts, as well as medicine.
Festival facts
The Being Human festival takes place each November and showcases hundreds of free events across the UK and beyond. The aim of the festival is to celebrate and demonstrate the ways in which the humanities inspire and enrich our everyday lives, help us to understand ourselves, our relationships with others, and the challenges we face in a changing world. 
Researchers from universities and other research organisations are invited to collaborate each year with local community and cultural partners to create exciting and engaging events and projects for all to enjoy.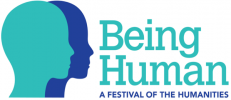 Confirmed events run by researchers at the University of Salford include:
Friday 11th November
'All That Is Buried' Film Premiere (screening discussion and talk at Media City, Salford)
Saturday 12th November
South African Modernism – Art and Writing Workshops (exhibition and workshop event on University of Salford campus)
Wednesday 16th November
Life in the Metaverse (installation at the Orange Tower at Media City, Salford)
Saturday 19th November
New Perceptions of Familiar Places (exhibition at Salford Museum and Art Gallery)
All Shapes and Sizes (workshop and museum take-over at the Museum of Science & Industry, Manchester)
To book on to any of these events or other events happening across the north-west, go to: https://www.beinghumanfestival.org/festival-events/region/7629?online=1
To find out more about the festival in general, check out: https://www.beinghumanfestival.org/
and follow on Twitter @BeingHumanFest and #BeingHuman2022 
We look forward to seeing you there!