The business and law masterclass sessions provide an unique opportunity for businesses to hear from our leading industry experts and academics on critical business issues. The last postgraduate business and law masterclass  took place on Wednesday, 21 May 2014 at University of Salford's cutting edge MediaCityUK facilities.
This learning and networking opportunity gave business leaders the chance to gain valuable insights on some of the key business and law management issues from our expert tutors.
Attendees found information and advice on core elements of business management including: financial management, digital marketing, human resource management, creative leadership and law. The sessions focused primarily on the flexible postgraduate study opportunities for part-time study options for those already in employment looking for ways to advance their careers or their develop their own business.
If you missed the business and law courses masterclass, here is a reminder of the main points discussed.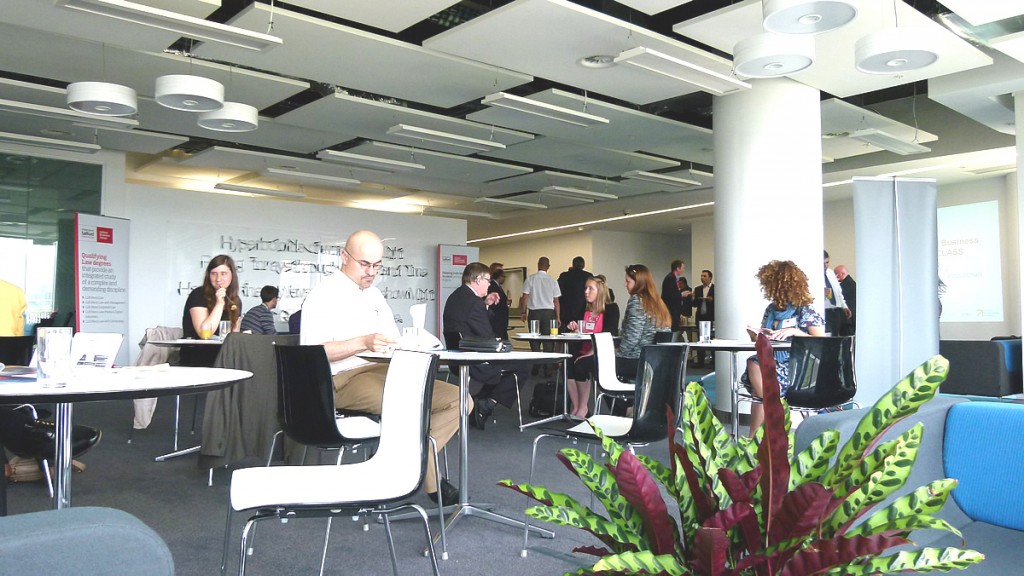 Business and law courses: most flexible in the market place
On the 21st May 2014, the masterclass sessions focused on the following four key topics which allowed attendees to discuss their own business with leading speakers in the areas of:
All of Salford Business School's programmes are developed and delivered with professionals in mind. We outlined our unique "three steps to success" process, ensuring that our part-time postgraduate programmes are the most flexible in the market place.

Our courses cover key business issues including: Accounting, Marketing, Management, leadership, Procurement, HR, Law, Events, Banking, International Business, Project management, Finance, Information systems.
Delegates were also able to learn about Salford Business School and the ways in which it offers flexible part-time study options at postgraduate level. For example, Salford Business School is the only Business School in the UK to offer six course entry points and block teaching and learning delivery:
Six course entry points for business and law courses
Salford Business School offers one of the most flexible study routes with six course start points across the year. You are only a couple of months away from starting on your postgraduate course allowing you the flexibility to choose the most convenient start and end time for your study.
For example, you could start your postgraduate course in September, November, January, February, March or May!
Block teaching and learning
All part-time postgraduate courses in business and law at Salford Business School are designed with your work commitments in mind. Speak to your admissions tutor and see which would be the most convenient study route for your course.
All postgraduate modules are taught in a blocks of six weeks. This means that during your study time you will have no other subjects to concentrate on other than the one that is being taught. This allows you the opportunity to focus on one topic at a time so if you have other commitments, your learning can more easily managed.
Here are some examples of the presentations which were delivered during the business and law courses masterclass sessions:
Strategic marketing: Developing your Digital Marketing Strategy
Marketing is in constant change. The next generation of professionals are driven by new media and online marketing. This session introduced some of the key considerations when formulating and implementing a digital marketing strategy.
Strategic marketing: developing your digital marketing strategy
The Executive MBA – What do we offer?
Salford MBA students benefit from one of the most flexible learning structures available. Our AMBA accredited MBA is a multi-disciplinary programme that has been designed to foster a broad range of business skills that are in high demand across all areas of industry.
The Salford MBA at Salford Business School
Law at Salford
Salford Business School has a number of options available for professionals already in or entering the legal provision to further their professional development. This session discussed the part-time, postgraduate options available, and some of the key areas of study.
Salford Law at Salford Business School
Do you want to learn more about our postgraduate courses?
Salford Business School representatives are on hand to discuss courses in more detail and to answer your questions.   Please see the latest Open Day dates or feel free to get in touch with me – David Lavender, Director of Admissions. 
Telephone: 0161 295 3956
Email: d.lavender@salford.ac.uk
Alternatively post your questions in comment section below!
Comments Off

on Business and Law Masterclasses @ MediaCityUK
---