Ever wondered what goes into building and financing a formula one car?
A team of mechanical engineering and business students have been finding out!
For the first time ever the University of Salford is competing in Formula Student. It is the world's largest student competition, involving 100 teams from across the world tasked with designing, building and racing a formula style single seat race car. This is a multi-disciplinary project and requires a team from across a number of subject areas including business where sponsorship and marketing activities are required to raise the funding for the car's development.
Salford University Racing Team is a fantastic opportunity to work on a real world class project. Currently we are in our first year and we are looking to develop a critical mass of enthusiasts to keep the momentum going for many years to come.
Do you like fast cars and want to get closer to understanding how the racing business works?
Salford University Race Team


This year, to be able to compete in this world championship, Salford University Race Team are designing a prototype car to showcase at Silverstone Formula One track in July 2016. We have our business case and a design examined by Formula One race judges and engineering professionals. The team hopes to finance this design and have a track-ready car for July 2017!
Joining the Formula Student team gives you as a student an opportunity to demonstrate your skills and qualities in a real world environment to employers. The ethos behind the project is to first build a world class team then design a world class car.
Would you like to join our team?
As with any formula racing team, this project has to be run like a real business to make sure that the business objective – winning the race – is fully understood by all. A driver cannot win the race without technical support and financial backing for building and developing the car as well as making sure that the team is there to support the race event on the day.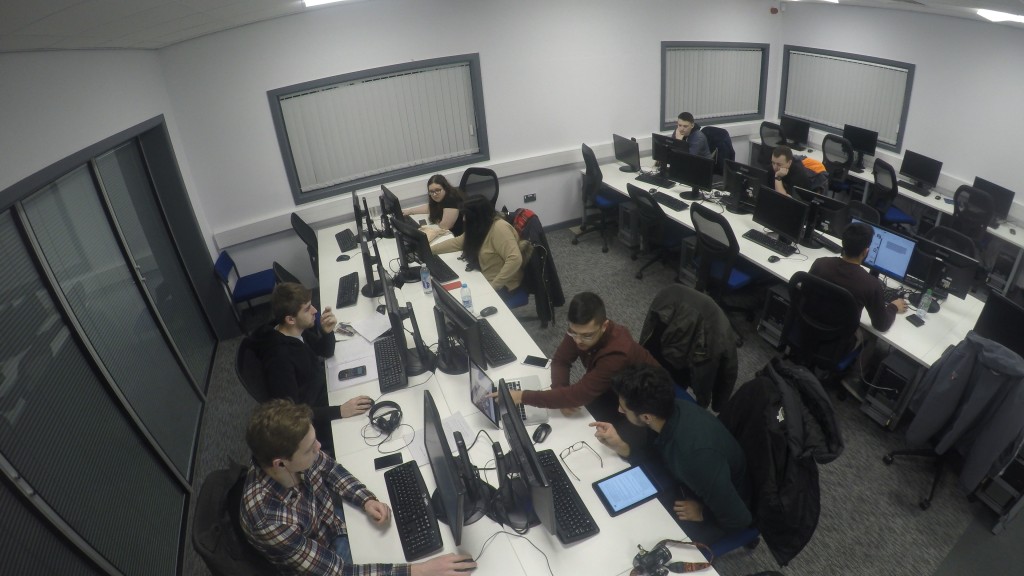 Joshua Jones (middle), Team Director, Salford University Race Team
So, the Salford University Race Team is relying on support from Salford Business School students to help us focus on our key activities. Regardless of which course you are on – if you are studying for your PhD or just starting on your undergraduate journey – you will find a great team of enthusiasts who will appreciate your contribution.
The 2016 project stages
Overall, we have the following subject areas where we need help:
Project management – making sure all deadlines are met and the team is working on the most important deliverables;
Marketing and preparing sponsorship proposals – we want to attract the best students and the best companies to help Salford University Race Team to compete on an international stage;
Business cases/business presentations – a major part of the project is a business presentation to convince investors of the profitability and marketability of our product and brand.
All of these are fantastic opportunities to get some real world class experience.
Here is a our promotional poster, and as you can see we have a number of specific roles which go beyond engineering and business subject areas; as long as you have the skills we would love to hear from you!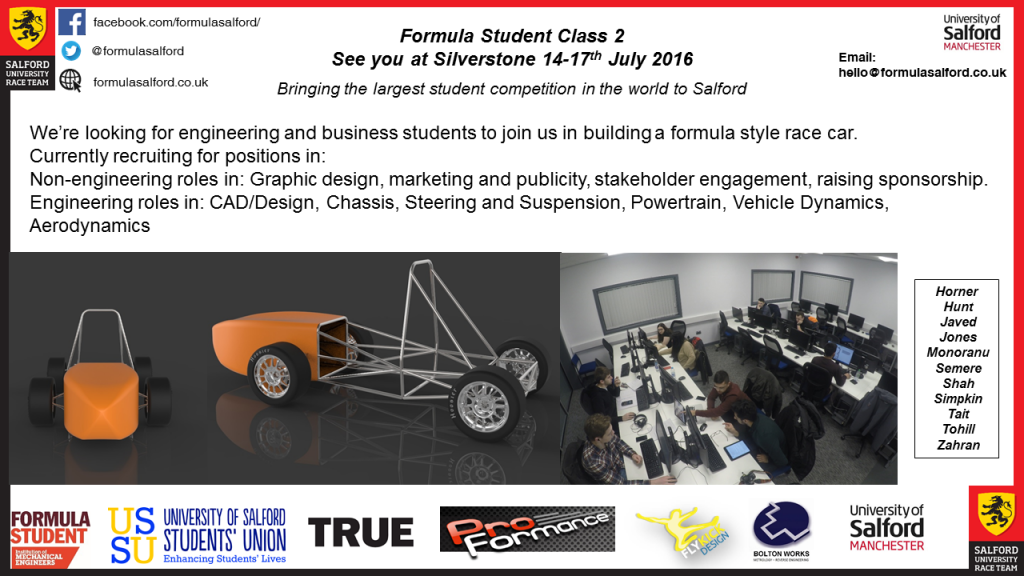 Salford University Race Team poster
Are you a business looking to sponsor us?
If you are a business and would like to support our project, please get in touch. We are in the process of developing specific sponsorship packages but we are also looking for ideas and support on different aspects of our venture. For example, the obvious financial support is perhaps not the only option that we are looking for. Consider some of these initial ideas which can help you to get exposure amongst other students and universities in the world:
Technical equipment and infrastructure for testing and developing a racing car
Parts for the car production
Test track and racing car driver training
Campaigning for our team as well as raising awareness of our project
Training and advice on running and developing a winning racing team – if you are a successful team already we would be delighted to meet the people behind the operations and learn how you get the best results from your technology and people
For more information get in touch at hello@formulasalford.co.uk and visit www.formulasalford.co.uk
Would you like to support us as a spectator?
Comments Off

on Get involved with Salford University Race Team!
---