We have witnessed a number of persistent disruptive bouts of strike action in recent years in the UK. Teachers, civil servants, fire-fighters, and rail & London underground workers amongst others made their voices heard.
However, these strikes were sometimes called with only a small proportion of union members voting in favour of strike action. This has provided the backcloth to the publication on 15 July 2015 of a Trade Union Bill by the newly elected majority Conservative government.
As new research conducted at Salford Business School by me Professor Ralph Darlington reveals, the Trade Union Bill 2015-16 promises the most sweeping and radical tightening of the rules on industrial action seen since the Thatcher era of the 1980s. Notably with (amongst other restrictive measures) new voting thresholds in strike ballots that will have a devastating effect on many unions' ability to take lawful industrial action.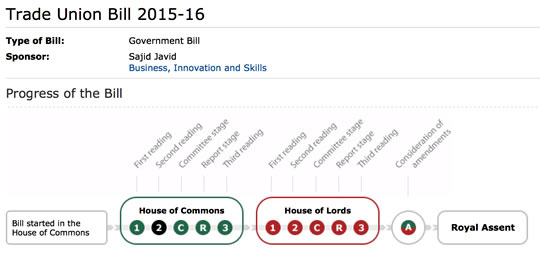 Trade Union Bill 2015 -16: progress August 2015
The proposed legislation aimed at tightening up balloting regulations contains two aspects with respect to strike mandates:
First, all unions will have to persuade a minimum of 50 per cent of their members eligible to vote to participate in any strike ballot in order for it to be lawful (currently balloting rules do not require any specific level of participation by union members).
Secondly, in six specified so-called 'important public services' – health services, education of those aged under 17, fire services, transport services, border security, and nuclear decommissioning including the management of radioactive waste and spent fuel – an additional threshold will have to be met. As well as obtaining the 50 per cent minimum turnout, at least 40 per cent of those eligible to vote must support strike action for it to be lawful (ballots currently require a simple majority to back action
Justification and motivation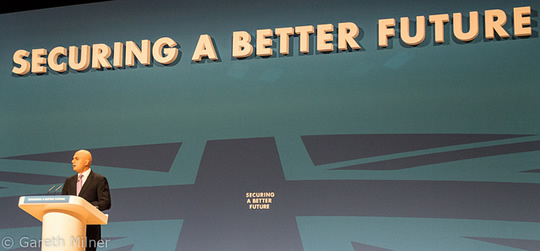 Sajid Javid (CC) by Gareth Milner
Not surprisingly many business leaders have welcomed the prospect of another round of legislation on strike action. With the introduction of ballot participation thresholds, concurring with the Conservatives that it would stop strike action on the basis of ballots that only involve a minority of members. Thereby increasing the democratic legitimacy of action taken by unions. As the new Conservative government's Business Secretary, Sajid Javid (sponsor of the Trade Union Bill), has claimed:
'We've seen… in the last five years, strike action that took place where perhaps only 10 per cent to 15 per cent of the members of that profession actually voted for it, and that's not right, it's unfair'
(BBC News, 12 May 2015).
In some respects the pledge to introduce further restrictive regulation of strike balloting might seem ironical given that strike activity has for the last 20 years remained at historically low levels. Notwithstanding some very large set-piece one-day public sector strikes. So, what is it that explains the pressure for legislative change?
It would appear the Conservatives' perceived 'problem' is less one that exists now than one than what is foreseen and feared in the future. With an economic and political imperative to proceed with much deeper and sustained spending cuts than previously and maintain controls on public sector pay, the new Conservative government's proposed legislation appears to have been principally designed to try to make it much harder for unions to take strike action and to weaken potential future union resistance to more austerity. As Dave Ward, the new general secretary of the Communication Workers Union, has said:
'This is a Tory government that is planning to undermine the incomes and conditions of working people whilst at the same time cynically sabotaging the very means they have to speak out in protest'
(Express and Star, 27 May 2015).
Trade Union Bill: Evidence from Database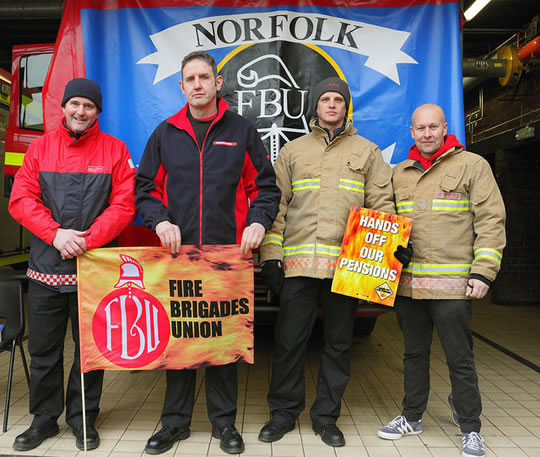 Firefighters strike action (CC) by Roger Blackwell
In order to examine the potential effects of the proposed legislation, I have retrospectively applied it to previously held ballots by collecting and analysing a database of 162 industrial action ballots, 158 of which are strike ballots, involving 28 different trade unions (including BFAWU, CWU, FBU, NUT, RMT, UCW, Unison and Unite) over the period 1997-2015. The database shows that while in the past unions have generally been overwhelmingly successful in winning majority 'yes' votes in favour of strike action, under the proposed legislation many unions would fail to achieve the Tories' proposed 50 per cent participation threshold.
Only 85 of the 158 strike ballots covered by the database reached the 50 per cent target, and the number of workers who failed to reach the target was completely disproportionate to those that did.
444,000 workers could have taken strike action because they had a turnout rate of over 50 per cent, 3.3 million workers would have been prevented from going on strike.
Even if you take out the large-scale 2011 public sector strikes, it still means 880,000 workers would, under the proposed legislation, no longer have been able to go on strike.
As a result, some major national strikes would have been deprived of legal protection under the proposed legislation, especially those relating to national bargaining in the public sector.
Even when unions have succeeded in reaching the 50 per cent turnout, some would still fail to obtain the 40 per cent majority threshold of those eligible to vote. Out of 90 strike ballots in the 'important public services' covered by the database, 55 of them produced turnouts in which more than 40 per cent of the electorate voted 'yes', such that the proposed legislation would have reduced the number of strikes in these areas by nearly 40 per cent.
Potential Trade Union Bill sector differences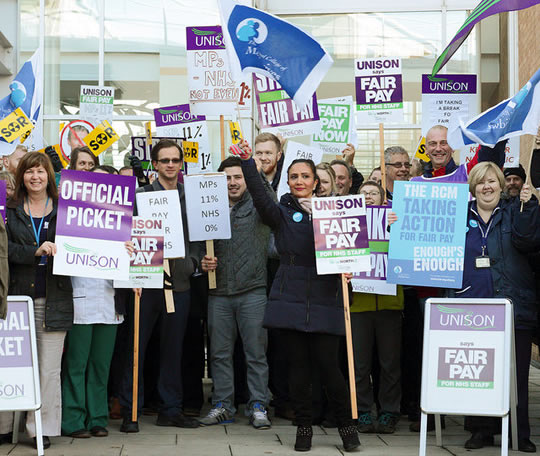 NHS Pickets (CC) by  Roger Blackwell
However, there are important differences by sector:
The proposed legislation would have had no effect on the Fire Service because all 11 strike ballots cleared the 40 per cent threshold with an average of 54 per cent of balloted workers supporting strike action.
The picture is completely different in Health where only 2 of the 5 national strikes would have cleared the 40 per cent threshold. Of those that failed to meet the 40 per cent, only 20 per cent of eligible voters supported the action. It is the small specialist unions that achieved the highest turnout and high support for strike action.
The picture in education is more nuanced; only 19 of the 29 strike ballots would have been able to go ahead, but while every ballot conducted in an individual school would have passed the 40 per cent threshold, only two national strikes did so and neither of these involved the main teaching unions.
In transport, only 23 of the 44 strikes cleared the 40 per cent threshold, so the proposed legislation would have prevented half of transport strikes. However, again there was variation, for example, while the BA cabin crew ballots easily cleared the 40 per cent hurdle, a recent Greater London bus workers ballot would not, and while the proposed legislation would have little effect on strike ballots in the railway sector it would have prevented most strikes on London Underground.
The one strike ballot that could be regarded as border security would have been prevented by the new legislation.
On the basis of the database evidence available, while the 50 per cent threshold would dramatically reduce the number of legally protected strikes, the introduction of an additional 40 per cent threshold for the 'important public services' would have very little further effect. Nonetheless, overall many unions will find the legislation will make it very difficult for them to mount officially sanctioned strikes as a means of challenging employers in national negotiations and in response to government-initiated austerity measures, especially those relating to national bargaining in the public sector.
The paper identifies some important contributory factors to more positive voting participation rates:
There is a clear overall tendency for workplace, area or single employer ballots to obtain 'higher' turnouts and national ballots to obtain 'lower' turnouts.
Unions with members who have close occupational identities and solidaristic loyalties also appear to often be able to generate relatively higher strike ballot votes than more general unions.
There is evidence the role of union leadership – specifically the influence of left-wing leadership – can also be a positive enabling factor.
Trade Union Bill: Union responses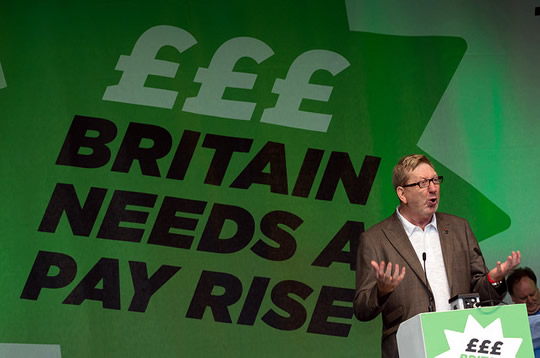 Len McCluskey (CC) The Weekly Bull
How will the trade unions leaders respond to a Trade Union Bill that will threaten (along with the proposed legislation's other measures) to undermine effective trade union organisation and the right to strike?
Although Len McCluskey of Unite and Dave Prentis of Unison have said the unions might defy the new laws by holding illegal strikes to fight against job losses and pay restrictions, it remains to be seen whether such militant rhetoric is matched by action in practice. While they will undoubtedly campaign vigorously against the introduction of the proposed new law, they are also confronted with the dilemma that such a campaign may well be doomed to defeat given the Conservatives' majority in parliament. In a context in which strike action which lacks the support of a legal ballot would leave the unions exposed to injunctions, damages, claims and even action for contempt of court. It seems unlikely that union leaders will defy the law, rather than 'bend the knee', unless they are subject to enormous pressure from their members from below.
More likely is that unions will become more consciously strategic, by only balloting those groups of workers who they can be confident would attain a 50 per cent participation threshold and 40 per cent majority threshold. This might mean identifying particularly strategic groups within a national bargaining unit whose action could then be supported financially by other sections.
Paradoxically, if unions can attain the new thresholds, it may make it harder for employers to defeat strikes, with union members identifying more strongly with the cause and, with union officials being less willing to call strikes off because their negotiating position is stronger; and the proposed legislation could make the price of an eventual settlement higher.
If unions find their ability to mount strike action is curtailed, one likely prospect is an increased tactical reliance by unions on so-called 'leverage campaigns' and 'citizen bargaining'. Like Unite in the Ineos dispute at Grangemouth in 2014, unions can use demonstrations, protests, boycotts, and social media campaigns to open up new lines of attack on the employers and its senior management, with the aim of getting shareholders, customers, suppliers and local communities to put pressure on the employers to back union demands.
Trade Union Bill: lessons from the past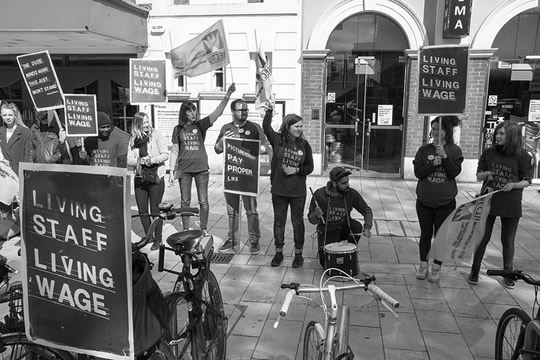 Ritzy cinema strike (CC)  M.o.B 68
In the United States, community campaigns have been used to help win improvements in pay and conditions in different industries, forcing companies such as Walmart and MacDonald's to offer pay increases after customer and public protests outside stores. Likewise, in the UK staff at the Ritzy cinema in Brixton, south London, fought off redundancies and won the living wage in 2014 after the threat of a boycott by cinemagoers.
In the face of the tightening of the rules on industrial action, such campaigns (which operate outside the law on industrial action ballots), are likely to become even more a 'weapon of choice' for the unions. Albeit their limitations compared to the alternative mechanisms of collective bargaining and the threat/use of strike action within the workplace is also likely to be stark.
Meanwhile, it is possible that, against the backcloth of a new wave of spending cuts affecting pensions, jobs, pay, and working conditions, some groups of workers coming into collision with the legal liabilities of organising strike ballots will take unofficial and wildcat strike action, thereby undermining the legislation. As the Financial Times has commented on the Trade Union Bill:
'The government should be wary of making it so hard to call an official strike that employees feel justified in taking unofficial action'
Notwithstanding the potentially severe legal penalties against unions which do not repudiate unofficial action and against individuals taking unofficial action.
What will the consequences of Trade Union Bill be?

No cuts (CC) by  Alan Stanton
In other words, my conclusion is that far from 'improving' industrial relations as the government have claimed, the proposals might create a more bitter and destabilising state of affairs. With unofficial strike action likely to be more problematic for employers, as well as trade union leaders, to resolve.
To access the full report click here or download the PDF version Salford Report
What are your thoughts on the Trade Union Bill? Please comment below.
2 Comments
---