The University of Salford has sho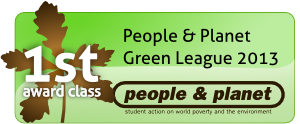 t up the annual People and Planet Green League Table of universities thanks to a series of initiatives which have seen students and colleagues pitch in to reduce their environmental impact.
Salford moved from 51st up to 17th place in the league table which independently catalogues factors such as water use, carbon emissions and recycling on all of the UK's university campuses. Under the classification scheme Salford scored a first class ranking, which puts it into the top bracket of the UK's institutions.
Over the last year students and employees have been working hard to make the University more sustainable with initiatives such as a student switch-off competition that saved over £12,000 or 100 tons-worth of CO2 and a free scheme for employees and students to grow food on the campus.
Food is an important part of the sustainability work at Salford and all cafes now only sell free range eggs, MSC-certified sustainable fish and Red Tractor Assured meat.  Students also take advantage of deliveries of vegetable boxes containing food grown locally by community volunteers.
Students have also been pitching in to help charities by donating goods to the British Heart Foundation when they move out of accommodation.  And sustainability is now being included in the teaching that students receive on campus, with associated projects also encouraging cycling, recycling and energy saving.
All of this is on top of existing efforts to reduce carbon emissions, which include a composter to reuse food waste from canteens and an electricity generator which is powered by chip fat.  New buildings are also coming online which are much more energy efficient, such as the Chapman building which has been redeveloped to use half the gas and electricity it did in previous years.
Professor Jim Yip, PVC Research and Innovation and Dean of the College of Science and Technology said: "Sustainability is a fundamental value of our University. We have a holistic approach and integrate a number of different activities from the beginning of any development, e.g. teaching and learning, research and enterprise, student life and employability, estates and IT, community engagement and procurement. Getting to 17th place is an excellent achievement, putting us into the top bracket of the UK's institutions  and scoring a first class ranking. We can all feel very proud of this major success."
Environmental and Sustainability Officer, Bec Bennett, said: "Our colleagues and students have really embraced sustainability in the last year and this is reflected in our ranking in the table.  There's always much more to do of course, but we're extremely happy with progress so far."
For more news from the Environmental and Sustainability team, follow @UoS_Sustain on Twitter and see www.facebook.com/SustainabilityUoS