When you think of the library, what comes to mind first? Books, bookshelves, quiet spaces and computers? Definitely not guide dogs, right? Well, that's where you're wrong, because during the exam period, the library will be home to some very good boys and girls.
Now this isn't just some scheme to get more people into the library but is actually part of a wider event dedicated to de-stress you and give you some much-needed wellbeing during the busy exam season. Did you know that just by petting an animal, your body reduces its levels of cortisol (the stress hormone)? I can just hear you all saying 'where do I sign up for this amazing opportunity?' The answer is you can sign up to meet guide dogs in the Library right here!
There's not many sessions left and they're all filling up pretty quickly so I'd be quick on the ball if I were you. More details can be found on the link provided but it is suggested that you bring a £3.50 donation. These are working dogs and it is a charity after all.
Mindful activities
However, if dogs aren't your thing (I'm not judging you, honestly) then fear not as the Library have organised as many events as are in your Netflix watchlist. There will surely be something suited to you, whether it's getting your mind focused with some mindful colouring (can you keep in the lines)? or my personal favourite, jigsaws. I genuinely could write an entire blog post dedicated to my love of puzzles but enough about me, this article is dedicated to helping you make the most out of your library experience during exam season. Our resources have been specially selected and carefully curated with you at the forefront of our decisions.
Another way in which your mental faculties can be strengthened during this time is through Origami, the Japanese art of paper folding. I'm sure you've heard of the legend that if you manage to fold 1,000 paper cranes, then your wish will come true. (NOTE: This is not a go-ahead to do that, please concentrate on your exams!) No matter what you end up making or not making, I'm sure it will leave a lasting impression on you. Are you going to think back in ten years' time and remember when you made a cat's face, and everyone thought it was an upside-down turtle? Take these chances while they're here!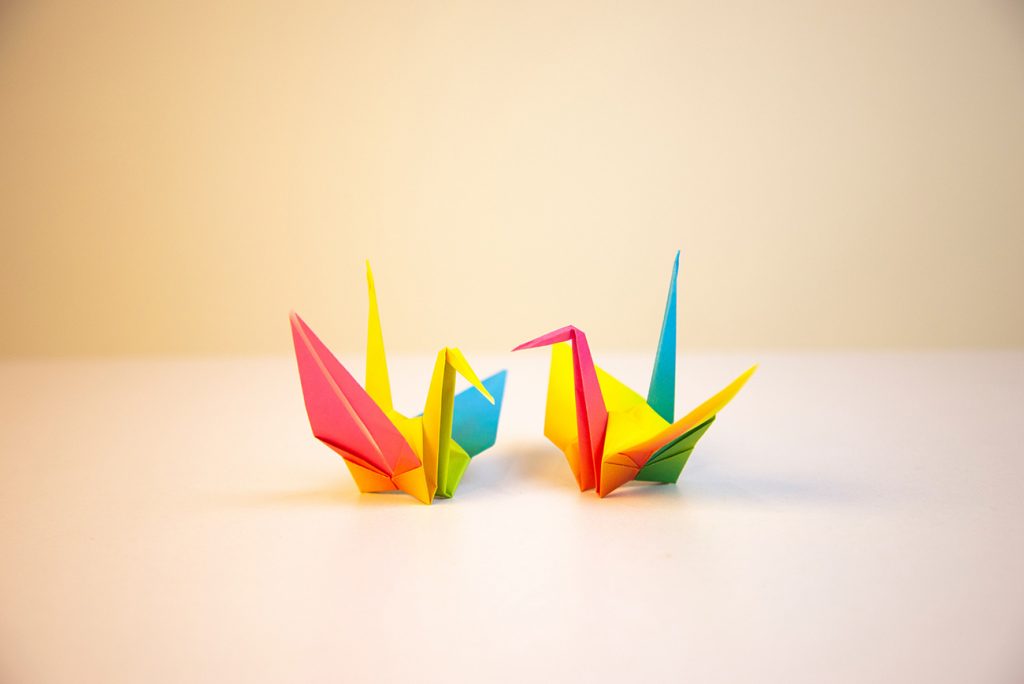 De-stress packs
If you're reading this and thinking, "well this seems fine, but it's just not for me" then there are other ways you can relieve stress in this busy time. The library has put together free de-stress packs for students to pick up whenever they visit the library. You could release your inner child with the pack of bubbles included or take advantage of the voucher for a free session at the University Sports Centre, to be redeemed whenever you want.
Whatever works best for you, you are encouraged to try. If you think that healthy food is the way forward, help yourself to the free fruit on offer (just remember to recycle/throw all litter in the bin when you're done). Clean surroundings = clear mind! Speaking of clear minds, have you ever thought about trying guided meditation? During exam season, the library is running several bookable sessions.
Tell us your exam study tips
As mentioned above, these events are for you, but it's your input that we really need. What are your top tips for exam season/studying? How do they help you get what you need out of your packed schedules? We want to know! Starting from Monday 25th April, a tip board will be going up in Clifford Whitworth and we would like you to contribute to it. You may even win a prize for sharing as the student who gives us the top-rated tip (as chosen by students and staff) will be given an Amazon voucher. So if you've got a tip that you just need to share with everyone, write it down. You never know, it could be your lucky day. You ace your exams, help others, and win something to boot, what could be greater?
A comprehensive timetable of the various activities can be found on the Library website. Remember, the library just isn't a place for books, it's where greatness can be found. Oh, and good luck with your exams!