Lori Moore is a third year BSc Wildlife Conservation with Zoo Biology student. She secured placements that took her from the Amazon rainforest to Scottish wildlife reserves. We spoke to Lori about her amazing experiences.
Hi Lori! Why did you choose to study at Salford?
I chose to study Wildlife Conservation at this university because there weren't many universities that offer a wildlife course with such a direct link to conservation. With the critical status of wildlife, this aspect of the course is vital. The lecturers and professors of the School of Environment and Life Sciences also drew me to the University of Salford. They are all highly skilled in their field with real-world experience. The option of a placement was an opportunity that could make a real difference to my career too.
Can you tell us about the course itself?
Our course is largely focused on wildlife biology and biodiversity, incorporating a wide range of lectures from genetics to animal behaviour and cognition to marine biology. We learn about the fundamentals of conservation, as well as the real-world problems and the upcoming solutions used in the 21st century. This comes in the form of guest speakers and laboratory work too. Our course also involves field trips to various locations in order to apply our knowledge to practical work, including the Peak District and Lake District, to zoos and even to the Brazilian Amazon!
What about your lecturers? What are they like?
Our lecturers are phenomenal, they have worked all over the world and are true experts in their chosen fields. They build upon personal experiences to solidify our learning material and provide examples of real-world applications. They understand the wide range of vital jobs in conservation and prepare us for them all. They're really friendly and approachable, as well as providing help and guidance where necessary. They always go the extra mile for students and it makes a big difference.
What is your favourite thing about your course?
That's a very difficult question! I love that our lecturers have been, and still are, active in the conservation field and research. It means that they're at the forefront of exciting and influential work and it shows in their lectures. It's inspiring and there's so much to learn from them.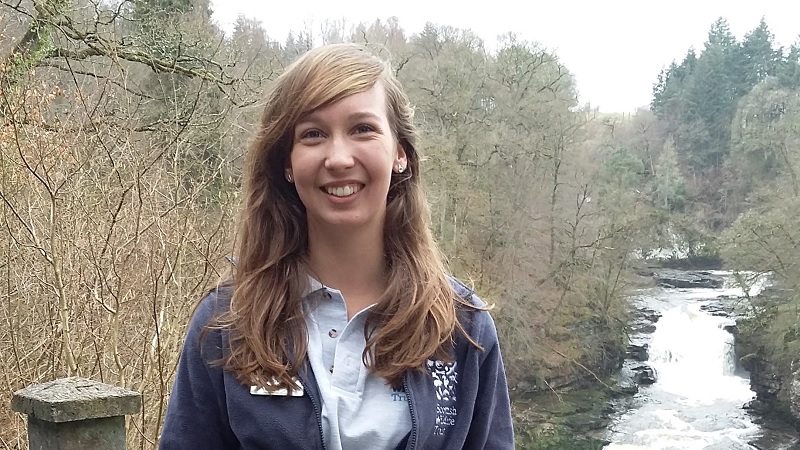 How did you get placements with Pro-Muriqui Associação and the Scottish Wildlife Trust?
My placement with Pro-Muriqui Associação was secured through a professional contact of a course lecturer. He knew the director from the organisation so I sent emails, had an informal Skype interview and was accepted onto the research internship!
My placement with the Scottish Wildlife Trust was secured by doing a lot of research of organisations offering placements and sending many emails. The Scottish Wildlife Trust responded and after an application process and another informal Skype interview, I successfully secured a placement there.
Did the University help you?
Yes, the University was a huge help in securing placements. At the beginning of the year, a talk on placements was held to inform us of previous placement locations and about the requirements for the year. From then on, staff were always happy to help by giving suggestions and working through the paperwork. There's even a fantastic Facebook page continually providing new ideas and possible organisations for placements.
What did you get up to on your placements?
My placement with Pro-Muriqui Associação was based on conducting behavioural and ecological research on the Southern Muriqui. Muriqui are a large neo-tropical primate, in the Brazilian Atlantic rainforest. At various field sites, we had to follow the monkeys from dawn to dusk noting down particular variables, including diet and group dynamics. We often created trails within the forest using machetes and GPS, as well as collecting botanical data for later processing.
My placement with the Scottish Wildlife Trust was very varied as an Assistant Ranger. This involved conducting practical work around the reserve, such as building fences or saw-milling trees, as well as holding public education events, such as badger watches and pond dipping. I also conducted biological surveys of birds, bats, butterflies, moths, reptiles and amphibians, as well as whole habitat surveys and species identification. On top of this, I co-ordinated volunteer teams of adults, school children and work parties that came to help on the reserve. Writing a weekly blog for the reserve was another role, as was representing the trust at county fairs and fetes.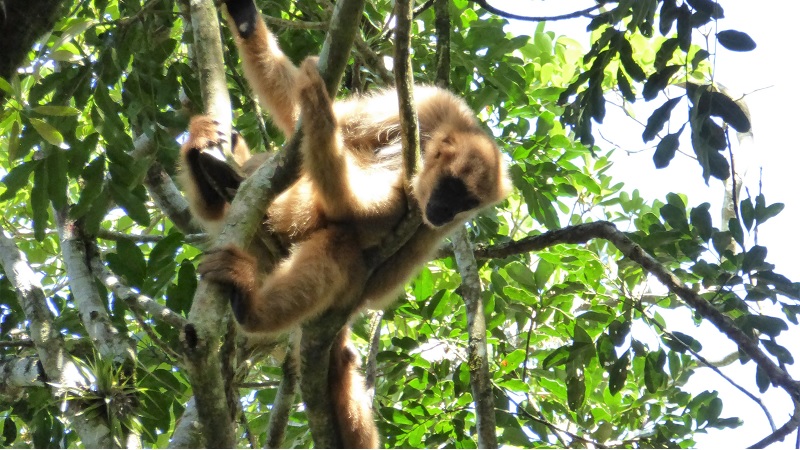 If you had to pick one favourite moment from your time in Brazil and Scotland, what would they be?
From Brazil, my favourite moment would have to be the first day of walking in the forest. Over 30 muriquis came directly in front of us and were communicating to one another loudly. It was a meeting of two different groups and a rare sighting in the wild of this species. The sights and sounds were incredible and the atmosphere was one of a kind. It was a special occurrence; one really welcoming us to the rainforest and one I'll never forget.
My favourite moment from my placement with the Scottish Wildlife Trust was seeing the end result of a sand martin bank, an artificial nesting place for birds that we built. It took the co-operation and dedication of schools, weekly volunteers, interns and the rangers. It was a big project that would be really important for the birds and to see the final product of our hard work was really rewarding.
Sounds like you had a fantastic time. What are your plans for the future?
I'd love to stay on the academic route. My plan is to continue onto postgraduate work, starting with a master's in the same field. Overall, I hope to make a real and positive difference to wildlife and the environment.