BSc Business Management with Sport student Pauli Loukola recently had the opportunity to work with Umbro to produce a promotional video for their new football boots. As well as helping with the management of the shoot, Pauli managed to secure starring roles for his fellow players in the University of Salford football team! Read what Pauli had to say about how the placement came about and what he learned from the experience, then watch the full video below.
The set up
I felt instantly excited when Umbro's Digital Content Manager, Aaron Lavery, asked over a cup of coffee if I knew of any decent amateur football clubs who could take part in Umbro's biggest football boot advert of the season. I had earlier approached my tutors and the Employability Hub in the Business School for opportunities within sports business and they introduced me to Aaron at Umbro. Now I was meeting him. As a centre-back for the University of Salford football team, I didn't hesitate to put our club forward. What a good experience this could be, I thought, without knowing much about the event.
I'm a second year BSc Business Management with Sport student currently looking for work placement opportunities in industry. Shooting an advert with Umbro was an amazing insight into one of the world's biggest sporting brands and it was the best lesson in marketing I've had so far. The advert for Umbro's Velocita 3 football boot can be seen across all of their social media platforms and those of some retailers.
Setting up an advert naturally involves a vast amount of time and I was a small player in the organising process, however I learnt some important lessons about working in this industry and many other things about how to put an advert together.
Oh, and I had fun too! Me and the other footballers on the University team really made the most of the experience.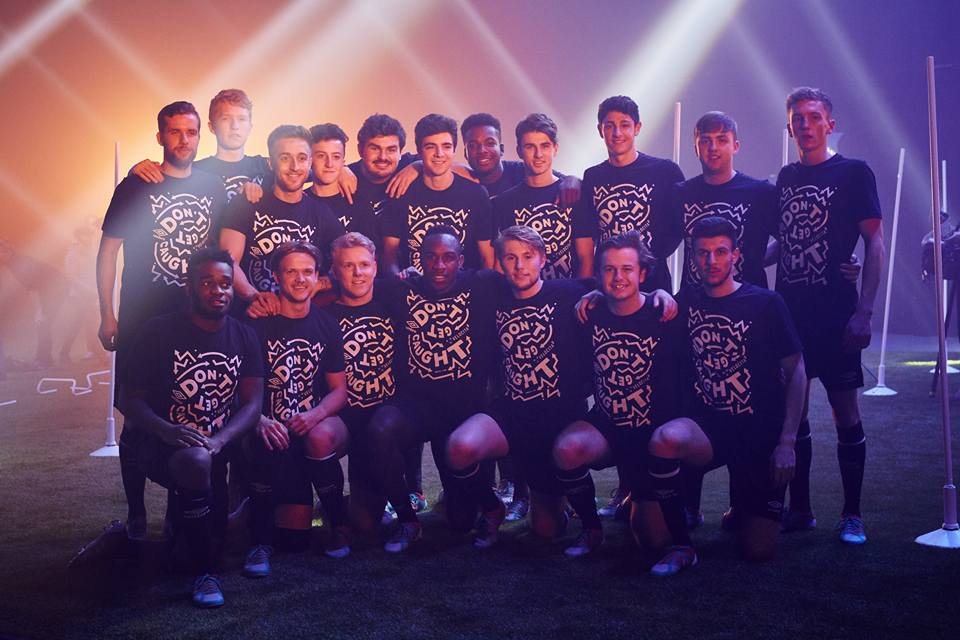 My main role was to be the link between Umbro and the University's footballers. Aaron asked me to organise over 20 players to be part of the advert. Compiling the list of kit and football boot sizes wasn't the easiest job, as players were dropping out just days before the filming day. Getting in the replacement players involved countless Facebook messages and phone calls. It was a good reminder that despite fellow players giving their word, not all of them would turn up. Do not be naive! Umbro also couldn't reveal too many details of the shooting day for the players in advance, as they had to make sure that nothing was revealed on social media too early.
The day of the shoot
The shoot took place at The Space Project in Manchester, which at 360,000 square feet is a stunning location for filming. It has also been used for Coronation Street stunt shooting and is the home of the BBC's Dragon's Den.
So secrecy papers signed, hair and make-up done, we were ready to go. The whole filming session lasted four hours and it involved a lot of standing around, however the section with West Ham winger and Umbro athlete Michail Antonio only needed one take. This was mainly due to the fact that the director and the crew staff knew what they wanted to do and made it easier for us by creating a relaxed atmosphere.
Salford City FC's co-manager Anthony Johnson was also shouting instructions from the side of the pitch in his distinctive voice, while the presence of a Premier League footballer made sure that all the players put in 100%. Watch the finished film below.
What I learned
Do stuff! Be proactive and go to different events. Networking with new people will always help to open doors. I'm going through a lengthy process at the moment to secure a professional work placement for next year, but now I believe that I'm on the right track. As well as working with Umbro, I've also been trying to gain other experience to increase my employability. I've written blog posts for Manchester based football club Fletcher Moss Rangers, which will hopefully enhance my profile in the eyes of an employer.
Thank you to Pauli for sharing his story! Let us know what you think in the comments, and you can also connect with him via LinkedIn.