After graduating with a BEng in Civil Engineering (complete with an integrated foundation year), Haroon Ashraf felt that his time with the University of Salford wasn't quite over. In 2016, he gained his master's degree, and today works as a graduate civil and structural engineer.
I caught up with Haroon to find out all about his course and how it helped him to secure his dream job…
Hi Haroon! Tell us about what you studied on your course…
The integrated design modules were useful as they brought all disciplines of generic civil engineering together.
They made us appreciate how all disciplines are required for any project. This included structural, geotechnical, civil, hydraulic, environmental, traffic and project management. The introduction to the structural design module was by far the best thing I studied, as it helped me to understand structural behaviour.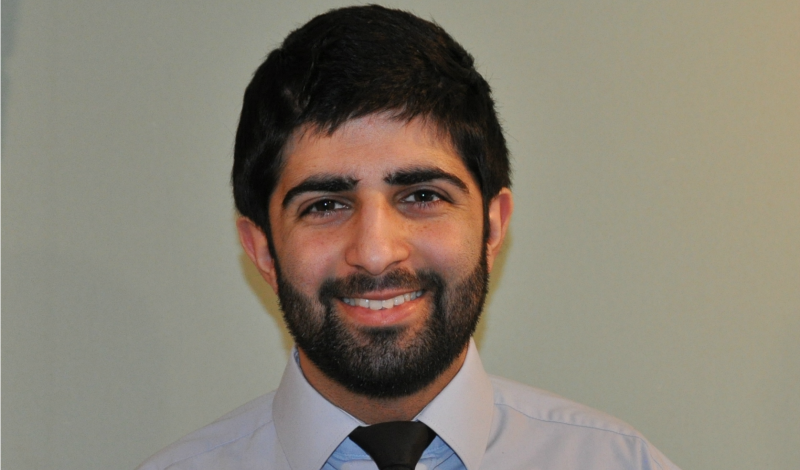 Did you go on any field trips as part of your course?
The 'Constructionarium' project is a week-long trip to the National Construction College in Norfolk, which formed a part of the Design & Construction Management module during my second year. We were split into three teams, with each team working on a different project.
The task involved constructing a scale model of a 'real' structure. We were organised into sub-teams and allocated a manager. Each member of the team had a specific role to fulfil. Naturally, this created challenges with team working, logistics and time pressures.
Our project was the Kingsgate Swing Bridge which was a single-span pedestrian bridge. It could use its supports to swing, to make way for passing traffic in the waterway.
The most memorable moment for myself would be the concrete pour for the bridge deck. The reinforcement cage we had constructed did not fit inside the formwork on one side of the deck. This required some quick cutting down. When the concrete arrived we managed to fit the cage into the form work.
How has your degree helped you in your chosen career?
I am a graduate civil and structural engineer at GHD in Cheadle. Gaining a degree in this area enabled me to pursue my career and without it, I would not have a job in this particular field. The programme has helped a lot with my current work as I have been part of various projects. I've designed a steel pipe flange connection for a main water pipe, helped design a steel bulkhead plate plus steel work beams to support mechanical pipework. I have done a lot of reinforced concrete over steel design. I've also done a lot of sketches.
What would you say to someone who is considering studying the same course at the University of Salford?
I would say to have a look at the facilities and speak to the lecturers. You should also speak to the technicians and former students and form your own opinions. Be aware that almost all of the lecturers are from industry and that means a lot as they know what they're talking about. I would definitely recommend studying at The University of Salford.