…continuing from my previous posts on the 70's and 80's, here is a timeline of artists who have played the University of Salford in the 80's,90's, and 00's!
1986 – THE SMITHS
Being together as a band for only four years before playing the University of Salford, The Smiths played our Maxwell Hall on the 20th of July 1986, just one year before the band split. Fortunately, I have been able to find a full recording of the set, which you can watch yourself.
The Smiths were a Manchester born band consisting of Morrissey (vocals), Johnny Marr (the greatest guitarist of all time, in my opinion), Andy Rourke (bass) and Mike Joyce (drums). They're considered as one of the best bands to come out of music in the 1980's, and NME named them the 'most influential artists ever' in a 2002 poll. They released four studio albums, all gaining a significant cult following from the five years which they remained together. Their music was the start of indie rock, no 42's without The Smiths!
Morrissey once said that the reason he chose their name was because "it was the most ordinary name, and I thought it was time that the ordinary folk of the world showed their faces." The Smiths have been a major part in growing up for me, with their music getting me through both the great and the tough times. Marr uses music to send you to an entirely different planet, banning himself from using power chords. This paired with the clever use of Morrissey's lyrics, makes The Smiths one of the best bands of all time.
The Smiths 1986 Setlist: Panic / Shakespeare's Sister / Frankly, Mr. Shankly  / Vicar In A Tutu  / Ask / I Want The One I Can't Have / Cemetry Gates / Never Had No One Ever / Is It Really So Strange? / The Boy With The Thorn In His Side / There Is A Light That Never Goes Out / That Joke Isn't Funny Anymore / What She Said (with Rubber Ring intro and outro) / The Queen Is Dead / Money Changes Everything / I Know It's Over / Bigmouth Strikes Again / Marie's The Name) His Latest Flame/Rusholme Ruffians / Hand In Glove
In a 2007 NME interview, when questioned about the best gig he'd ever played, Johnny Marr said: "Salford University in 1986 with The Smiths. The PA had to be tied down because the floor was bouncing up so high that the stage was practically falling to pieces. I've actually got that night on film somewhere. The Smiths were pretty full-on as a live band. Even the slow songs were full-on. I doubt we ever played a bad show."
My favourite tracks: Rubber Ring (The Smiths), Stop Me If You Think That You've Heard This One Before (The Smiths), Bigmouth Strikes Again (The Smiths)
1986 – JAMES
Alternative rock and indie pop band James are also from (and were formed) in Manchester. Starting out in 1982 with well known hits such as 'Laid', 'Sit Down' and 'Come Home', rumoured to be the best ever Manchester anthem. With interest from Tony Wilson, James also supported The Smiths on their 'Meat Is Murder' tour. James create a unique atmosphere with their sound that I can't quite explain, they remind me of Manchester and first moving to Salford, especially. Their songs bring people together, and that's what I like about them!
James 1986 Setlist: Johnny Yen / Charlie Dance / Dark Side / Ya Ho / Island Swing / Hup-Springs / Riders / Stripmining / Fairground / Just Hip / Mosquito / Billy's Shirts / Wonderful / Whoops / Why So Close / Chain Mail / Stutter / Folklore
My favourite tracks: Sometimes (James) & She's A Star (James)
1992 – PULP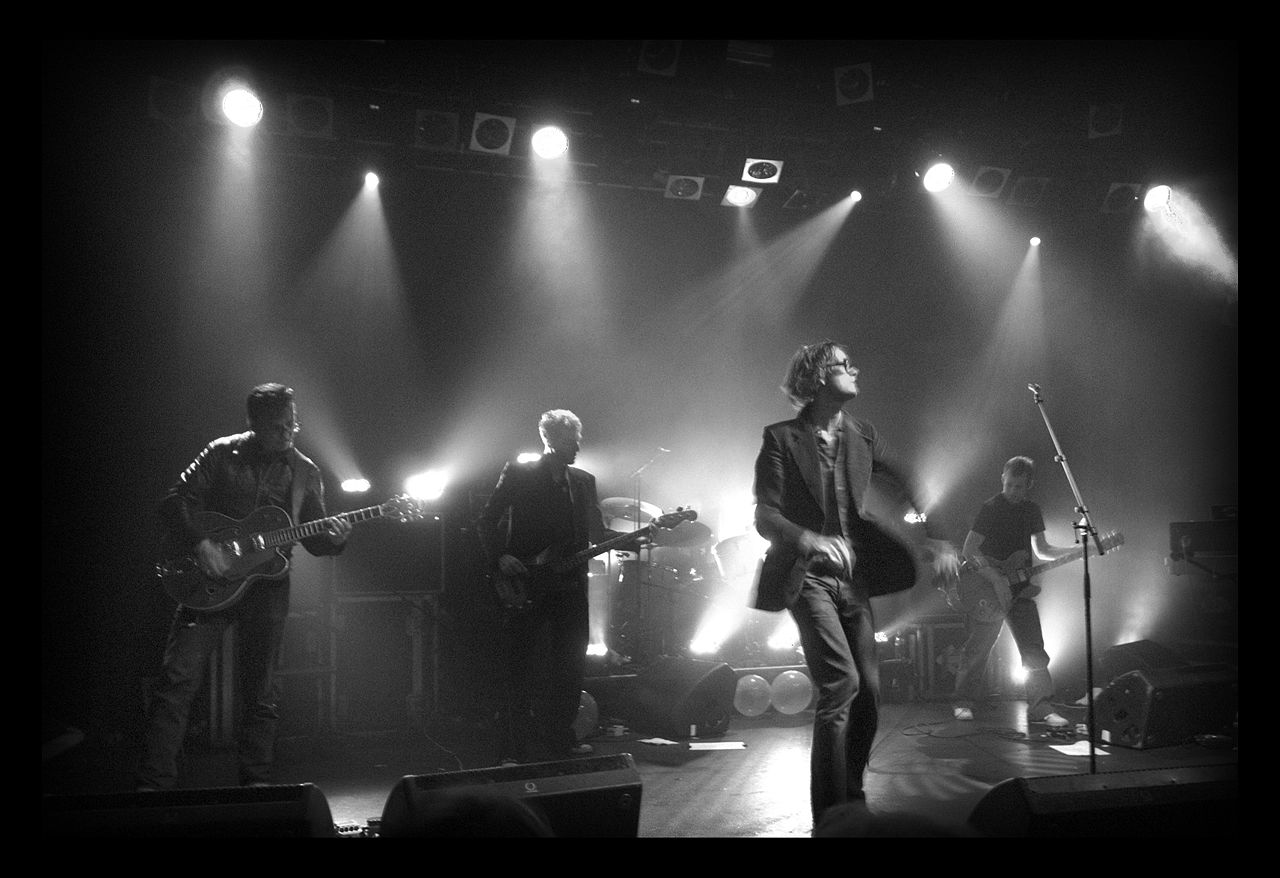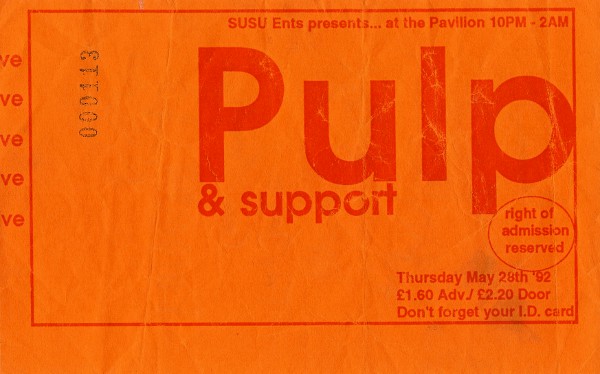 Until 2am?! UoS SU has certainly changed since 1992…
Formed in 1978 in Sheffield, Pulp are known for their most successful years between 94-96. Front man Jarvis Cocker is one of the most influential figures of the Britpop era, along with the band themselves. Pulp gained their popularity in the mid 90's with their albums His 'n' Hers and Different Class a few years after they played the University of Salford in 1992, including their well-known single 'Common People'. Their lyrics are based mainly on British culture, paired with their disco infused pop-rock. Pulp have headlined Glastonbury twice now, and have been known to be included in the Britpop 'top four' along with Oasis, Blur, and Suede.
My favourite track: Disco 2000 (Pulp)
2004 – THE CHARLATANS
Indie rock band The Charlatans have released 13 studio albums, with every single one reaching the Top 40 of the UK Albums Chart. The Charlatans still gig to this day, and I've been lucky enough to see them support The Courteeners at Old Trafford Cricket Ground – brilliant! Pioneers of Madchester music, The Charlatans are almost the soundtrack to Manchester, with frontman Tim Burgess being born in Salford. The Charlatans also supported Oasis' Knebworth concerts in 1996.
My favourite tracks MUST LISTEN: Tremelo Song (The Charlatans) , How High (The Charlatans)
I've absolutely loved writing these blog posts, and finding out about the real pioneers of the music made and born in Manchester. It's mad how many influential artists we as a University have had the pleasure of listening to within Maxwell Hall. I'm particularly jealous of the Salford students that were around in the 80's…the New Order and Happy Mondays gig is one that I definitely wouldn't have missed!