Deadlines are approaching. The library has basically become your second home and a can of Red Bull has become your holy water. Although studying is important, it's always a good idea to take a night off and completely chill. Relax and de-stress. The Chortle Student Awards was definitely a night of much needed de-stressing for me. They do say laughter is the best medicine, after all.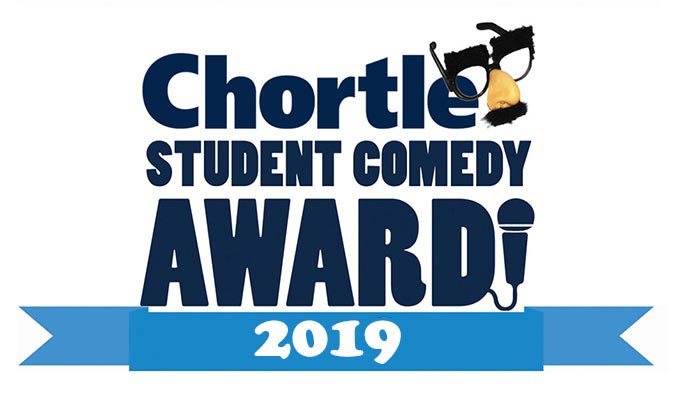 This year's North West heat of the Chortle Student Comedy Awards were held at our very own New Adelphi Theatre. I came in not knowing a great deal of how the night was going to work but the terrific host Rich Wilson explained it and I felt in the loop very quickly. Shortlisted comedians from the night's show would be put forward for the final heats at the Pleasance, as part of the Edinburgh Fringe Festival. As well as discovering new comedic talent from the North West I got to watch some of the members of the comedy group formed inside the University of Salford – 'SalFUNNI'. This included current members like Joe Green, Callad Gale and Erika Ehler as well as Maisy Whipp who was a member of SalFUNNI in 2018. SalFUNNI are a group who will be going on to perform stand up and sketches in the Edinburgh Fringe Festival later this year and are in fact in middle of fundraising for funds to be able to stay in Edinburgh for two weeks – you can find out more and sponsor here!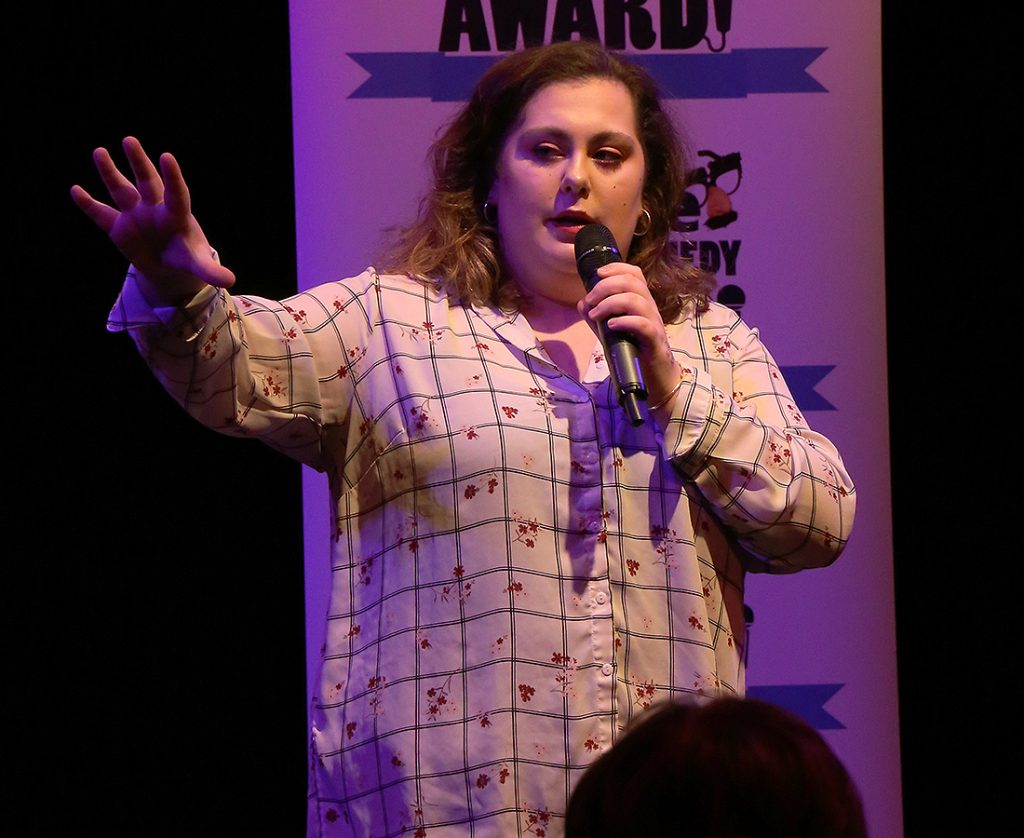 Rich Wilson was great at keeping the audience's energy up as well as cracking a couple of jokes here and there. The evening consisted of 14 students all having around 5 minutes each to do their comedy act. The first student comedian for the night was Bradley Clark and he was very good as the first act of the night and set the tone for an entertaining evening. As a student myself and someone who isn't a fan of public speaking, I really admired everyone's courage to go and stand in front of a big audience, never mind crack jokes at the same time!
The first part before the interval consisted of Bradley and four other students. Some memorable acts included Salford student Maisy Whipp who had me laughing consistently with her banter around being a vegetarian student. Another was Daniel Bishop who started his act moving the microphone out of the way and bringing a skipping rope on stage. His strange but hilarious storytelling, whilst skipping, was definitely a stand out piece.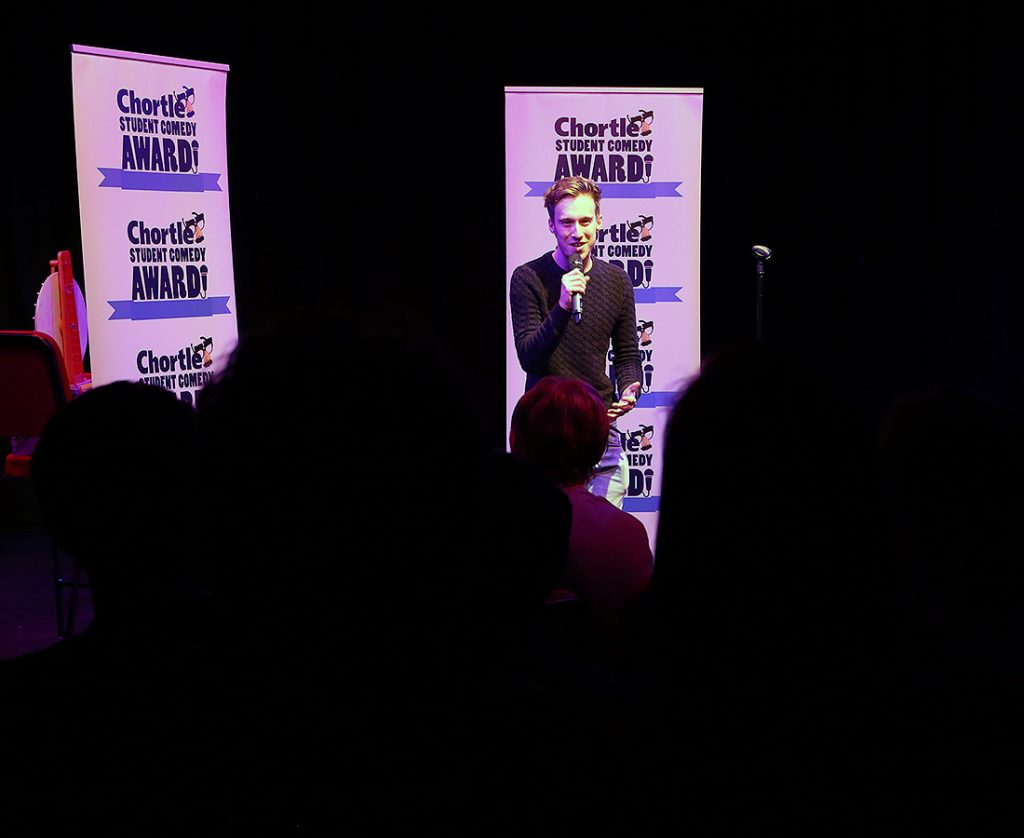 Other personal highlights of the night included Callad Gale who led the second part of the night. He told the audience some amusing quips about moving to Salford. His stage presence was very professional and confident and reminded me of comedian Russell Howard. I also enjoyed Alexander Ansuh-Amponsah from the third and final part of the night as he had great comedic timing and professional stage presence, plus one of his jokes managed to get the whole crowd applauding. Another fantastic act from the third part was international Salford student Erika Ehler who's dark and sarcastic comedy went on to make her winner of the night's awards!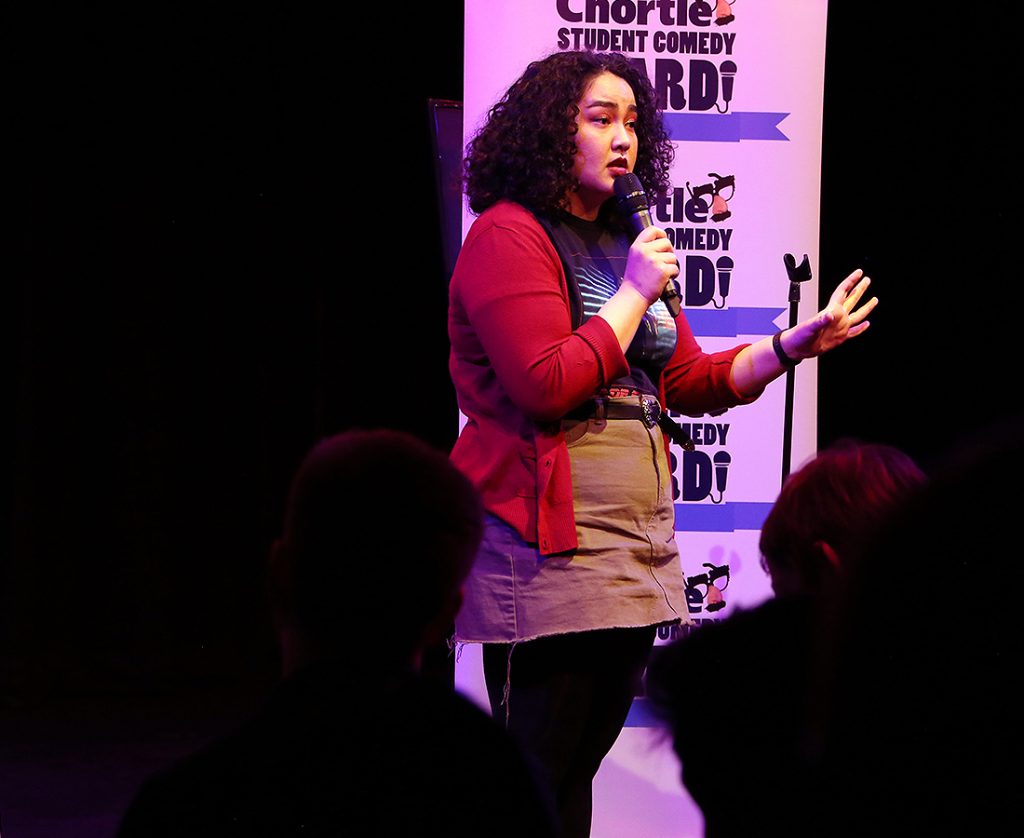 Erika was definitely a well-deserved winner of the night as her dark, well-timed jokes had the whole audience laughing and 'ooh'-ing in shock. Overall the night was extremely funny and the audience energy was never dropped at all with every act resulting in loud laughter and lots of applause. All of the students involved should feel very proud of themselves for getting up on stage and making the crowd laugh continuously.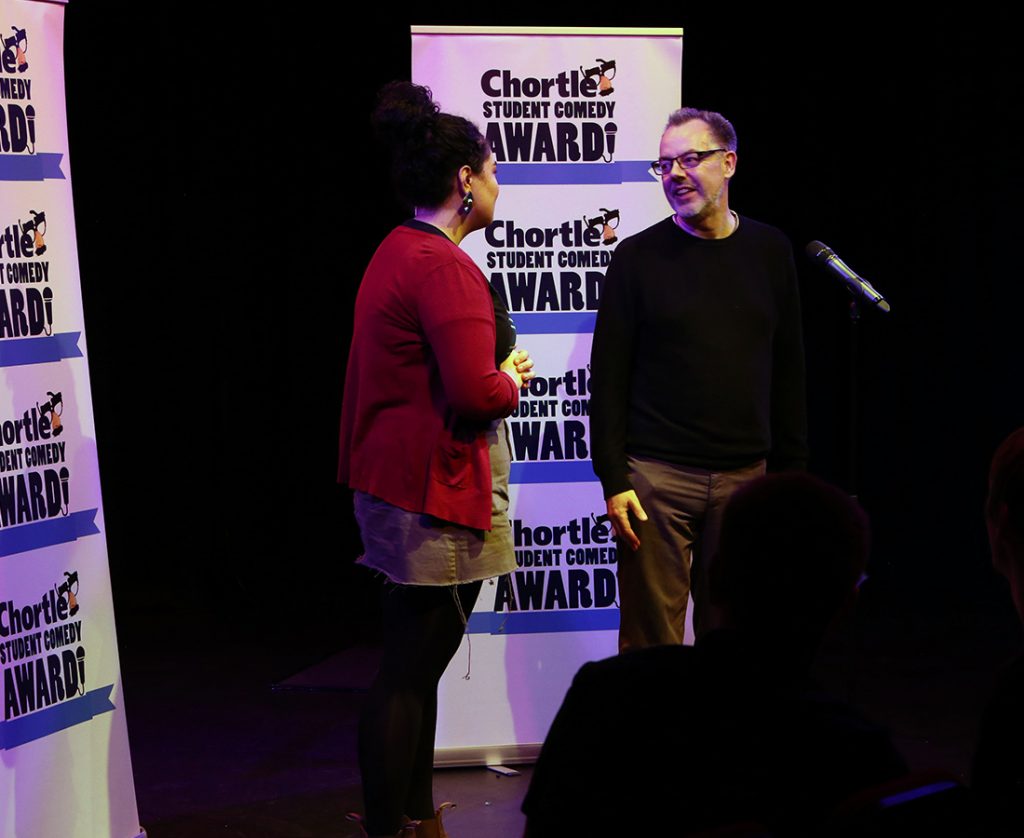 Have a look at the semi-finalists going on to the next heats here. If you're interested in seeing a show at our New Adelphi Theatre check out their website, where you can see what shows are coming up in the next month or two as well as take a look at some of the relevant University of Salford courses that make use of the space such as:
🌟 BA Comedy Writing and Performance
🌟 BA Technical Theatre (Production and Design)