Genre-fluid electronic duo YAANG formed at the University of Salford less than a year ago. Their music is a mixture of chilled out, lucid and trippy sounds combined with waves of Ian Curtis-esque vocals. YAANG have become excitingly successful in such a short space of time, managing to get themselves on the bill for BlueDot Festival 2019. Davey Moore and Oliver Duffy are both second year music students here, and I spoke to them how studying at the University of Salford has helped to form YAANG and what they're up to!
What do you both study at Salford?

Davey: We study BA Music: Creative Music Technology and we're both in our second year. I did a foundation year here before studying my degree but Oliver started straight onto the course.
What pathway did you take as a part of your course?
Oliver: Media and studio composition, which includes film scoring and creating sound effects. And then, studio based kind of avant-garde musique concrète composition.
Davey: It steps away from the typical song format of verse, chorus and so on and focuses more on the textures and complexity of music as a tonal piece.
Oliver: It also focuses on how to use the studio equipment as compositional tools rather than just audio gear.
Davey: It's using the studio to make a song instead of using the studio to edit after the song is created. Using the studio as an instrument really.
Did you both meet at university?
Oliver: Yeah we met on a module called Rhythmic Awareness, it teaches you a lot about rhythmic sensibility. Me and Davey met there and because we were wearing the same sort of clothes, and we had the same type of haircuts we thought we'd get along.
How do you balance both your degree and YAANG?
Oliver: Most of the stuff that we've done this year has been collaborative. Last year we had to do some audio for media work in pairs so we just paired up together, so we got to practise together in that sense. We're going to score a film that's being made by some of my house mates, coming out in Easter/summer time so we saw that module as practice for that. Uni has helped us in the way that it's got us into the world of film scoring so that we can do it outside of uni too. One of my studio compositions this year is a YAANG song, and we're just re-vamping it and adding more elements so it fits in with the brief that we've been given for the module. We look at any studio composition within uni as something we can use for YAANG.
Have the facilities at uni been helpful?
Oliver: Yeah to be able to do a 12 hour studio session from the access we get through our course means we can be so productive and churn out so much music. We've got so much music which is unreleased that we wouldn't be able to make if we didn't have the facilities. It allows us to develop our live sets too, having unlimited rehearsal time. We can borrow stuff from uni too!
Davey: The University of Salford studios are just amazing. So good. When I went to college they had studios, but these are just ridiculous.
Are you both local?
Oliver: I'm from Northamptonshire which is about 2/3 hours away. I always knew I wanted to come to this area for uni. Before I even looked at universities, I knew that if I was going to move to somewhere else, Manchester was the first place.
Davey: You're a huge Johnny Marr fan too aren't you so! Now I'm here I'm not actually making the Manchester style music, but when I was back at home in Stoke, I was obsessed with Manchester music.
Oliver: Me too.
Davey: Joy Division are the main reason why I started making music. Then I got onto The Smiths, The Stone Roses, The Charlatans and New Order.
Oliver: I had a huge Oasis phase, the kind of kid that says 'biblical' and has a mod cut. I was one of those kids in first year.
Davey: I'm a Blur boy! I don't know whether this is just my opinion but Salford has a similar vibe to Stoke – my hometown. It's working class, and people make the most of it. I love that.
Have you been a part of any bands before YAANG?
Oliver: The first band I was in was when I was 12, I was in a Green Day tribute band. We were together for around 4-5 years. We gigged a LOT, for a bunch of 12 year olds. We played around Milton Keynes and a lot of the surrounding areas. We played a couple of festivals. We played a few headline gigs in Milton Keynes, and no one knew we were kids. The places got sold out and when we showed up everyone was so shocked to see a group of kids playing.
Then I was in a band for a while called Feedback Aftermath. This was from 2014-2018 and I was a proper rock kid, so against electronic music and anything that didn't come from an instrument. We would just make fast, riffy and noisy music.
Davey: I started off in college in a band called Concrete Gardens. I loved it. It was an indie band, and it was my first time singing too. When I went into music tech, I didn't really plan on performing I just wanted to record music and make weird internet songs. Joy Division inspired me because I have a similar, moany, low voice. But then that crumbled away. We wrote some bangers and I made sure I got them all on record.
Then I started making vaporwave and trippy music with my mate Beck, he taught me how to do crazy stuff. When I came to uni I was lost because I was on my own, but then I met Ollie and we got to this point. We're really motivated to actually get out and do it. With the oversaturation of music and lots of the arts, if you're passionate and willing to take risks and invest time then just go for it and you'll get there!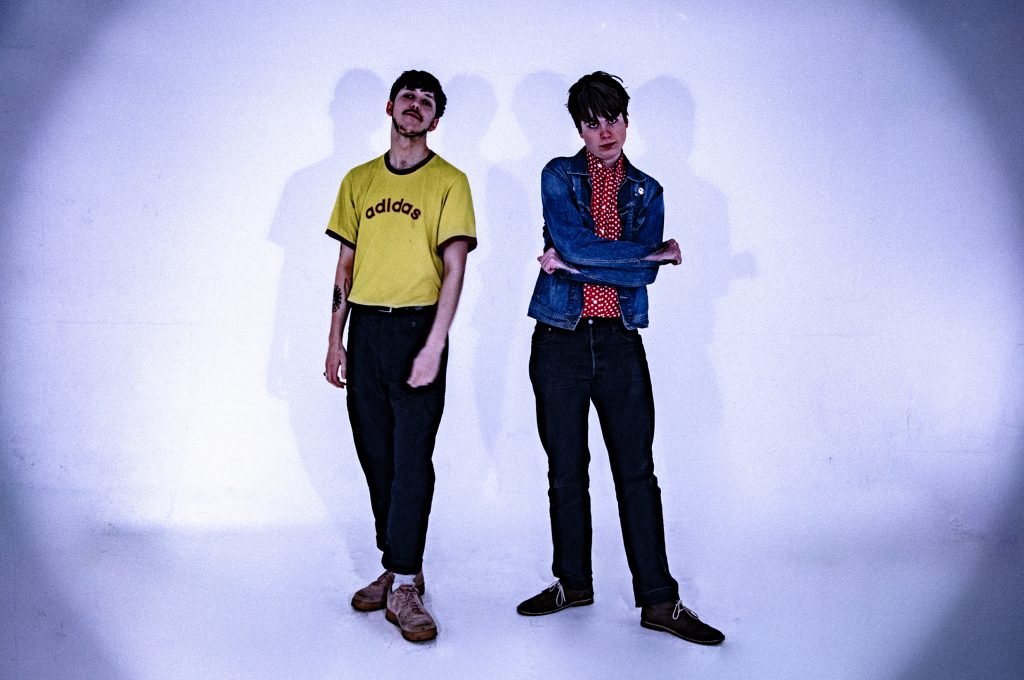 How would you describe YAANG? Who are your influences?
Oliver: We originally used the term of genre-fluid. Which means we don't really belong to a genre or categorisation of music. It still falls within the electronic field at the moment, but that's not to say that in 10 years time it won't change. We don't want to limit ourselves. It just so happens that electronics is the current incarnation of YAANG. If you had to give it a genre, musique concrète is the best way to describe it.
Davey: Basically musique concrète – for any lecturers reading correct me if I'm wrong is a mixture of avant-garde and experimental music with some sensibilities from classical entertainment influences. But at the same time we're focusing on trying to make something new, something postmodern. A mish-mash of genres that've been put together. If it works, it works.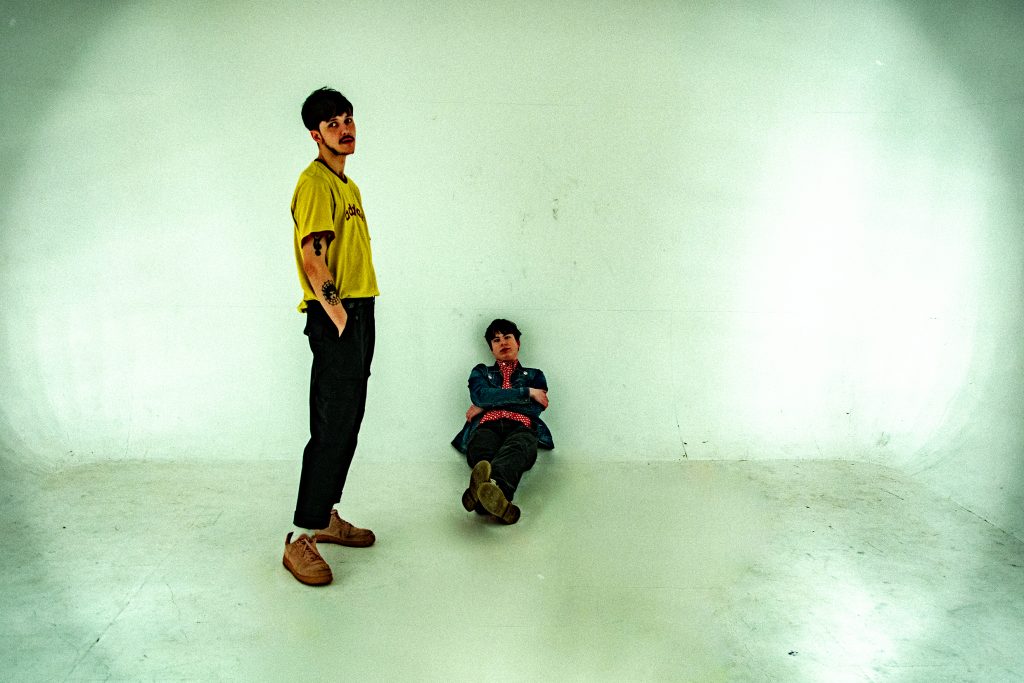 Tell me about the gigs you've played!
Oliver: The first gig we played was at Band on the Wall, I didn't think we'd be able to play somewhere like that for ages. After we'd played that gig I got an email from BlueDot, saying that they'd seen a couple of the videos on Instagram from the gig and wanted to offer us a slot. It was mind-blowing. I'd wanted to go to BlueDot for a few years now, and to get an email for them to say they want us to play a slot and pay us for it made us think it's actually happening. All of our influences are playing there.
Davey: We're technically supporting New Order.
Oliver: Then we went on to play gigs at places like Aatma, where we met our manager Hannah. She carries us forward and concentrates on the admin side of YAANG. To have someone that's genuinely interested in our music as a manager is great as well. She manages us because she likes our music, she wants the best for us!
We once DJ'd at Beatnikz Republic for five hours. And then we've got a gig at YES which is one of my favourite bars in Manchester.
What tunes would you recommend from YANG?
Davey: "yangtape2" and "Dream Sequence" are in their own little category. We wanted to make them chilled but energetic. It's lucid dreamy vibes. Then we've got "Kelly" which is like an 808 State sweaty club tune.
Oliver: 'Kelly' has washy synths but because it's the first tune that has vocals in it you can sing along to it, it's really minimal and memorable.
Davey: Then there's "Bathtub Nightmare ft. Betty", this is getting into the more experimental side of us.
Oliver: It's very nightmare-ish and we made it to put people on edge. It was the first time we got a guest collaborator in who was from our course. It's unlike all of the other ones.
Davey: It was the first twist on our style really. It's a teaser for what's to come!
What advice would you give to people looking to study at Salford?
Oliver: The University of Salford is in such an important transitional period for School of Arts and Media students, because the New Adelphi building is amazing with all of the facilities. Not just for us in studying music but for absolutely anyone that wants to do anything creative. We're the first generation to be using it, and in 10-20 years time there's going to be loads more students making the most of it like us. The Alumni list is going to go through the roof and it's all down to the New Adelphi building.
Davey: The University of Salford is great. The most beneficial thing from my university experience so far is that it gives you the ability to grow up and grow as a person. You learn how to live on your own, learn how to be dependant on yourself and learn that others are dependant on you, instead of relying on your parents. I've learnt how to deal with money and careers, it's so important that uni lets you get that experience. It allows you to learn about yourself and become the person you want to be.
Want to listen to more of YAANG? You can find them on Spotify here. Follow the boys on Instagram (@__yaang_) and Facebook to find out more about their live gigs and what they're getting up to – you won't be disappointed!
You can find more information about our music courses by following the links below:
⭐BA (Hons) Music: Popular Music & Recording with Foundation Year
⭐BA (Hons) Music: Popular Music & Recording
⭐BA (Hons) Music: Creative Music Technology with Foundation Year
⭐BA (Hons) Music: Creative Music Technology
⭐MA Music