Your journey through university will entail far more than just the challenge of getting a degree. It is a time for you to grow, discover and learn about who you are and the talents you have. From work experience to societies, you will be presented with countless opportunities to try new things.
I had a chat with third-year Graphic Design student and Trans* Student Ambassador Kyle, to find out about his experience here at Salford.

What do you study and what year are you in?
Hi, my name is Kyle and I'm a third year Graphic Design student.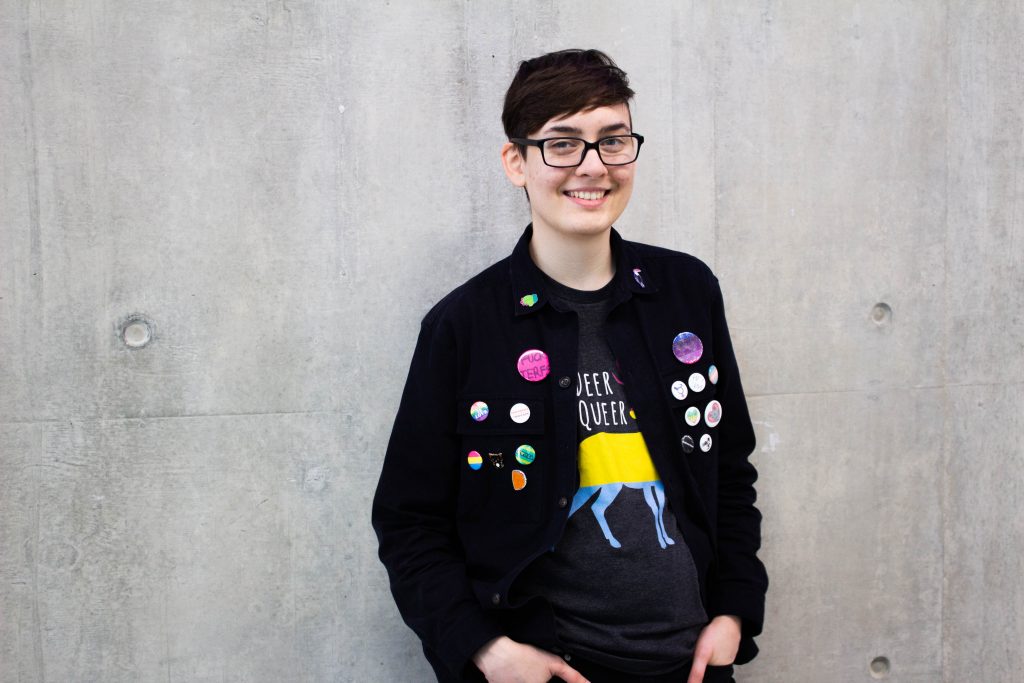 What have you enjoyed most about your course?
There are many things that I like about the course, but I think the most important thing is the ability to be independent and to direct my creative practice. Before coming to university I was so worried that the course would suppress my creativity, but the tutors here really value our ideas and support them. The lectures and tutorials boosted my confidence as a designer, while the technical demonstrations provided me with a variety of skills.
How would you describe your time at Salford?
I have had a great time! I never thought I would make so many friends and explore so many areas of design. The course gave me a foundation and understanding of what it is that I want to do in the future and I genuinely enjoyed my time during lectures. I got involved in many extra-curricular activities as well, even though I was always very shy, and it helped me get out of my shell and meet interesting people. Overall it was a life-changing experience that I will never forget.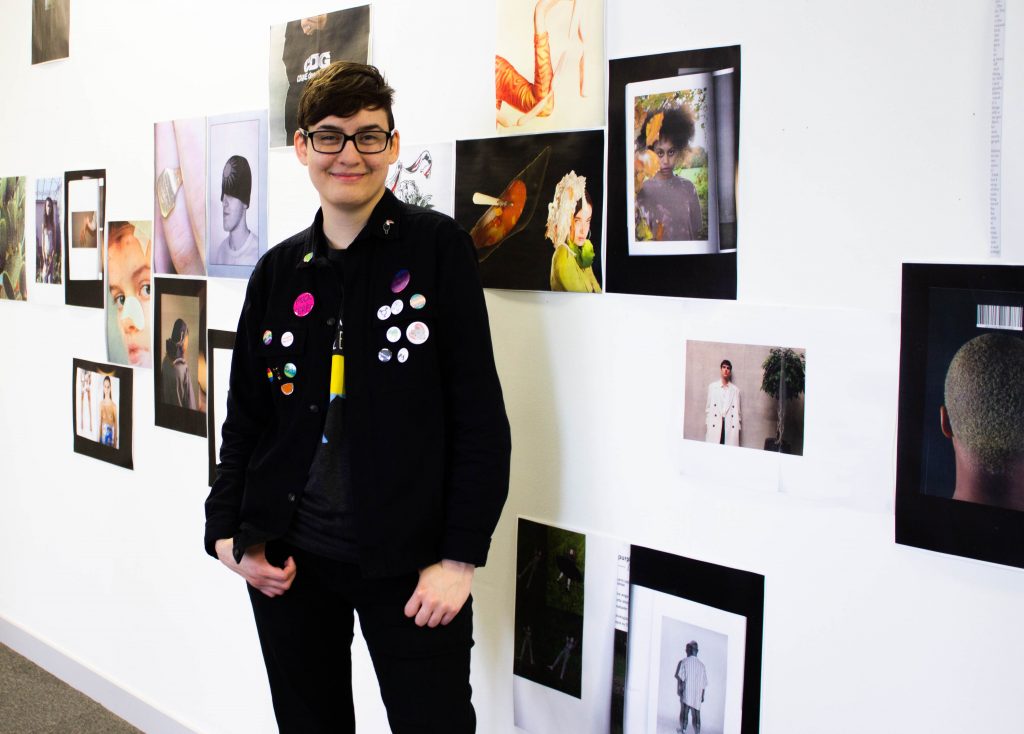 What does your role as Trans* Student Ambassador include?
My role as Trans* Student Ambassador includes helping other trans* students access the support available here at Salford, as well as help with training and events around LGBTQ issues. I was very lucky to be involved with a recent staff training event for the Admissions team and I also represented the university at an event as part of their outreach programme. It has been a great experience because I got to meet amazing people while helping the trans* student community at Salford.
Do you feel the University of Salford offers a positive experience for Trans* students?
I think it does. I can only speak for myself here but so far the support I received has been great. When I joined the LGBTQ+ society, I met people who referred me to our Inclusion and Diversity team as part of askUS student services. They handled my name change across all the University platforms and offered me additional services such as counselling. I also got involved with the Trans* Forum – a new initiative that aims to make Salford a more trans*-friendly University. Our latest achievement is creating a weekly trans*-only swimming session, which has been a success. The tutors and staff treated me with respect and the University also provided me with opportunities to engage with other trans and non-binary students and staff and it has greatly improved my mental health. The introduction of gender-neutral bathrooms in all buildings is also an important factor to improve the safety and comfort of trans people and it made me feel so much more at home.
Do you think societies enhance the student experience?
They definitely do! I was very shy when I came to university and I thought I'd never fit in with a society. However, having so many societies to choose from, everyone can find their place!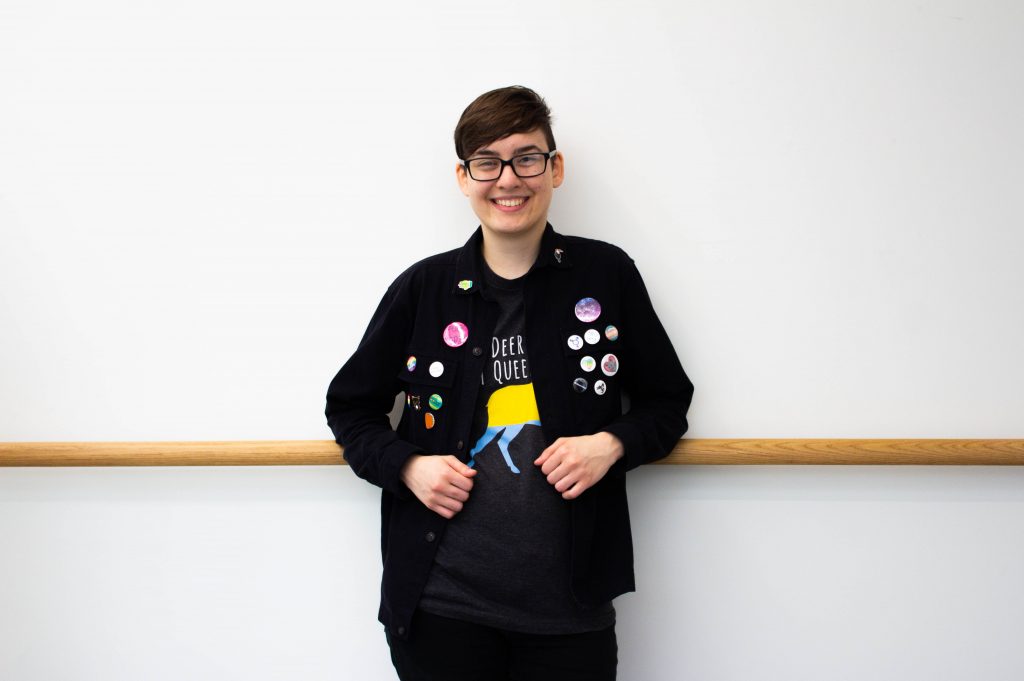 What are your plans for after you graduate?
I'm hoping to get a job in the industry and gain some experience to eventually start my own design studio. I would love to be an art director in the future. I'm currently working as a part-time junior designer and I love it – I'm learning so much every day!
Do you have any advice for students coming to university in September?
I would say don't be afraid to go out there and get involved in optional activities and societies! Salford provides once-in-a-lifetime opportunities to make use of their facilities and they also run events to help students engage with the professional world. University can be daunting, stressful and at times lonely so societies are a great way to meet people who share the same passions as you. Do as much as you can outside of lectures and try to enjoy your time here! After all, the three years pass by in a blink of an eye so the memories you make will be yours to keep.
Feeling inspired? I know I am. Thank you Kyle for taking the time out of your busy third-year schedule to have a chat!
Why not have a hunt through the Students' Union website to see what societies take your fancy? If you have any questions, don't hesitate to leave them in the comments section below! 👇