Current student Jim and recent graduates Ross and Reece have created their own theatre ensemble called the Farewell Theatre Company. In just a few days time, their production Boots 'n' Braces is set to be performed at MediaCityUK as a part of Greater Manchester Fringe Festival 2019.
Together they have gathered months worth of research to create an outstanding piece about the history and stigmas associated with skinhead society. The performance promises to be a night of creative education and artistry about this often misunderstood subculture. I spoke to them about their university experience, their passion for theatre and where the ideas came from for this unique production.
Tell us more about Farewell Theatre Company…
Ross: When me and Reece got into our third year of university here, we had to create a theatre company and devise a piece which we were interested in as a part of a module, which is where the idea for Boots 'n' Braces started. It was our last piece at uni together, and that's where the name farewell came from.
It was originally me, Reece and another guy called Danny Myers who started Boots 'n' Braces. Since then I directed another play in which Reece was the lead, and we had two girls join us for that play as actors and a production manager which were all students at Salford at the time.
Since graduation me and Reece were dying to put Boots 'n' Braces out again, but Danny couldn't make it this time. So we put a casting call out, and Jim joined us!
Jim: And here we are! The head is shaved and I'm in the get-up.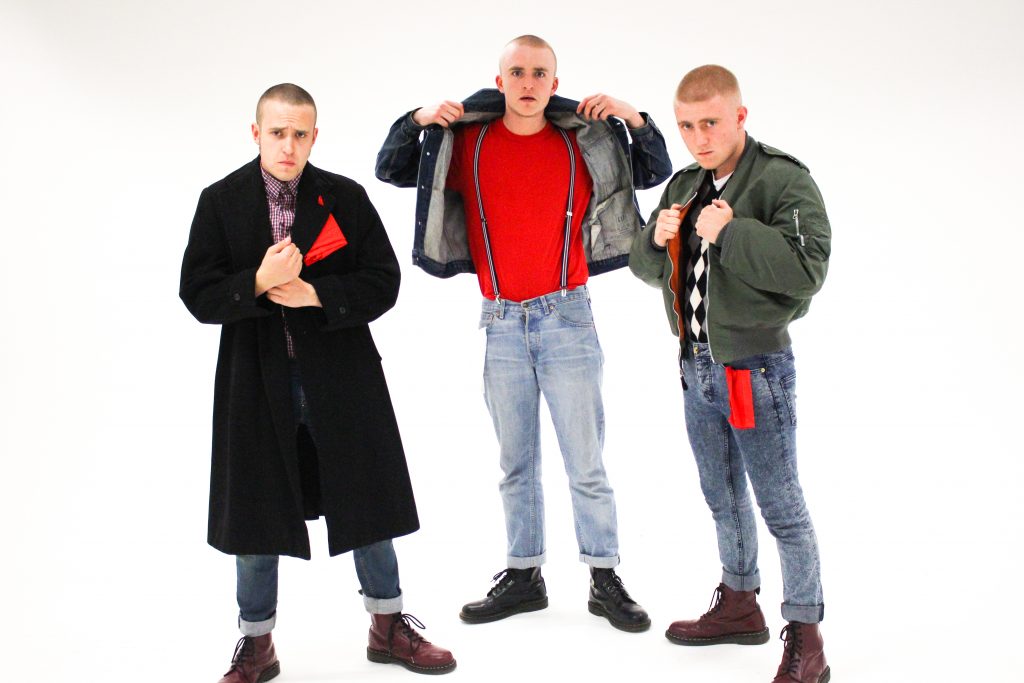 What do you study?
Jim: I currently study a foundation degree in creative media production, and next year I am changing course to BA (Hons) Television and Radio. I wanted to stay at university for longer and build more skills, so I decided to swap my original course after the foundation year.
Ross: I studied BA (Hons) Theatre and Performance Practice in 2015, graduating last year. It was a lot of fun. It allowed me to do TV, directing, devising and script work. I directed my final performance and devised this play. I thoroughly enjoyed the course!
Reece: I also studied BA (Hons) Theatre and Performance Practice. I was in the same class as Ross. I really enjoyed my whole uni experience because the course gives you so much freedom in terms of what you want to do. I did things that I never thought I would, such as comedy, comedy writing and directing. These were parts of theatre which I didn't even consider before going into the course and now I would say that I have the skills to pursue them in the future.
Ross: Our cinematographer was a BA (Hons) Media and Performance Practice student who's now graduated. Our technician Aodhan is also a first year student here at Salford.
Where are you from? Are you all from the same area?
Jim: Well we're all from up' north! I'm from Warrington and lived there all my school life.
Ross: I'm from Carlisle. About 2 hours away from here.
Reece: I'm from the steel city, Sheffield! Not too far away from here.
Ross: We all lived in Manchester for uni. I lived in Bramhall Courts.
Reece: I lived at Peel Park Quarter.
Jim: I lived at John Lester Courts. But we used to all chill with each other at our different accommodations.
Was Boots 'n' Braces a part of your uni course? Was it the result of a specific module?
Ross: It was called the practical research project. After we did the show, our lecturers said we would be fools not to do the play again on a bigger scale. Our supervisor Julia Nelson has helped us out again this time. We can't thank her enough. Even though we've graduated she's still kept in touch and we've still been able to use the facilities to practice for the play.
Jim: As we don't have a director for this, Julia has allowed us to get a second opinion on the piece when she's come in to help us. She's been brilliant!
Jim, you're still studying your degree so what's it been like balancing rehearsals and study?
Jim: I work best under stress! I write films, I write stories, I do three radio shows a week, I have a job, I practice for this and I try and play sport when I can. Only boring people get bored! It's nice having a packed schedule. I couldn't imagine it any other way.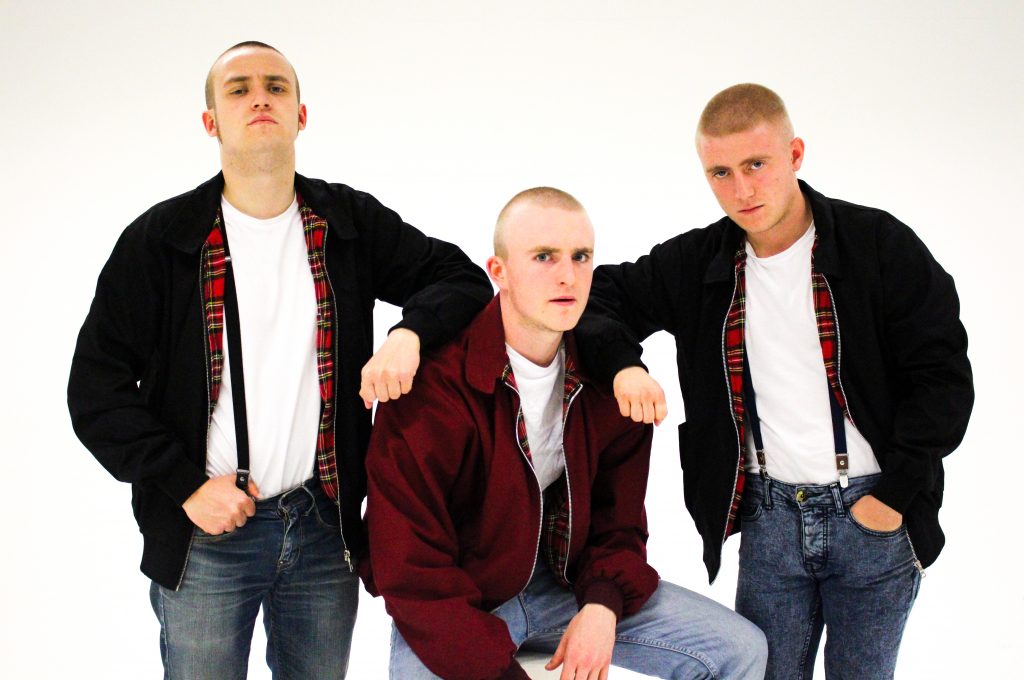 Do you think being at university will assist your future career in theatre?
Ross: University is where great things can happen. When you look at people like Jim Cartwright, he's now working with Salford uni. Students can become real actors!
Jim: It's not a pipe dream, it's tangible.
Ross: Peter Kay, Christopher Eccleston, Sian Gibson and Jason Manford. They're all phenomenal talents, and all from this uni!
Are there rehearsal spaces available?
Ross: You can book a room to rehearse in New Adelphi on Peel Park campus. It's handy too as we don't finish work until late so we book night sessions so it's really quiet.
What advice would you give to students looking to study theatre?
Jim: DO IT!
Ross: The best thing about university is if you really didn't like it, you can move course and do something different. I got a few offers from other universities, but I really wanted to come to Salford because of the flexibility of the course. After first year you can choose what you study which is so exciting. You can refine what part of theatre you want to do. There's so many different pathways you can choose from.
What's the general theme of Boots 'n' Braces?
Ross: We want to dispel the myths that all skinheads are violent and racist.
Reece: We looked into skinhead culture and found that there aren't many pieces done about it apart from a few films from the 80's and 'This Is England'. The purpose of skinhead culture was to come together over the love of music and fashion. It was a multicultural society until politics started to get involved.
Ross: We don't want to give too much away. There was corruption and rationalism. To become a skinhead, you have to shave your head and dress in a certain way – you are prepared to change. This was being sold to youths along with opinions. It's scary how little influence people would need.
Jim: I think it's really important. Art should tell a story worth telling. It's not a subculture that's talked about a lot. The skinhead culture has been labelled to the point where when we've been working on this, people have crossed the street because of what we're wearing. We hope to change people's opinions and it's really relevant at the moment. If you ask a skinhead what it's like to be a skinhead you would get three different answers. You can't tar a group of people with the same brush, and that's what the plays about.
How did you get on the bill for the Greater Manchester Fringe Festival?
Ross: I applied for Greater Manchester Fringe Festival and then me and Reece went to look at some theatres across Manchester. We needed a big space as there's a lot of movement in the play. We go out into the audience in some parts so we needed space to move around. We want the audience to feel a part of it, so they're hooked.
How did you research for the play?
Ross: We started in October 2017, as we had to do a presentation for uni. It's a docu-theatre piece, which means all the lines are other people's words. We have interviewed people, we've looked at documentaries and films and transcribed a lot of the content from these. About 70% of the script is other people's words, and the other is our narrative. There was a lot of watching and writing and then two weeks to complete the show.
Then this time around we already had the short script, and then we've added bits when we've found something. We've always known we were going to do the show again so we've been constantly researching for content.
Where is the play being performed?
Ross: We've got two shows at the Footlights Theatre, MediaCityUK. 7.30pm-9.30pm on Friday 12th July and Saturday 13th July 2019. There is a post-show discussion too which we love.
Reece: Whenever me and Ross go and see a show we always end up going on the post show discussion nights and they're so insightful.
Ross: Because it's an educational piece, we've learnt from last time that everyone wanted to ask questions and we just didn't have time to answer them all. So having a post-show discussion allows us to be able to answer questions from the audience and thank people for coming.
Jim: It means a lot that people are coming to see us. It's what it's all about. We want to take Boots 'n' Braces on tour in the future and approach theatres and sixth forms/colleges. We want to get as much exposure as we can.
At the University of Salford we are so proud to say we support and stay in touch with our students and alumni who go on to do amazing things with their degree.
I wish the team the best of luck with both of their performances, the show really does sound fascinating and definitely a must-see if you're around Manchester this weekend.
You can find more information and tickets for Boots 'n' Braces here.
Follow Farewell Theatre Company on Facebook, Instagram and Twitter to keep up to date with their productions.
Photography: India Booth (author) @indiarosephoto