BSc Physics student, Elizabeth Chard, has recently started her industry placement year at our very own Energy House. Energy House is a unique testing and development facility that looks to improve energy efficiency, working collaboratively with industry to develop and test new technology. We met up with Elizabeth to find out about her experience at Salford so far …
Hi Elizabeth, how are you settling in to your placement at Energy House?
Sometimes, I put a lot of pressure on myself, believing I should know it all, but that's why I'm here, to learn. I don't have a lot of industry experience, so I'm looking forward to gaining some by having a go at anything they throw my way. I'm their first full-time, yearlong placement student – they've previously had summer placements – and there's even the potential of gaining my own project to do whilst I'm here which is exciting.
Have you always wanted to study Physics at university?
Truthfully, I only began to enjoy studying physics during my GCSEs. I had a great teacher, and the energy he injected into the lessons sparked my own interest as he transformed it from a boring topic about electricity into something interesting. At A-level, I had another brilliant teacher who recognised my interest and developing passion for physics. He would recommend articles, documentaries, and we'd have discussions about physics that went beyond the core material for my examinations. For me, teachers were able to ignite that spark of interest, and I knew I wanted to study physics at university once I realised just how broad of a subject it is.
What is your course like?
I really like that the class sizes aren't huge, and that the lecturers purposefully get to know you as a person, understand your strengths and weaknesses and are approachable. We have a mixture of examinations and coursework which is ideal, for me, because I love being able to demonstrate what I have learnt and how I would apply it in the real world.
The Salford Physics department are very keen to introduce students to industry, providing us with the skills to find employment after graduation. Salford gives you both the theoretical knowledge and practical skills required for a job whilst improving your weaknesses: I used to hate presenting, but the feedback sessions have really helped to build my confidence. In terms of industry placements or exchange programmes, Salford is one of the few universities where both are optional, allowing you to make the right decision for you when the time comes.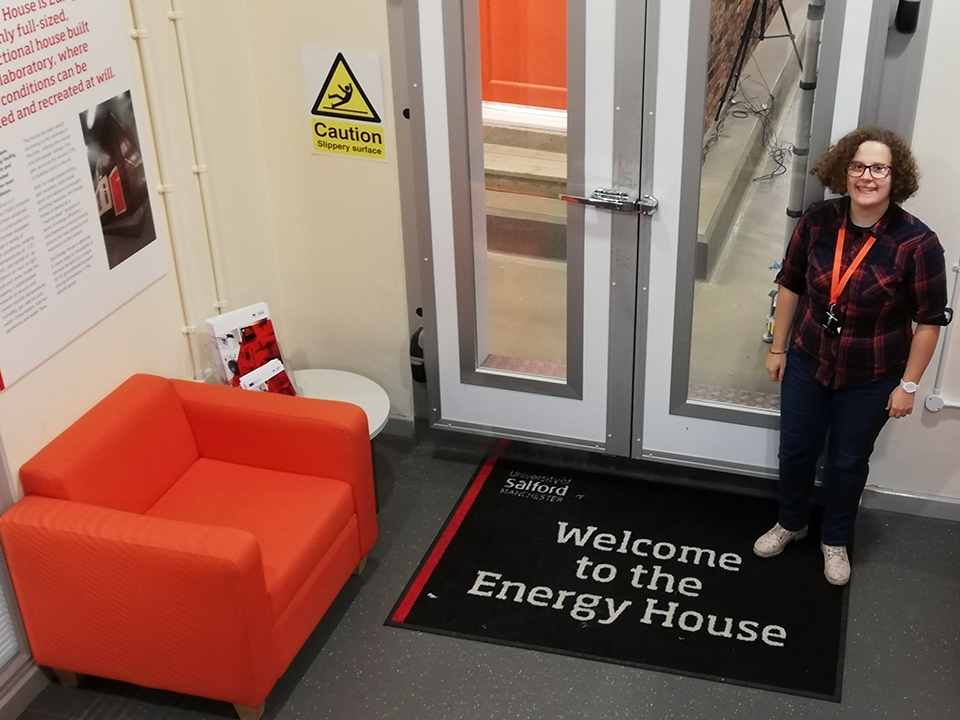 Do you have any advice for prospective students interested in STEM subjects?
If you have a passion for something, then pursue it. I'm the only girl in my year group studying Physics but it's never been an issue since I'm not treated any differently. I've always done the things I enjoy, and I think that's important. Gender doesn't matter, we're just people in industry.
Would you recommend the University of Salford?
Yes. I love it here. The best piece of advice I had was: if, whilst you're looking around a university, you start thinking of it as home, it's the one, and that's how I felt whilst walking around Salford's campus.
What are your plans for the future?
Since working at Energy House, I've started to consider postgraduate study because I really enjoy working there, so having the opportunity to get involved again once I've graduated would be amazing. I really like the fact that I'm involved in collecting the data, and there's a sense of pride once I begin the analysis because it's my data. The placement has taught me that it's important to love your career, and I now know that I would enjoy a hands-on role which involves data analysis.
Thanks Elizabeth! Good luck with the rest of your placement, we look forward to catching up with you again soon.
Find out more about the opportunities available to you with Physics at Salford.