The University of Salford's Hit the North exhibition was created by students from across the School of Arts, Media & Creative Technology exploring how the COVID-19 pandemic has impacted arts and culture in the north west.
An open call was put out for students to respond to this theme, providing a platform for them to express their thoughts, feelings and creative voice, living and creating work in the midst of a pandemic and graduating into an uncertain world. Here we document some of the submissions, which you can also see over on the @uos_artsmedia Instagram account.
'THE NOMAD'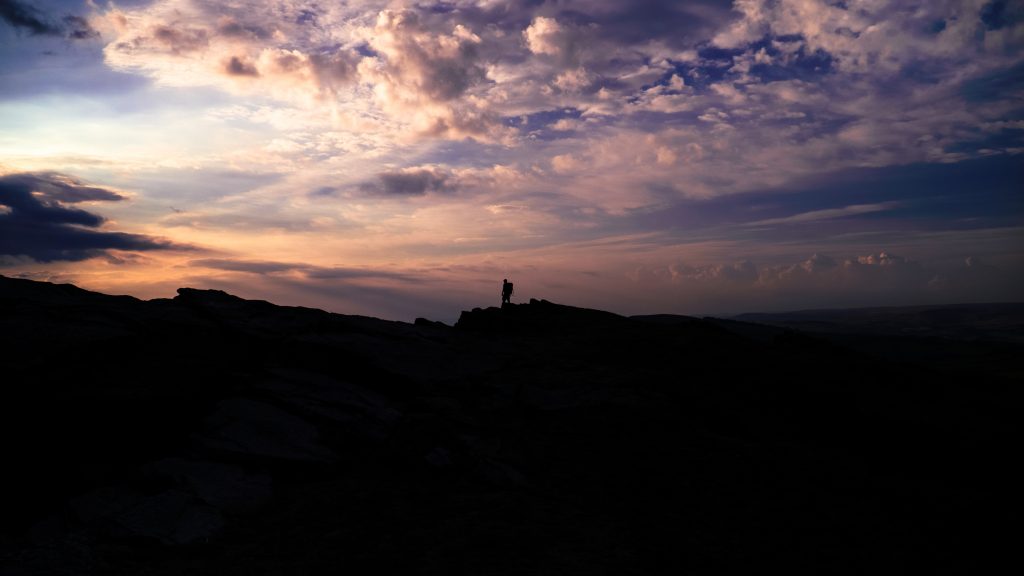 "This photograph was taken whilst on a hike with my step-father. We were walking over the hills at sunset. He is an extremely 'outdoorsy' person, so it's times like these that we enjoy spending together. I shot this image as he went to look for a way down the rock-face, I just remember thinking that it captured the essence of who my step-father is. He is this adventurous man who is always looking for solutions, who seems to find himself in his element in the great outdoors, away from the cities and towns that I've always called home. Although we're very different people, not related by blood, we both managed to be in our comfort zones together. He was in the great outdoors, and I behind my camera. So this photo, beyond the colour and composition is one of my personal favourites because of the moment it captured. For me that's the power of photography, and the importance of the arts. Cementing moments in time in a tangible format."

Sam Wood
IG: @samwood.lens
'ISOLATION PORTRAIT'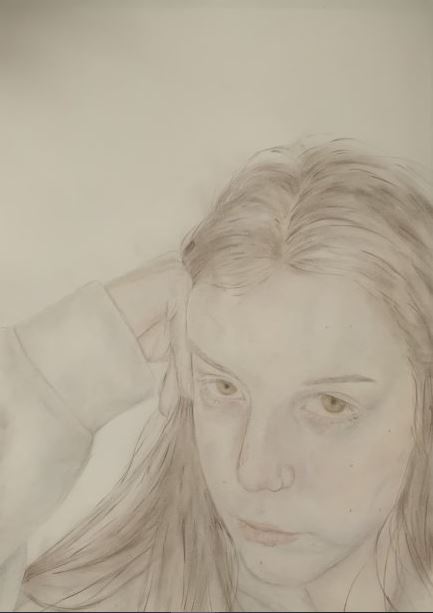 "My work is done using makeup as a representation of how we choose to present ourselves to others. With this piece I decided to present myself honestly, showing how I truly currently feel: bored, unmotivated and uninspired. As artists, although many of us experience this, it is a struggle not often discussed. For myself, and I am sure many others, these feelings have been caused or at least worsened by the pandemic and lockdowns we have experienced. This makes sense as we rely on the world around us and our work environments for inspiration and productivity, and we are slowly being cut off from them. I made this drawing after Boris Johnson's announcement of the latest lockdown, I figured that since this isolation and the difficulty of creating work associated with it would probably go on for a while longer, the only thing I felt I was able to create work based on was myself, resulting in this self-portrait."

Abbie Callaghan
IG: @abb.eyy_art
'FEELIN' BLUE'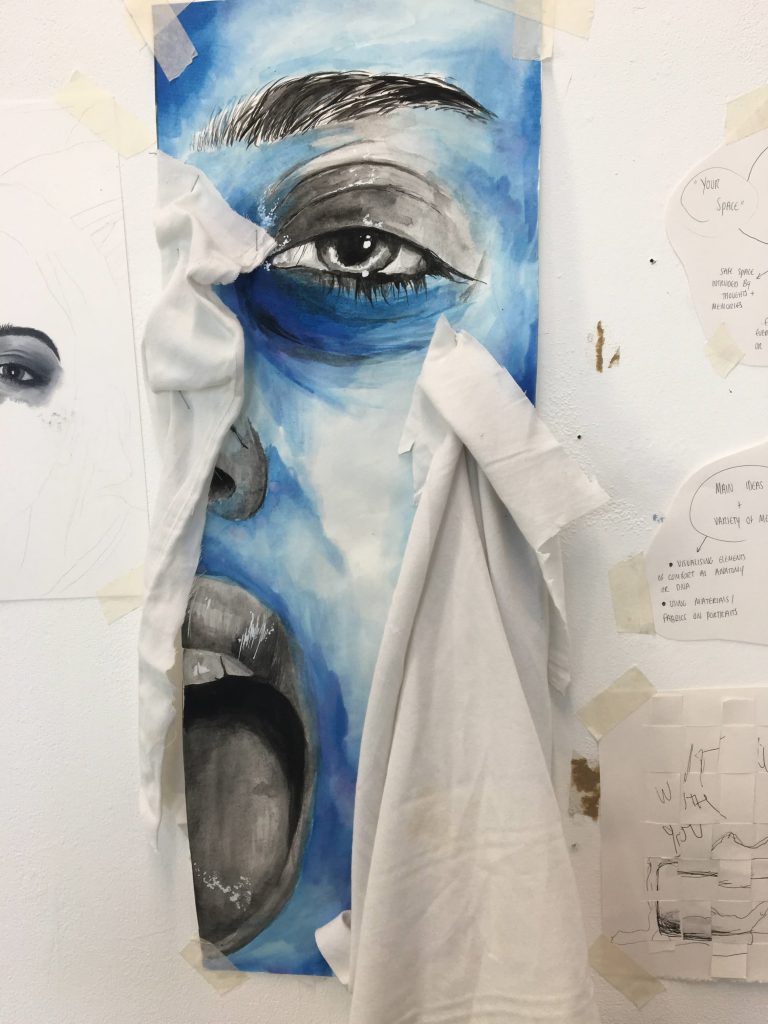 "When in lockdown I found myself being drawn back to spending hours in bed and my mental health becoming an issue, so I created this piece to visualise this. The blue colour on the skin alludes to the emotions I experienced, and I used some fabric to get the idea across that my bed was like my comfort zone amongst all the noise."

Danielle Wilton
'INFLUENCE OF THE MEDIA'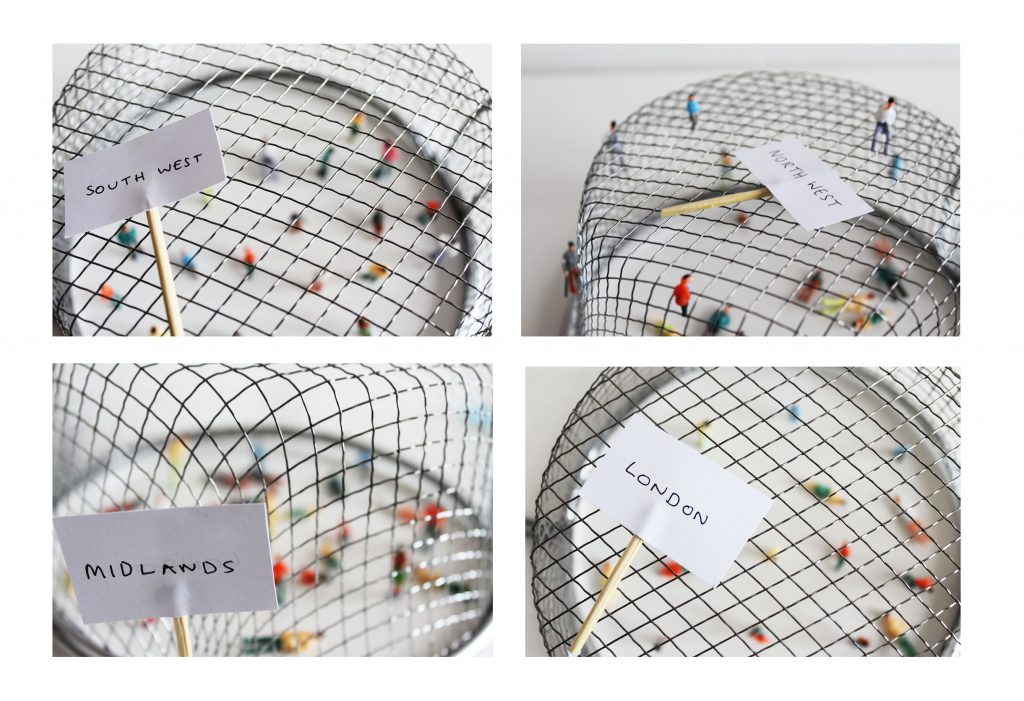 "The inspiration for this piece of work has been created by the negativity towards the north during the COVID pandemic. After watching nearly all of the live conferences on social media I have been allowed to witness comments on what people think about the north and how we are being perceived by everyone else. There has been a lot of negativity towards the area and we are being known as the spreaders, the ones who do not listen, the rule breakers. Even when statistics deny this people have already created opinions about the north because of what others are saying. I wanted to visually represent what others are saying, people believe that every other area is abiding by the rules and that the north west are rejecting the right things to do and instead putting people in danger. This will affect every area of job growth for people in the north, but it will particularly tarnish the opportunities that creatives have. They will be viewed as unreliable and reckless even though this is not the case. I want this series to outline how the negative response towards the north is perceived within the UK. The question is, are we all together or will we forever be divided?"

Ellie Harrison
'TO UNDERFUND THE ARTS IS TO SILENCE WORKING CLASS ARTISTS'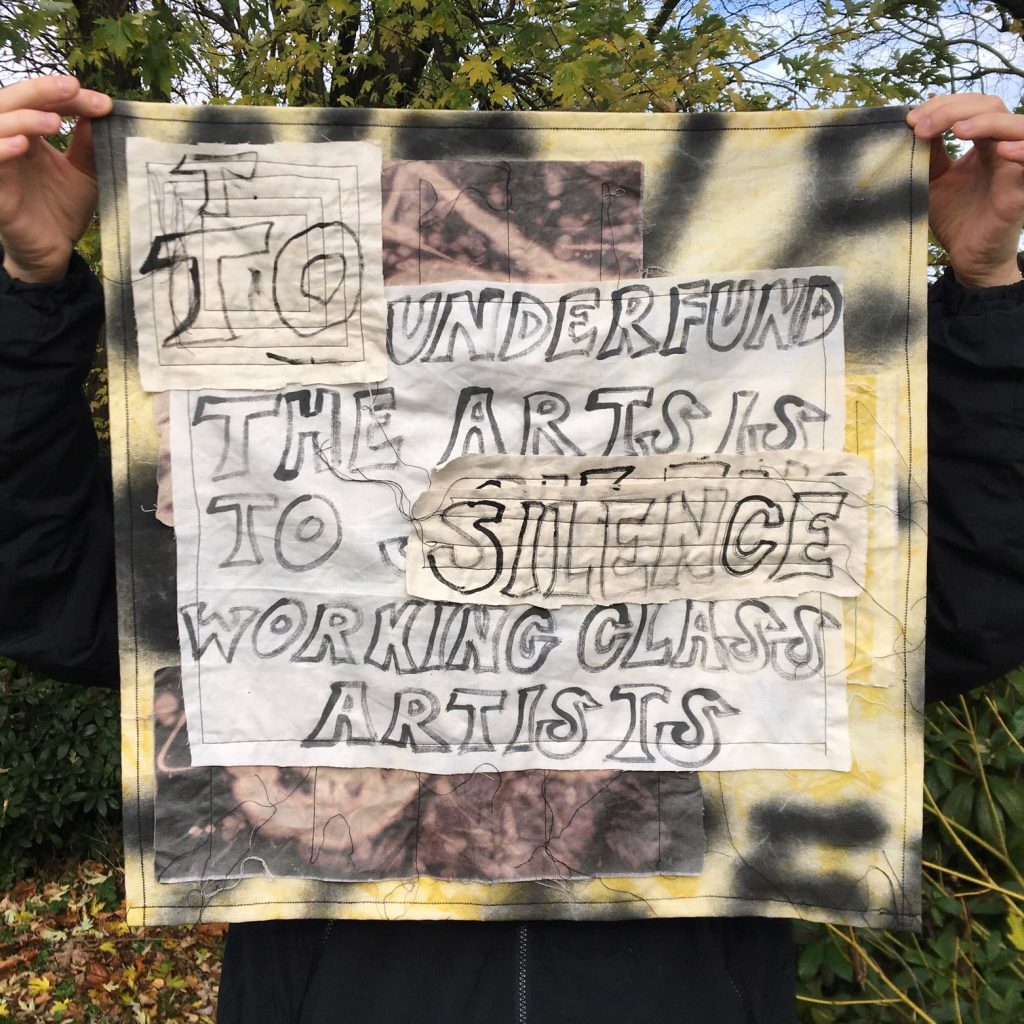 "This piece is a multimedia banner in response to ongoing funding cuts to the arts. The medium of a banner has been used as a reference to the traditional visual form of protest. Pieces from old projects of mine have been recycled and layered, celebrating the fact that they existed to begin with thanks to funding and support. Creatives from working class backgrounds are hugely underrepresented within the industry, and the pandemic has brought to light how undervalued creatives are in any capacity. It is expensive to create art. To underfund the arts is to discourage, is to erase, is to silence."

Erin Jones
'I HATE KIDS AND I HATE THE NORTH'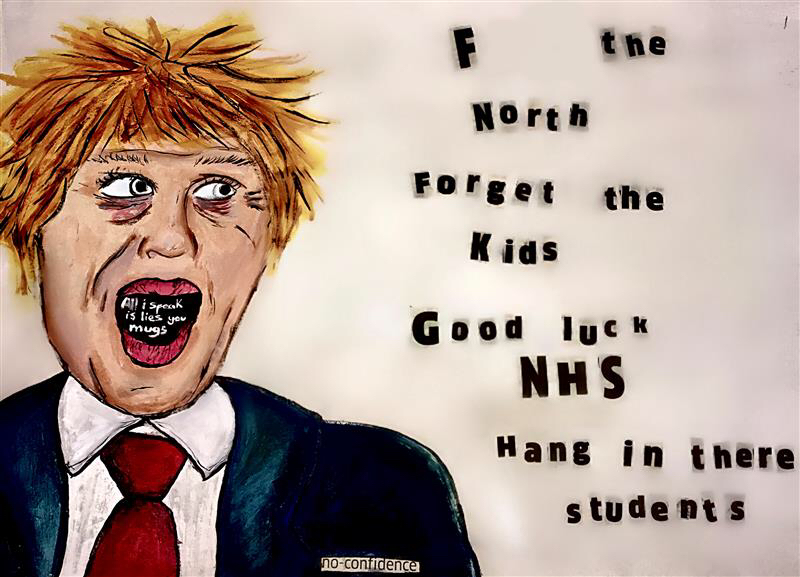 "Since the start of the Pandemic last year I've seen more protests in the news and on social media happening across the globe and in Manchester than I have ever before in my life. I see Boris Johnson a lot on newspapers and online more and more throughout lockdown facing criticism for his actions. Since the beginning of the pandemic his actions and words have made the public outraged or beginning to doubt him as the country's PM and his morals. Hashtags such as #BorisTheLiar and #BorisHasFailedTheNation has been trending weekly since the start of lockdown. This comes from him not putting the people first: not supporting a pay rise for NHS staff but fellow MPs get a pay rise weeks after; not supporting free school meals over half term during the pandemic (although he has agreed to support it now after yet another U-turn); how he has ignored student issues over lockdown and finally him granting 67% furlough to areas in tier 3 lockdown, but when London is effected in a nationwide lockdown, furlough is increased back to the original 80%. "

Caitlyn Moore
IG: @c.moorsie
'SELF-PORTRAIT #1 & SELF-PORTRAIT #2'
"I painted both of these self-portraits of myself in the lockdown back in June. I wanted them to be a depiction of how I was feeling in these uncertain times. I think I am not alone in feeling scared but hopeful that as a world we can pull together and beat this virus and, in the hope, it could change humankind for the better."

Jacqueline Taylor
'NOTES'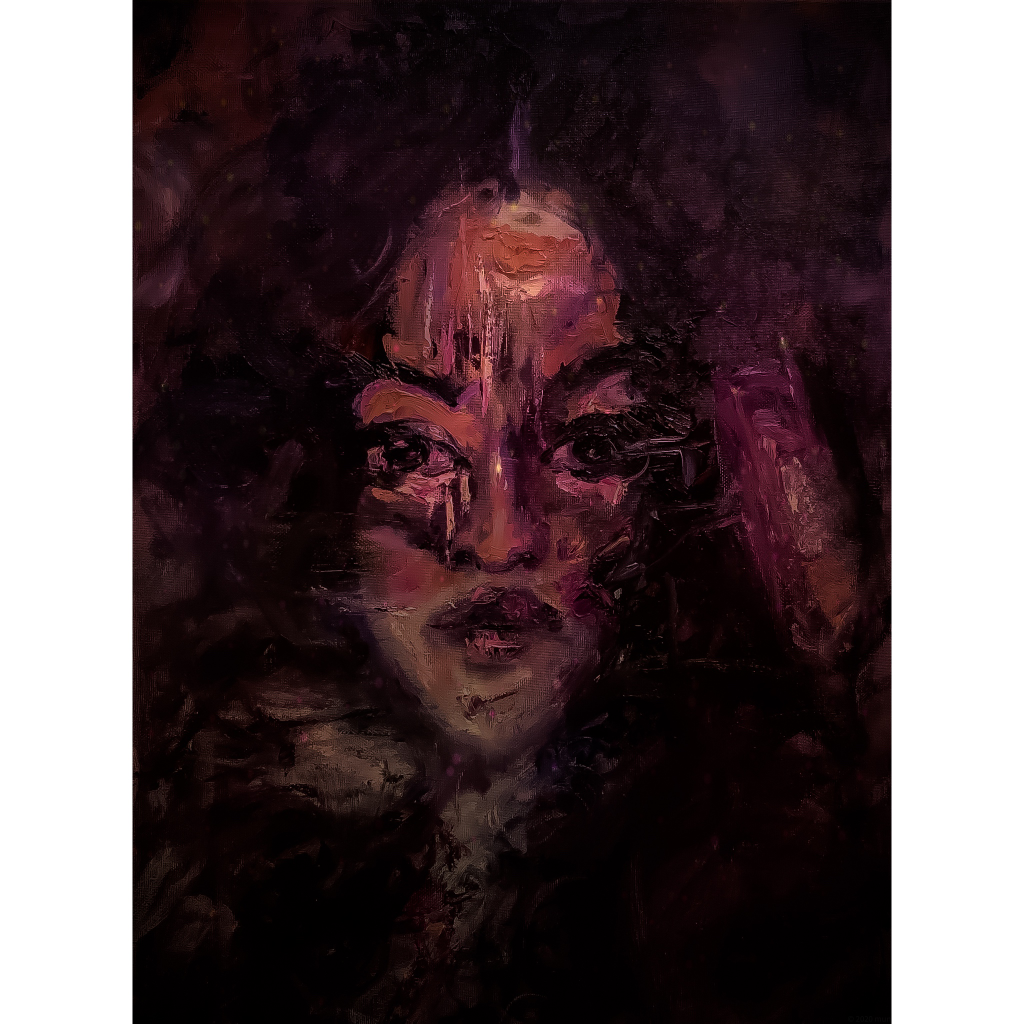 "Against the background of the coronavirus epidemic, my painting practice has changed beyond recognition for the better, my attention has turned to scientific research and I see that we are all building new thinking together, broader perception and art shows exactly that we are going in the right direction as human civilization. In my paintings, many colours appeared and whimsical worlds mixed with digital ones."

Olga Mun
IG: @mun_olga
'THE ARTIST'S PANDEMIC'
"We created this work as part of our module Documentary to Mockumentary. We chose this area to create a documentary in as it's an area we are passionate about and feel needs to have more awareness around. It's extremely relevant right now and needs the support of more people, to keep the industry alive. We feel the arts industry as a whole has been neglected throughout this pandemic and the importance of the industry has been over looked. It's helped, arguably, everyone throughout these times in lockdowns: from watching TV, YouTube, creating art and listening to music etc. As creatives we will remain around and I think that's a beautiful thing, we continue to create no matter the circumstances. So this is a documentary we feel captures a glimpse of that. We plan to expand on the project for film festivals and add more footage, interviews and information. But this is a 5 minute edit of what we have so far."

Madeline Harbisher
If you are a Salford student or staff member you can head over to Sharepoint to view this piece.
IG: @maddieharbisher, @laureenshepherd
'LOCKDOWN 2020'
"As part of our documentary module we created a piece exploring how students have been affected in this pandemic. This documentary is an expressional response to the government's action towards students in this global pandemic. As students we feel this is a subject that is hard to ignore. The struggle of online seminars and feeling so disconnected to university friends has driven us in a circle of not getting much done. This documentary follows a representation of students' inner thoughts regarding the ongoing pandemic. It poetically expresses how students feel the Government have blamed them for the second wave of COVID-19. The year has felt like an ongoing cycle of bad news, frustration and new restrictions, we are young, affected and awaiting on normality to be restored."

Lauren Childs, Abbie Thompson, Cushla Rice
IG: @laurenchildsmedia, @cushlaricemedia, @abbtommo
'ISOLATION FUN'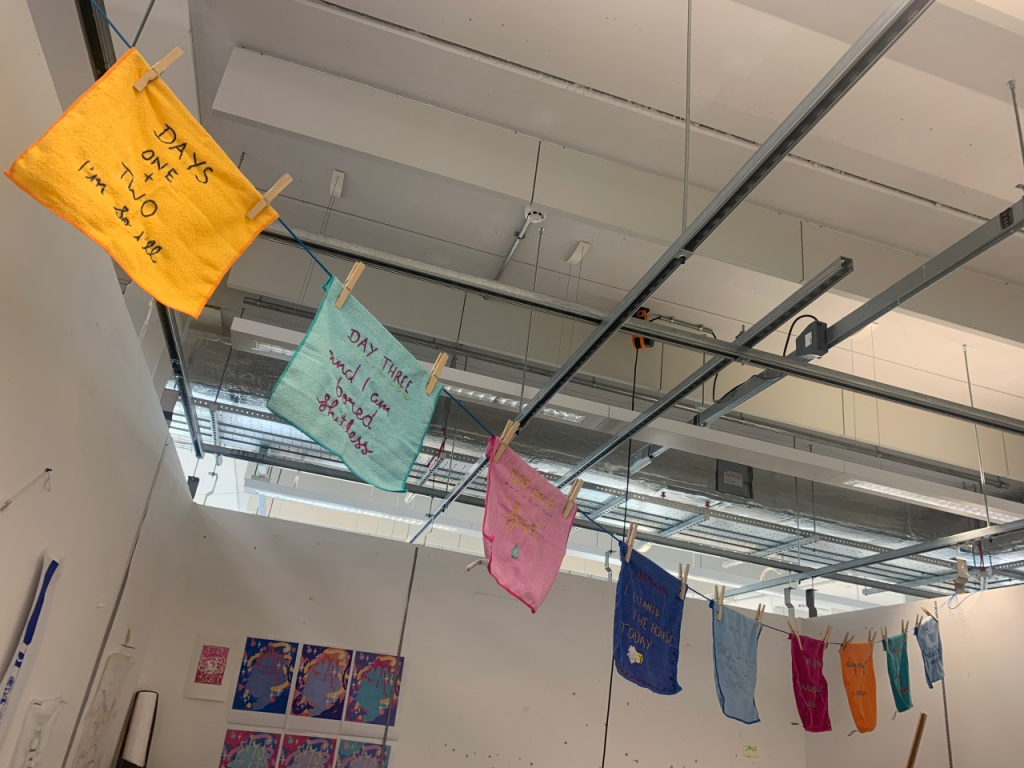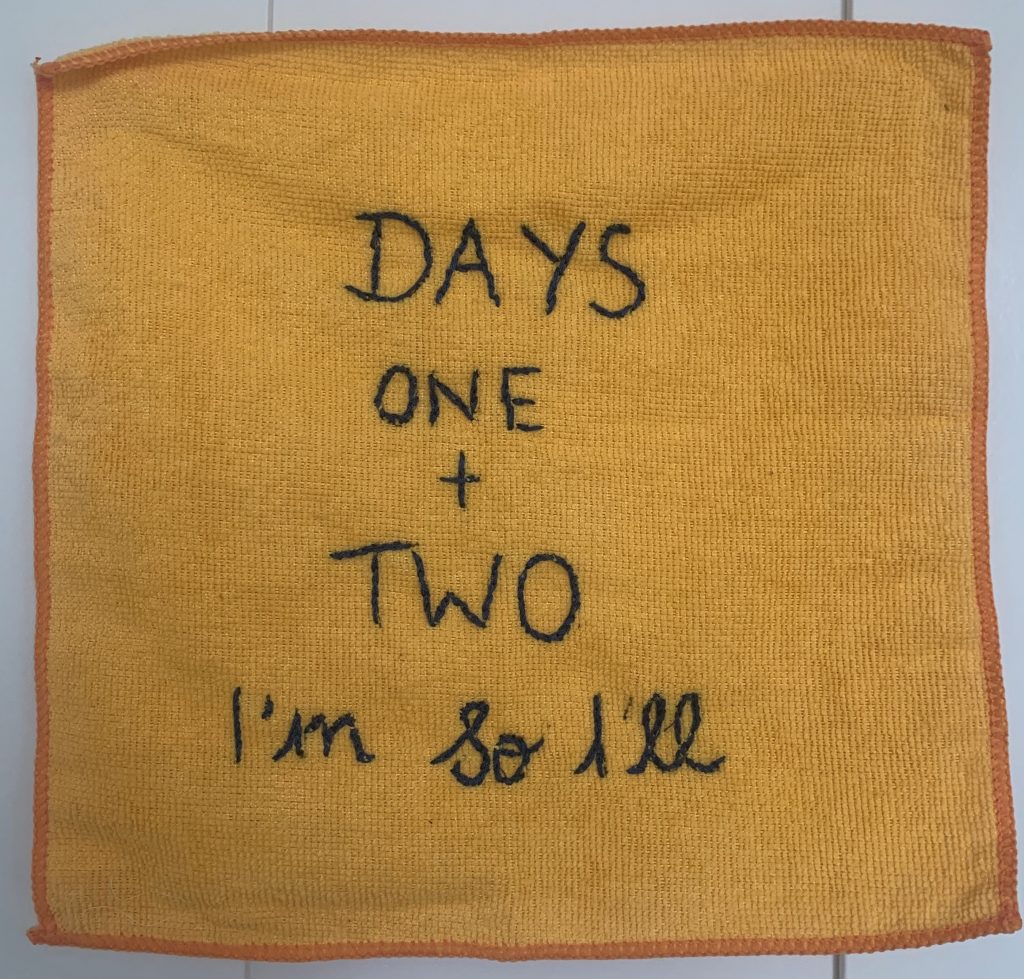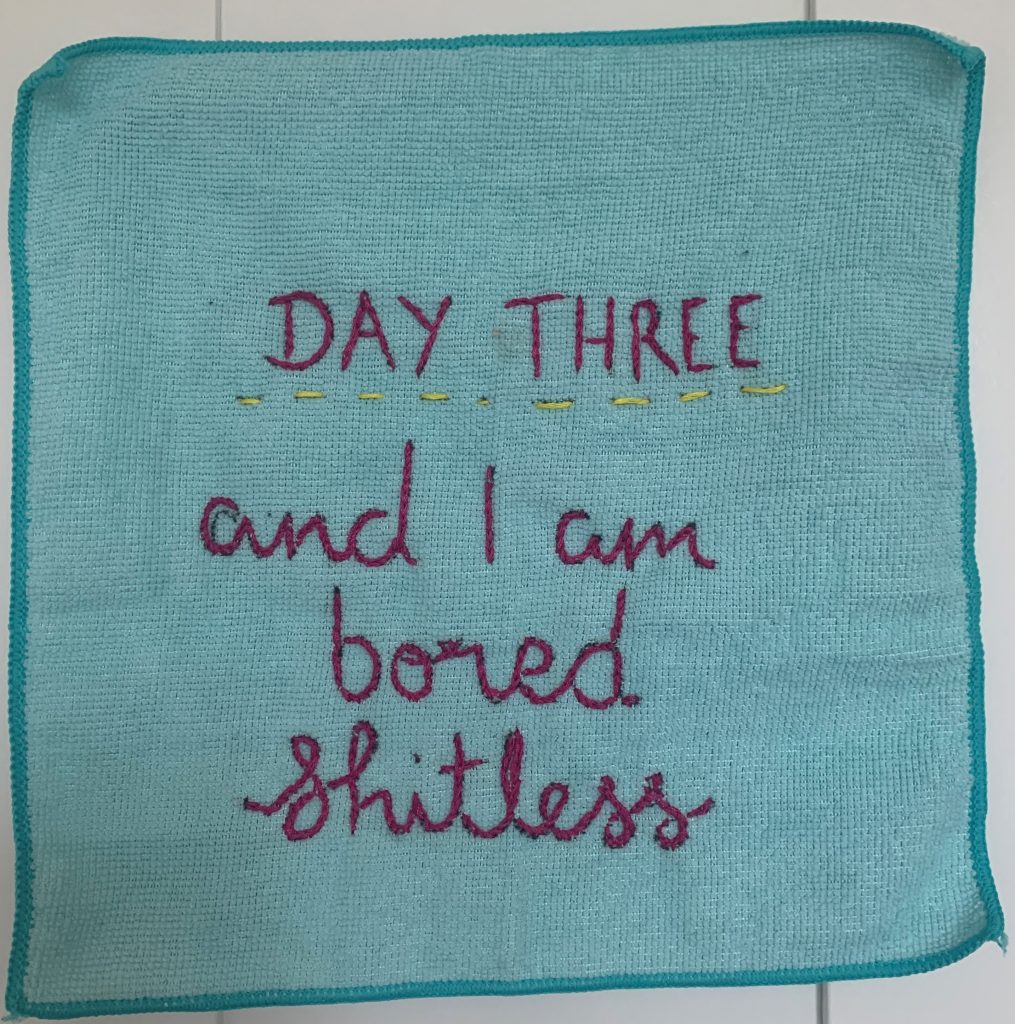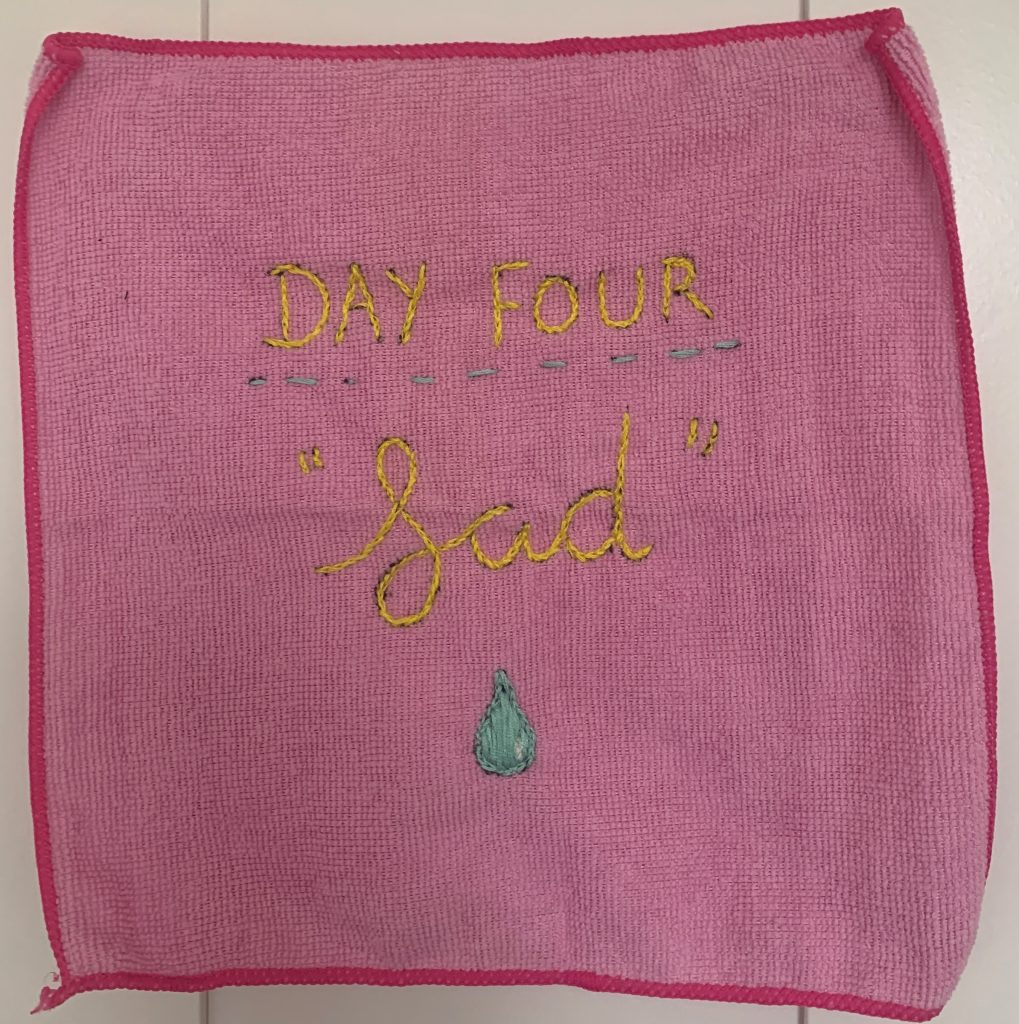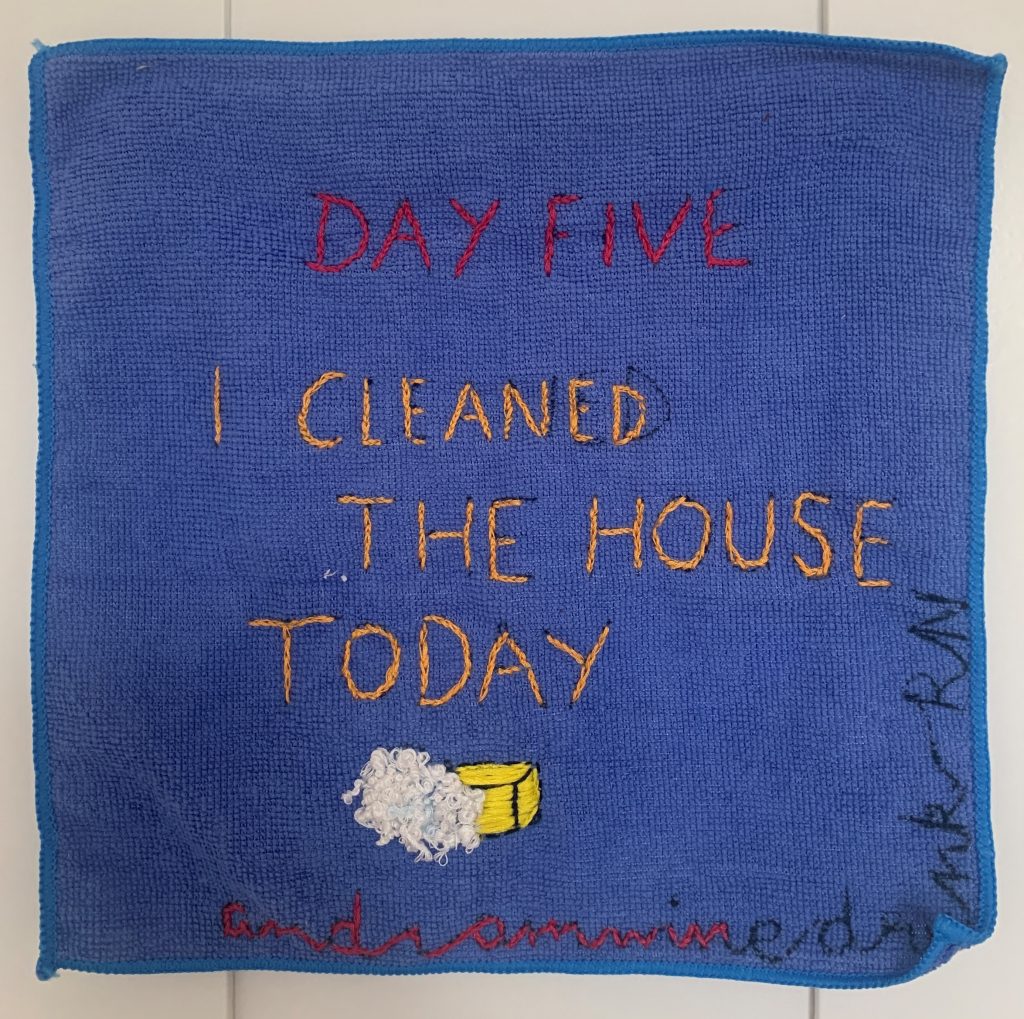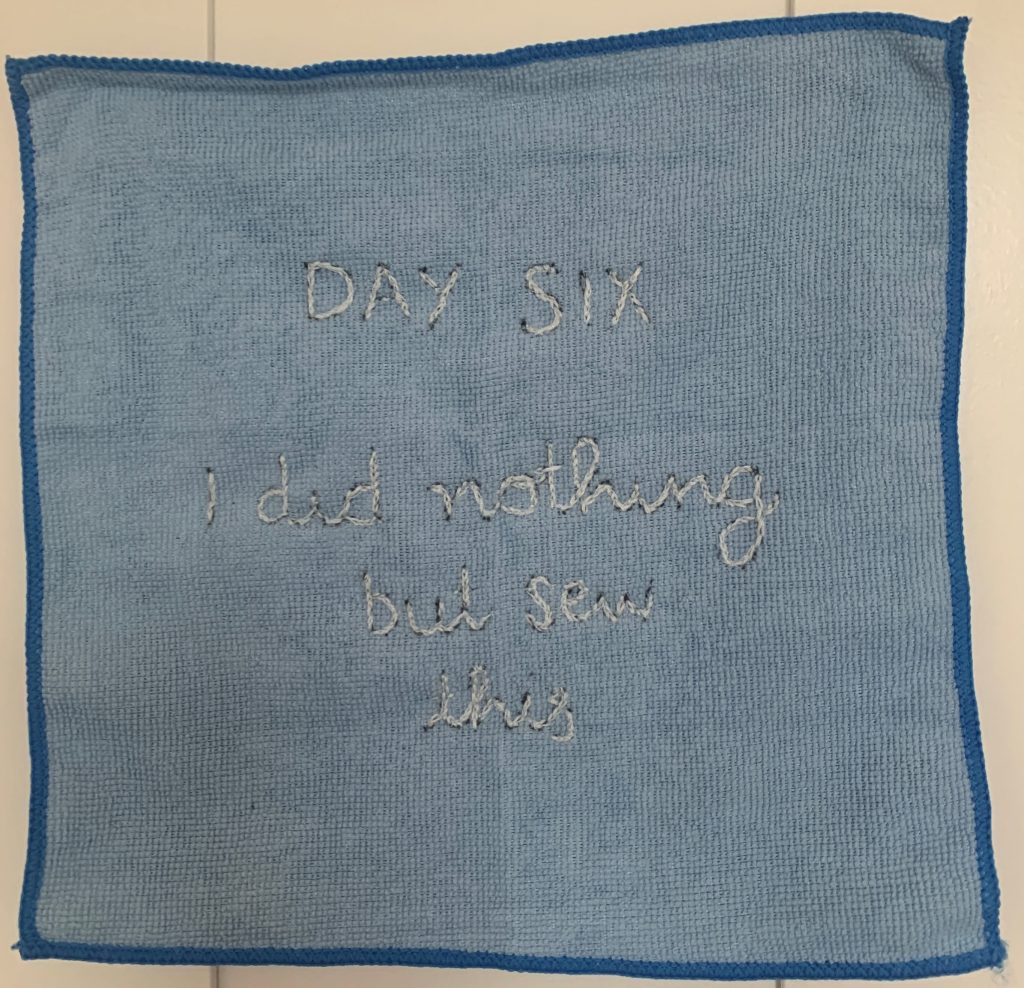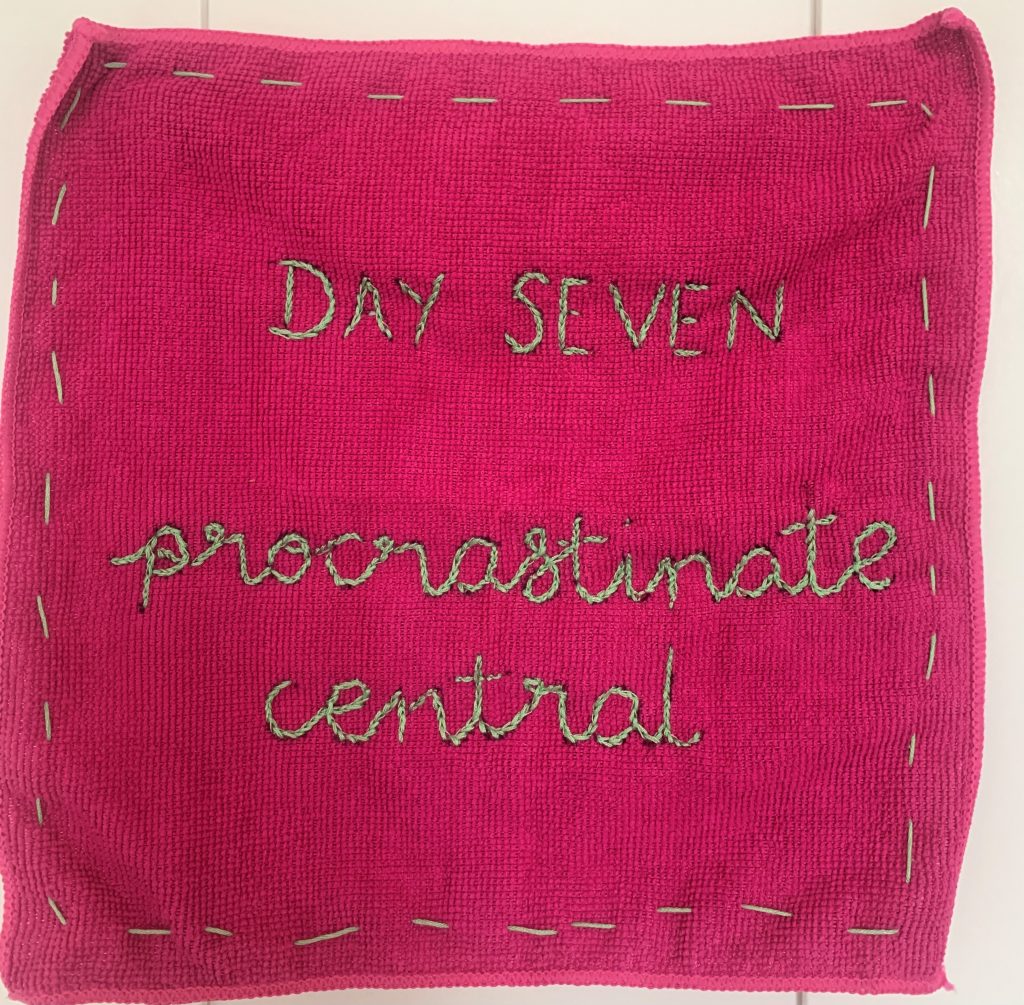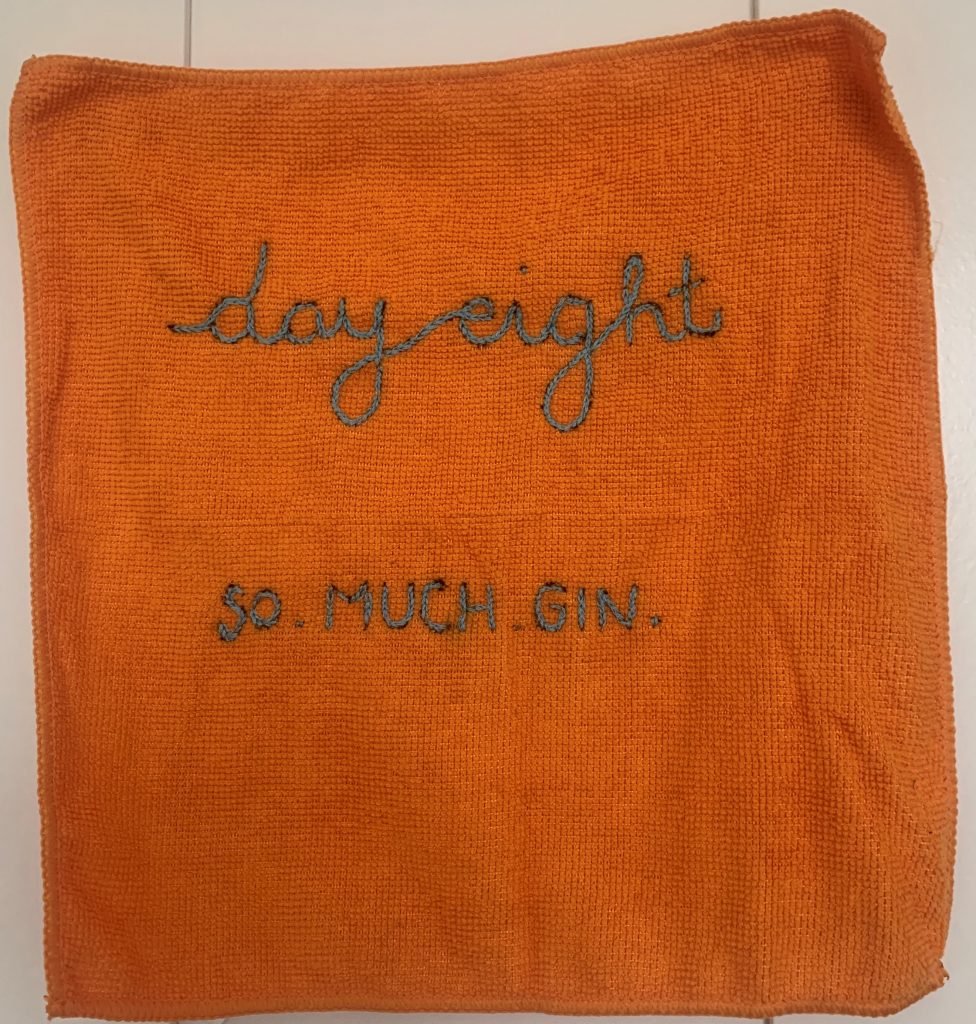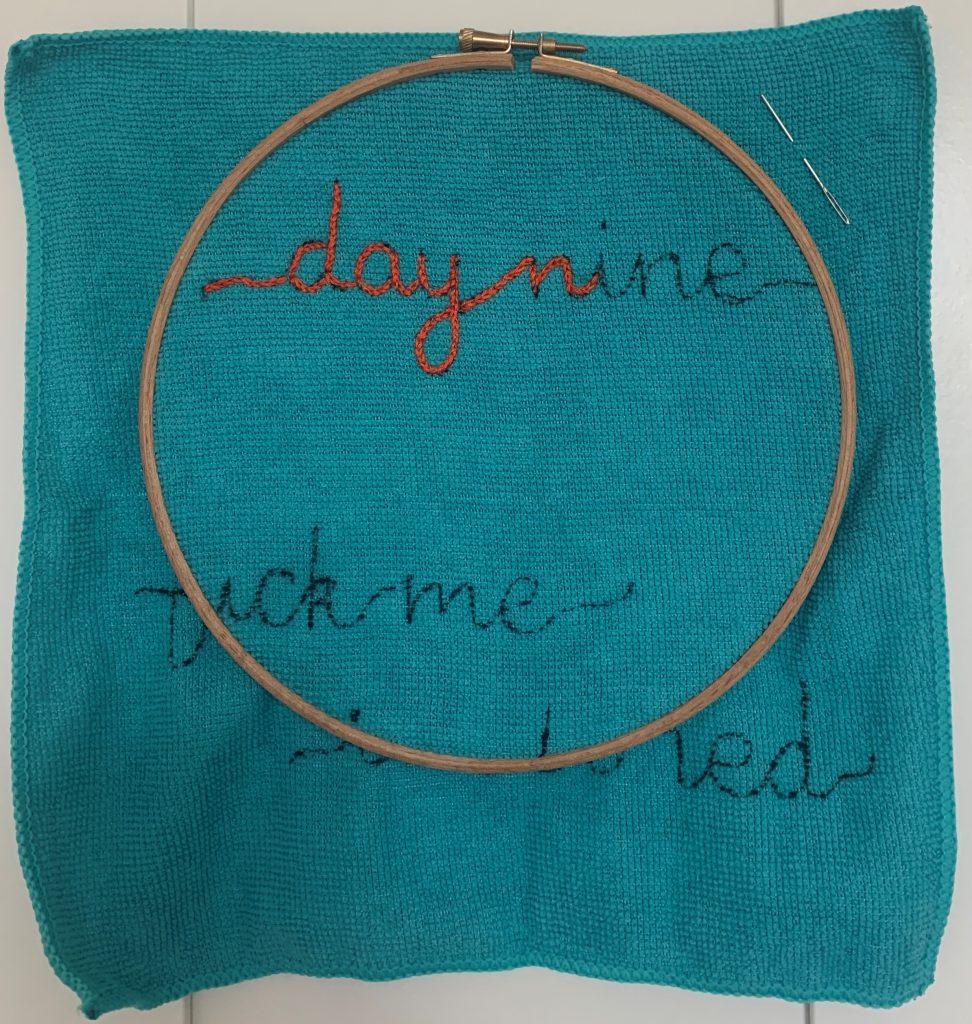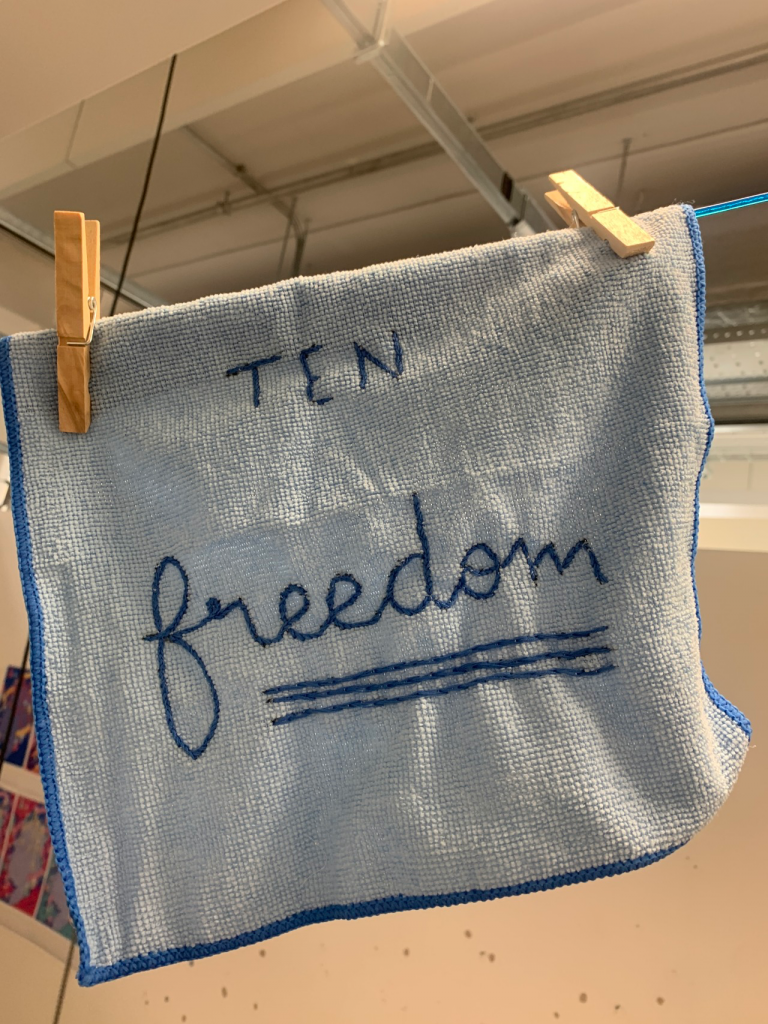 "The motivation behind the artwork, was to produce a hand embroidered cloth per every day of my isolation, as one can only clean their house so many times. The content of each cloth presents and reflects what my general mood of the day was, a musing, or what activity I had set myself for the day. The unfinished cloths are inspired by the Domestic Dusters research of Vanessa Marr, and chose to exhibit a day to day, uncensored 'diary' of each day. Prior to the beginning of my series, my hand stitch abilities were amateur – to put it kindly. Throughout each day, an improvement in my embroidery skills are noticeable. I plan on presenting my finished piece on a washing line with wooden pegs to hold each cloth up."

Georgina Boden
IG: @georgie.paints
Thank you to our students for sharing their artwork. If you would like to know about the Salford School of Arts, Media and Creative Technology take a look at our website.