About Me
Hi! My name is Taran and I am an MA Public Relations and Digital Communications student at the University of Salford, having also completed my undergraduate degree in Broadcast Journalism here. I am 21 years old and whilst I consider myself a Mancunian having been here for the past 4 years, I am in fact from Stone, a small town in Staffordshire.
As part of the Student Social Media Team, I will be producing content for the University social media channels aiming to highlight the Salford student life to current and prospective students. You may also find me responding to incoming enquiries across our socials.
My route to Salford
My dream at college was to be a radio presenter and this is what led me to joining Salford back in 2017. Having finished college studying Photography, English Language and Media Studies, I moved up to Salford and began my three-year undergraduate degree in Broadcast Journalism. Towards the end of my degree, I discovered I wanted to work in the Media and Communications industry, and that I wanted to continue furthering my education. I loved my undergraduate degree and thought there is nowhere else I want to be. After graduating in 2020, I started my Public Relations and Digital Communications postgraduate degree and here I am! Salford definitely feels like home.
Why Salford?
From the moment I arrived at MediaCityUK for one of the open days in 2016, I was hooked and decided this was the place for me. I don't know how to quite describe it but when you walk round the Piazza outside the University building, especially at night time, the view is just amazing!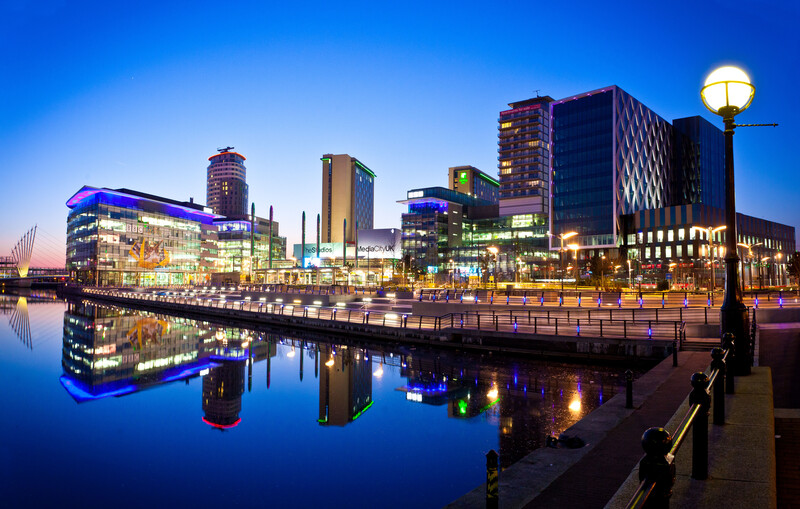 A few months later I came for my interview (which actually happened to be on my birthday) and got to speak to the lecturers in more detail and on the train back home to Stafford, I had all fingers crossed that I would receive an offer. Additionally, the city has lots to offer and is only a couple of minutes on the train from Manchester City Centre.
From Undergrad to Postgrad
Whilst thoroughly enjoying my undergraduate degree in Broadcast Journalism, I realised that I wanted to do something a tad different afterwards. During the final year of my degree, I undertook a module in Public Relations and it was through this that I decided I wanted to work in the industry but first I needed to continue learning more about what is becoming an increasingly popular sector of communications. Starting my postgrad course was made more complex by COVID-19 however everyone was in the same position, even the lecturers! The staff couldn't have done more to ensure that everyone was settled and enjoying the course. Transitioning from undergrad to postgrad, there is definitely a bit more independence on a postgrad course but there is a good balance between self-study and taking part in workshops to ensure you learn the practical skills you need to work in the industry.
I wrote a blog post on how to make the transition from undergraduate study to postgraduate study, just as I did. You can read that article here.
Making the most of your time here
From someone who loves to speak and meet new people but can be extremely shy, I would say when you begin university, you should consider joining a society. You can become part of a big family and it is a good and relaxed way to meet new people from different walks of life. Whether you want to play a sport competitively or just fancy meeting up with people to have a chat, there are so many societies at the University of Salford to choose from that can make your time at university extra special.