I write this blog as I prepare to depart the University of Salford after spending the last four years as an undergraduate student, postgraduate student and member of staff. The last four years have flown by, with me first joining the University in 2017 as I enrolled on to the BA Journalism (Broadcast) course. Upon graduating, I decided I didn't want to leave just yet and embarked on a postgraduate degree in MA Public Relations and Digital Communications. It was at the start of my master's degree where I joined the University's Social Media team. My academic experience at Salford combined with my part-time role have now helped me to gain a full-time role in the digital communications industry. I explain more in my final blog post.
Courses, campus and lecturers
Studying on my undergraduate degree in Broadcast Journalism gave me the practical skills not just in journalism but in things like communications, content creation, public relations and content editing. These are all skills that I use in my career at the moment and ones that I learnt from academic learning but also real life experiences, which I was able to gain from both of my degrees at Salford.
We regularly took part in "news days", sometimes every day in third year where we had the chance to create TV and radio programmes, magazines and contribute to an online news website where we could publish and display our own work.

In addition to that, we were able to go on placement with our course lecturers using their connections to help us secure work placements. For me, I was able experience the media and communications set-up at Oldham Athletic and Fleetwood Town football clubs. This was a real eye-opener for myself in terms of putting my skills that I had learnt into practice.
I completed the latter stages of my undergraduate degree during the COVID-19 pandemic and also the majority of my postgraduate degree has been completed under similar circumstances. However, the experience I have had in completing two degrees during these difficult times has put me in good stead for the future, when it comes to working in a real-life environment.
On top of enjoying the two courses that I studied, our campuses were also a big added bonus. Studying at MediaCityUK was an experience. Being based with several media organisations next door to your university lecture rooms is quite something, as well as spotting the odd celebrity every now and then on the Piazza!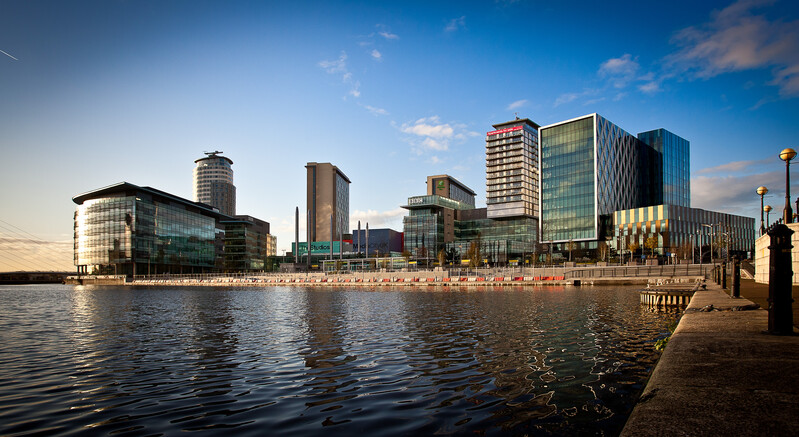 The facilities at MediaCityUK are industry-standard and you have the opportunity to use these both in class time and in your own time to practice your skills. As they are industry-standard, I felt prepared for using programmes such as the Adobe Suite and feel comfortable using camera equipment when it comes to photography and videography.
Peel Park has its plus points too. The green spaces cannot be overlooked and it was really nice spending first year living in accomodation so close to plenty of scenery and greenery. The mixture of old and new buildings make for a nice all-rounded campus. It's not too big but it's not too small either but it was the location that was the best thing about the campus for me. Being within walking distance to Manchester City Centre and with Salford Crescent train station on campus, it was really easy to travel.
I have loved my lecturers on both of my undergraduate and postgraduate courses. They have always been on hand to help, even over the last 18 months with all of them working remotely. Whether I needed an answer to a short question or needed some of my work checking over, my lectureres were always there for me and my experience at Salford wouldn't have been the same without them.
Working on the Social Media Team
My role with the University's social media team has helped me enormously in securing a full-time role in the industry. I had some knowledge and skills to do with social media from other work experience and also from my academic learning, however it was this role that helped me to develop my skills in social media and create a portfolio of work to take forward into a future career. Through this role, I realised what I enjoyed and what I wanted to focus on in the future but also things I wasn't too keen on.
I thought when I applied for this role as a Student Social Media Content Creator, that I would be doing the odd bit of work here and there and I might learn one or two things, however that wasn't the case. I along with the other content creators, were treated like actual staff members and not like interns which is sometimes the case on work experience.
I have written blog posts (like this one!), created and uploaded content and social media posts across the University's social media channels, helped respond to other student's enquiries and learnt a great deal about social media, marketing and communications.
I reccomend anybody who is interested in social media or the media industry to gain work experience. Perhaps even look out for roles like this at the University, which you can do so by checking our Salford Advantage website.
The future
Salford will always be a place I can call home. After spending four years here, I love it and even though I have a new job, I will be sticking around Salford.
I start a new job at a further education college next month, working on their social media and communications output, a job where I can combine the skills and experience that I have learnt from my time at Salford as a student and staff member. It's an industry and area that I enjoy working in and I hope to continue learning and developing my skills.
I mentioned about having a portfolio earlier on, it was my role at the University that enabled me to create one and this was key for me in being able to show my potential employer real examples of my work in my interview.
My lecturers were supportive and gave me advice before I applied and also before my interview, they have played a big part in my journey from when I first stepped through the doors four years ago.
I'm excited for the future but I will massively miss being at the University.
I'll be sticking around MediaCityUK and returning to have a summer stroll around Peel Park, it's a place I can't bring myself to leave!
I've had the best experience at Salford and couldn't ask for much more, as a student but also as a member of staff.