I think we can all agree that one of the main concerns we can have about moving to university is whether making friends is going to be awkward. I pretty much clung on to anyone who said 👋 to me in first year and at times found settling in a little stressful. However, it doesn't have to be that way anymore! The University of Salford and the Students' Union are teaming up with the brand-new social app Umii to give new students the chance to create friendships based on your hobbies and interests…basically Umii does the small talk for you!
As creator, Georgia Wheadon, explains: "Are you moving away from home to start uni? It's exciting, but we also know it can be scary. Use the Umii app to connect with other students in the same position as you based on your shared interests, course and society preferences!" It truly sounds like an easy way to get to know course mates and others.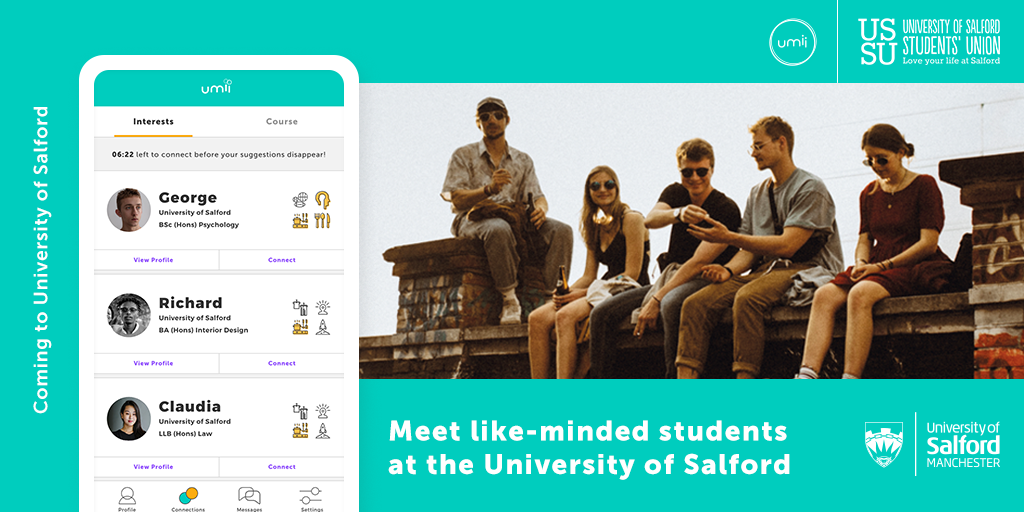 Something that I found to be really inspiring about the Umii app is that it was designed by a student who had a hard time making friends as well. Georgia mentions that making friends is much harder than it used to be. Especially since our generation is dependent on modern technology. We can online date using our phones, manage our bank accounts and do all our shopping in one place. It's no wonder that the only time without a screen, when we are forced to make friends, we feel anxious about it.
The mere fact that Georgia was so motivated to create a platform for people to make friends so no-one has to go through her own negative experience is incredible and it really feels like Umii get students on that personal level. Whilst it's still an excitement, getting to move out and live independently for the first time, we often forget that it's completely normal to feel overwhelmed. But the key to making new friends and life experiences is to put yourself out there, so why not take a chance on an app like Umii?
The app works as your standard messaging app with features such as image sharing, facetime and obviously the option to share your interests. However, Umii is really what you make of it! You can put as little or as much information about yourself on there as you feel comfortable doing and can still enjoy using the app.
Umii takes the edge off having to approach someone and strike up a conversation, it also has the ability to find students who have similar, if not exactly the same, interests as you! Then, when you've made that initial connection and had the chance to talk over the messenger feature, you can kiss the Umii app goodbye and meet your new friend face to face. I personally WISH I had something like this when I was a first-year, and it might come in even more handy since COVID has taken such a huge chunk out of our social lives…
Now for some stats, because I know what you're probably thinking: "How is an app going to determine whether or not I make friends at uni?" Well, let me tell you this. After doing a fair amount of research on the app I discovered that Umii sends students 3-5 matches daily based on users' similar interests and course types – helping even the less outgoing students to connect and build friendships. As a matter of fact, 62% of students said Umii helped them feel less lonely and isolated at university! Sometimes, it's just nice to have a plan B to fall back on if making friends is proving to be a little bit difficult. There's nothing wrong with wanting that little bit of extra security!
So, what do you think? Will this be something you have a look into when moving to university? Even if your answer is no, Umii has always got your back! We get it, you're starting a brand new chapter of your life, but Umii is just here to make it that little bit less scary. Read more about Umii over on the Students' Union website.