Ola came from Nigeria to study for a bachelor's In computer science at Salford. He started by doing the International Foundation Year, which he says has set him up for success in his degree. Read on to find out what he has to say about his course and the practical experience he has been getting so far.
Hi Ola, what is your most memorable class so far in your studies at Salford?
I'm really enjoying my current project where I am creating a website as a project, which is testing my creativity and how well I can structure things.

Creating a website is a big deal for me because it's something I love to do. Right now, I'm structuring out how my website looks and how I want it to feel.
How has the International Foundation Year prepared you for success in your undergraduate degree now?
I feel the International Foundation Year gave me that substantial experience of life as a student that I needed to get started on my degree.
Firstly, it helped me get used to the university campus, classes, facilities, and learning software.
I feel like I'm used to the teaching staff too, as some of the teachers that taught me during my International Foundation Year are teaching me this year, except for some new faces.
I also met great new people which was brilliant as I made friends even before my degree. So I didn't struggle to settle in because I was already used to everything here.
The International Foundation Year also helped me learn techniques like referencing. I didn't know what referencing was before I came to the UK, so this was useful to set me up for my degree.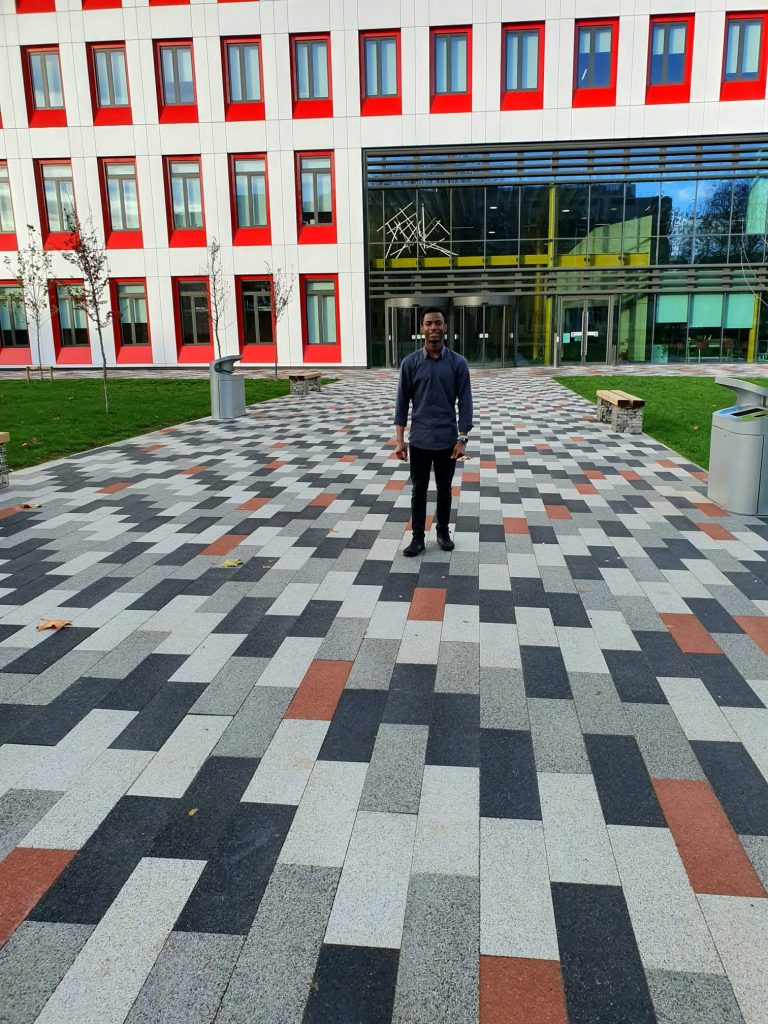 What practical experience have you taken part in and what has been your favourite so far?
My favourite project was building an online wine store; whereby people can purchase wine from a website. I successfully built a system, and all of the elements on the website were functional.
I put a lot of time into writing that well and I made sure that everything is working perfectly and in a very organised way.
What are the top lessons you've gained from these experiences?
I gained the professional skills that I need to get into my career, for example, I've learnt how to create my own images and edit them for use on my website. I also now know more about copyright and its importance in this line of work.
Through practical work, I now understand and appreciate the importance of correct ethics. I also have a professional view of website development, rather than just doing it as an individual.
I've also developed my programming skill, by learning new programming languages. Furthermore, I have improved my communication and teamworking skills which have prepared me for real-life situations. I feel communication skills are essential, to collaborate with other people to achieve a goal.
What insight into the workplace have you gotten from those experiences?
I've been able to meet and network with new people which has given me insights into the workplace. For example, I met with someone during the Manchester Tech Festival, he owns a VR company called Heavy Masses. He invited me to his office, to give me an insight into the workplace and I was honoured to work shadow him for a day. Witnessing what they do, this first-hand experience was brilliant for me. They talked me through their day-to-day activities, and they showed me their latest project.
How have the facilities helped you in your learning?
The facilities here have had an incredibly positive impact on my studies. I am working in the amazing new Science, Engineering and Environment building and it has been a great experience to use the new computing suites.
I also love having the opportunity to use the fantastic web server, which supports me in making my website go live. I didn't know about that before because I was unsure how to create a website. The facilities made it much easier for me to progress and develop my skills.
The technology here is what I will use in a professional organisation after I graduate. I feel that is helping me right now as I am doing things more professionally, so I am prepared before I start my career.
Thanks for sharing your experience with us Ola, we hope you do well in all your projects! If you want to hear more from Ola, check out this video where he shares what he loves most about studying computer science at Salford.
Did you know we offer a range of computing courses? Find out more by searching our courses. If you don't have the grades to get straight onto our undergraduate courses you can study our International Foundation Year first.