Third Year BA (Hons) English Multidiscipline (English Literature and Drama) student, Beth Moore, spoke to us about her Salford experience and how this has benefited her when thinking about her future career.
HI, BETH! SO, WHAT HAS BEEN THE HIGHLIGHT OF YOUR COURSE?
It would probably be creating two original solo performances this year; they are both post-dramatic theatre pieces that I devised from feminist literature I have read. I am big fan of episodic pieces, stand-up comedy and theatre that is political or makes it's audiences think. To be able to produce two pieces that integrated these forms and explore my own and others experiences with misogyny and feminisim was an entirely rewarding experience.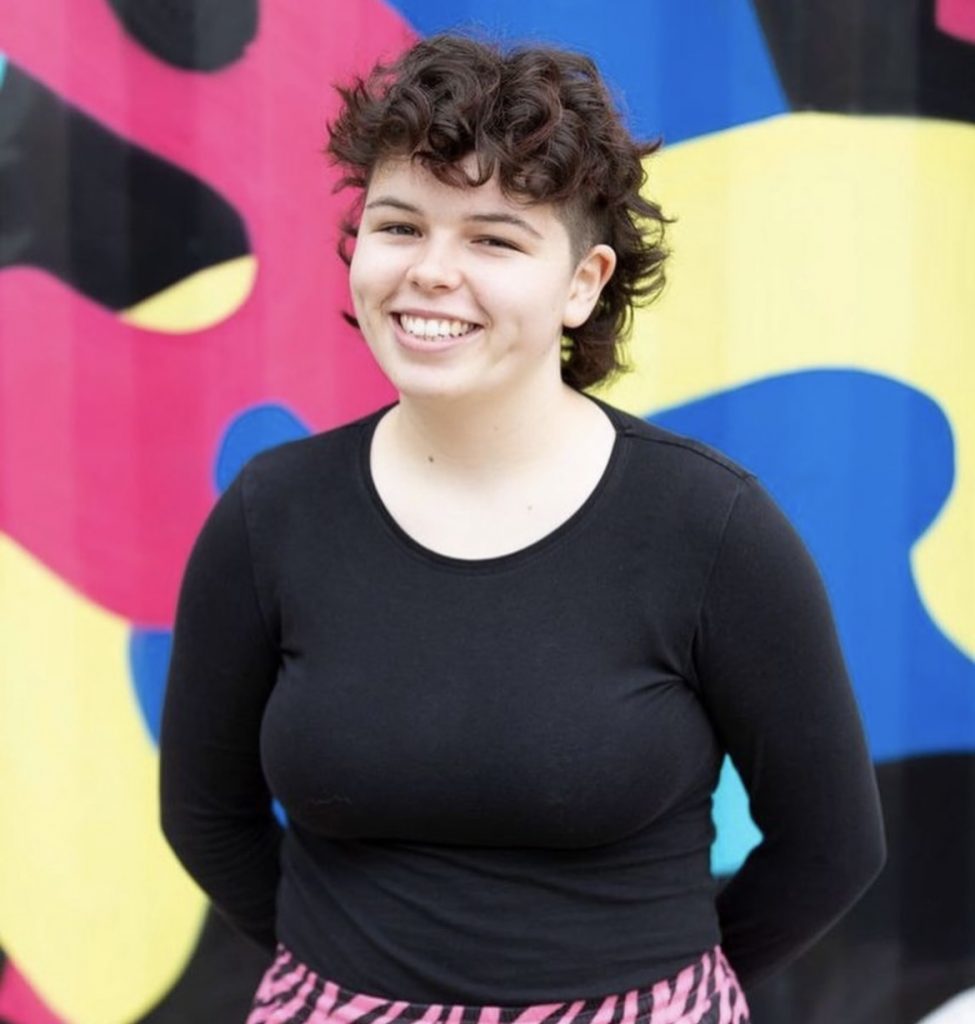 WHAT IMPACT HAS IT HAD ON YOU AS A STUDENT AND CREATIVE?
I've been able to find my voice as a writer, performer and as a comedian. This degree has also allowed me to explore all forms, styles and practitioners of theatre and from that I have found influence and inspiration that has enabled me to create my own work. I have been gifted the tools to execute my vision.
WHAT HAS BEEN THE MOST SURPRISING THING YOU'VE LEARNT?
Probably that my area of study, or that my passion is making feminist work or work that actively challenges misogyny and the patriarchy. I think I've always been a feminist, but this degree has pushed me to become active rather that passive and I think first year Beth would be surprised but excited to know that all her third-year projects would be dedicated to this field.
WHAT DO YOU WANT TO DO WHEN YOU GRADUATE?
I'm hoping to do some work in my local community when I return home, whether that be feminist focused or just helping in the Arts. I want to continue writing stand-up comedy and perform when I can. After that, I hope to do a Masters in something still in the English and Drama field which will hopefully set me on a course to become a feminist theatre-maker, comic and/or writer as a career.
WHAT IS SOMETHING THAT YOU HAVE LEARNT FROM THE COURSE THAT YOU WILL CARRY WITH YOU IN YOUR FUTURE CAREER/JOBS?
Honestly, probably making sure that my voice is heard, as I am quite an anxious person who avoids conflict and causing any unrest. This however meant that I wasn't before speaking my opinion, calling out problematic things or illuminating others to issues we might all be facing. From class discussions and producing work with something to say. I feel much more confident in myself to call out in justice and state my opinions, as I know that they are grounded in truth and important to helping others.
WHAT WOULD YOU SAY TO SOMEONE THINKING ABOUT DOING THIS COURSE?
If you love English, and you love Drama and you don't know how on earth you're going to pick between the two, pick this! It's an ideal blend and will satisfy your exploration in both those fields. It keep's your options open and you will discover your path.