Ishmael Armstrong, spoke to us about his first year studying BA (Hons) Photography and being a part of the Salford Racing Society.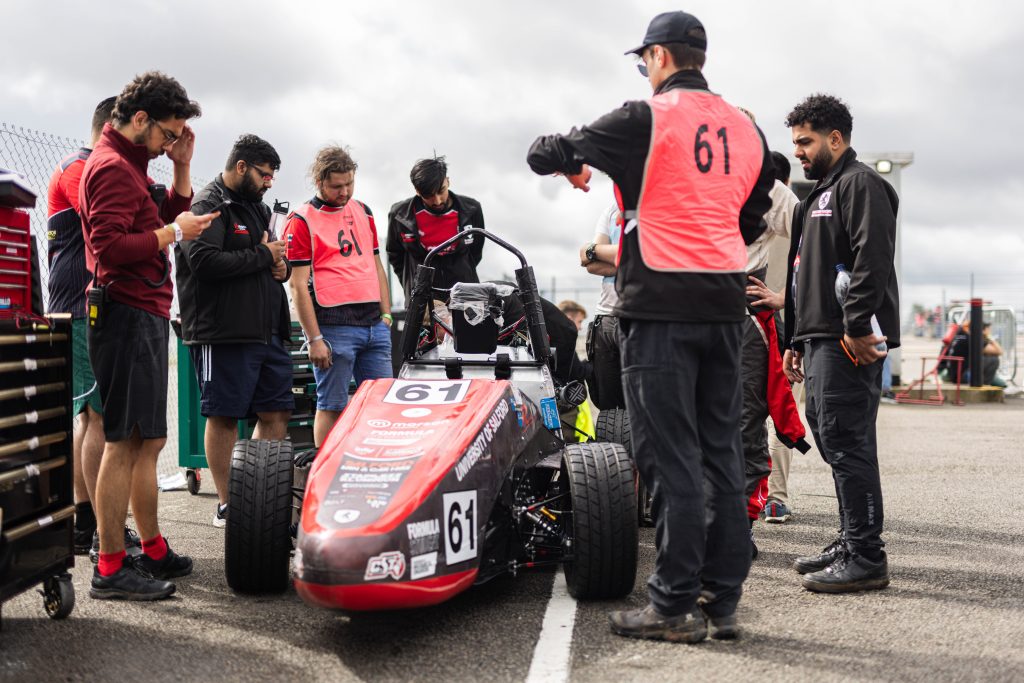 TELL US A LITTLE BIT ABOUT YOURSELF…
I am a 20-year-old photographer, going into my second year at the University of Salford. I have been doing photography properly for about 4 years, and I am also very interested in anything to do with cars.
HOW COME YOU DECIEDED TO STUDY PHOTOGRAPHY?
I have dabbled in photography on my phone for a few years before I started doing it for A-level. But it wasn't until lockdown where I started doing film photography that I realized I was actually better at that than I was engineering, which I expected to be doing up until that point.
WHICH AREAS OF THE COURSE HAVE YOU ENJOYED THE MOST SO FAR?
I have probably enjoyed the equipment store the most! I have always been into technology so when it comes to photography I like to get really in depth with the gear and try a lot of different types of formats.
IT IS REALLY NICE TO HEAR THAT YOU ARE ENJOYING THE COURSE! CAN YOU TALK TO US ABOUT SALFORD RACING. WHAT IS IT?
Salford Racing is the University of Salford's Formula Student team, and Formula Student is a nationwide competition where Universities compete to build a race car from scratch and race them at Silverstone. Within the team we have engineers who design and build the car, the business team who deals with costs and sponsors and then the media team who create content and then promote it on social media.
WHAT IS YOUR ROLE WITHIN SALFORD RACING?
So, for this year I will be taking on the roles of Head of Media and Social Sec/HR. These roles will involve managing the media team, organizing, and helping plan the content for the year.
CAN YOU TALK A BIT ABOUT THE SIM-RACING COMPETITION?
Alongside the engineering competition, Formula Student also puts on a Sim Racing Competition, where you can have 2-4 drivers on your sim team. There are eight rounds throughout the year, one per month with the final round taking place at the competition in Silverstone. We are very competitive with the Sim Racing coming second in 2022 and fighting in the top 4 in last year's final, but finishing sixth in the standings after an issue took us out of the race.
HOW HAS BEING A PART OF SALFORD RACING HELPED YOU WITHIN YOUR COURSE AND UNIVERSITY EXPERIENCE?
Doing photography for Salford Racing has shown me what working as a photographer with a racing team would look like in the real world. As well, through Salford Racing I met some people from PDC Racing, which is one of Salford Racing's partners and was able to shoot some track days with them. And this is just some of the many things I wouldn't have been able to do if I didn't join the team.
WHAT ADVICE WOULD YOU GIVE TO SOMEONE THINKING ABOUT STUDYING BA (HONS) PHOTOGRAPHY AT THE UNIVERSITY OF SALFORD?
I think that going to study BA (Hons) Photography at the University of Salford is much more than just learning photography at a higher level. Being surrounded by other creative people really helps you build up your skills in a way you wouldn't be able to do so easily on your own. University of Salford offers lots of experiences and connections that would be much harder to get in the real world, for example Salford Racing. These experiences are really useful in developing real world skills and to see how photography can fit into things you are interested in.
Find out more about studying BA (Hons) Photography at Salford