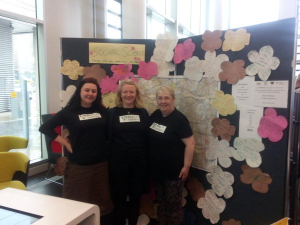 The SURF Centre was represented at this year's Manchester Science Festival at the University of Salford Mediacity campus. The aim was to demonstrate the value of social science. The message was that social science helps make the connections between different disciplines and develops replicable methods in the process. Like physicists or engineers, we work with hypotheses and we seek insight by working with the natural world. Our subject matter focuses on humans and their interaction with each other and non-human entities and our processes of data collection, analysis and insight are similar.
The project on display was Ideas4Ordsall, an 18 month aspect of a four year project looking at Cultural Intermediation, funded by the Arts and Humanities Research Council (AHRC). Dr Jessica Symons, an anthropologist, had spent time in a Salford community researching cultural activities and working with local arts organisations, artists and people from the community who had ideas that they wanted to develop further. Also present was Rosemary Swift, one of the 'Ideas people' who had co-written a history play and co-produced an animation of Ordsall history. Laura Ager, a PhD student whose research focuses on how universities contribute to festivals also provided insight and enthusiast participation in the day's activities.
The stall which showed the Ideas4Ordsall project (www.ideas4ordsall.org) and the 20 ideas of local people in Ordsall. This included a social history play written by Rosemary, the development of an artist collective, a community festival, craft/photo/cooking workshops, research into a WW1 war nurse, a mobile mining museum, a community billboard and several films. The interactive stall included a large map of Greater Manchester and when we showed people the map of ideas that people had developed for their community in Ordsall, we asked visitors what they would do in their community. During the course of the day we had about 50 people fill in an 'Idea Flower' which structured their ideas into the What/Why/Who/Where/When/Why matrix. This helped them see how they could practically realise their ideas.