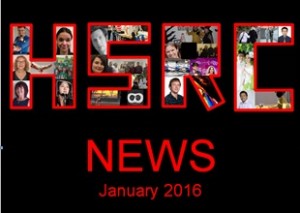 2016 has been a busy and vibrant year in the Centre for Health Sciences Research. We have welcomed a large number of new staff and students and had much reason to celebrate: on the professional side we report various awards, promotions and other achievements of staff and students alike.
Moreover, several weddings have taken place and we congratulate all our newly-weds (some stunning photos are included at the end of the Newsletter!).
Finally, special news items from Centre Director Peter Hogg, Research Support Officer Emma Sutton, PGR co-ordinator Anita Williams, Student Representative Samantha Bird, and General Research Programme News are sure to make an interesting read not only for our HSRC members but anyone who would like to learn more about the people of HSRC.
I thank you all for your contributions to this Newsletter, and Sarah Starkey (Research Support Assistant) for her fantastic help in editing it.
Please click here and enjoy: January 2016 edition
You can find our newsletters on: http://www.salford.ac.uk/research/health-sciences
Regards,
Sibylle Thies (Editor)
Leave a comment
---