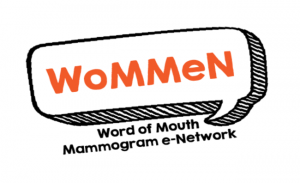 The project team that created the Word of Mouth Mammogram e-Network (WoMMeN) hub has just been given the Society of Radiographers UK Radiography Team of the Year award for their work.
WoMMeN, which is supported by the University, is a user-designed information and social media support hub for breast screening. The core team of 14 comprises multi-disciplinary academics from radiography, midwifery, nursing, psychology and business, as well as clinical practitioners from radiography, PhD students and patients.
The research group is led by Dr Leslie Robinson, senior lecturer in Diagnostic Radiography. Over the course of five years the team has seen a number of successes. These include creating the WoMMeN hub, initiating a private Facebook user research group, releasing a series of publications and attracting a significant international following to their social media accounts.
"The WoMMeN team is diverse and their enthusiasm and energy for the project is boundless. I have thoroughly enjoyed leading this amazing group of people who have also bonded as friends as well as colleagues," says Dr Leslie Robinson about the team.
On the back of their award, the WoMMeN team is organising an evening research seminar at 6-8pm on Thursday 27 October 2016. The team will be accounting their story, specifically around the role social media played in their research.
The session will take place in room MS3.02 of the Mary Seacole building and tickets are available here.
You can visit the WoMMeN website here. And follow them on Twitter.
For more information on WoMMeN please contact Dr Leslie Robinson at l.robinson@salford.ac.uk or call 52333.
Leave a comment
---