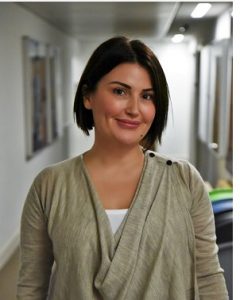 Dr Yeliz Prior, the Deputy Director of the Postgraduate Research Studies at the School of Health Sciences was presented with the Royal College of Occupational Therapy (RCOT) Merit award this autumn, which is given to occupational therapists, recognised by their peers for excellence in their sphere of work, and are making an aspirational contribution to the occupational therapy profession.
Yeliz is an excellent ambassador of occupational therapy (OT), having represented the profession on national and international platforms through her roles in the British Health Professionals in Rheumatology (BHPR) Council as the Education Officer, European League Against Rheumatism (EULAR) Scientific Committee and the Greater Manchester Allied Health Professionals in Research Network (GMAHPRN) in the North West of England.
She has also served as a Research and Development Officer at the COT Specialist Section for Rheumatology previously. Yeliz has produced a number of peer-reviewed research articles in the field of rheumatology rehabilitation, delivered invited talks at prestigious international conferences and policy meetings in the UK, and published a book chapter on work rehabilitation in the 7th edition of the 'Occupational Therapy for people Experiencing Illness, Injury or Impairment.
Yeliz is currently supervising a number of PhD students, and actively promotes rheumatology as a specialism to the OT students both at the undergraduate and postgraduate level. In addition to her full-time academic and research career, she also works as an Advanced Clinical Special OT in rheumatology (0.2fte) at the Mid Cheshire NHS Trust.  Here she bridges research with clinical practice, and leads evidence-based practice to promote self-management of rheumatic conditions, and the use of evidence-based interventions.
Julia Scott, the CEO of the RCOT said: "Some of our award winners are recognised for doing an exceptional job; it sounds so simple put like that, but do we all deliver excellence every day? Probably not, but those four people in the room who have received Merit awards, have been recognised by their peers for doing just this.
More information about the RCOT Merit Awards are available on: https://www.rcot.co.uk/news-and-events/awards-and-funding/merit-and-fellowship-awards
---
Tags:
Advanced Clinical Special OT
,
British Health
,
EULAR
,
Merit Awards
,
PhD students
,
Postgraduate Research Studies
,
RCOT
,
research career
,
rheumatology rehabilitation
,
Royal College of Occupational Therapists
,
salford
Posted in
HS
---
Leave a comment
---