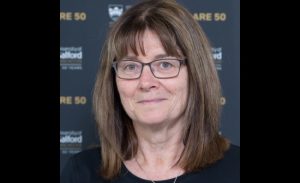 Professor Helen Marshall
Dear Colleagues,
I am delighted to announce our new Professors and Readers for 2017. All have proved their sustained and recognised leadership and I warmly congratulate each one of them for achieving these well-deserved promotions. I am particularly pleased to see eight of the candidates are women, which ties in with our Athena SWAN objectives to promote gender equality in the career paths of our academics.
Personal professorships have been awarded to Dr Anya Ahmed, Dr Jia Liu, Dr Sue McAndrew, Dr Niroshini Nirmalan, Dr Federica Sotgia, Dr Andy Willis and Dr Mike Wood. You can read their biographies here.
Dr Clare Allely, Dr Paul Comfort, Dr Robert Jehle, Dr David Kreps, Dr James Mulkeen, Dr David Pye, Dr Leslie Robinson, Dr Mo Saraee, Dr Mark Wilding and Dr Heather Yates have been made Readers. You can read their biographies here.
Yours sincerely
Professor Helen Marshall
Vice-Chancellor
Leave a comment
---