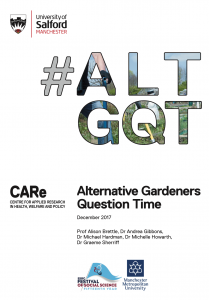 There is a growing recognition that Green Care can positively influence health and well-being at an individual and community level. However, this knowledge has had limited reach to those who it may impact most in the community. The promotion of health and well-being through alternative approaches such as Green Care presents realistic, alternative methods. Our 'Alternative Gardeners Question Time', part of the 2017 ESRC Festival of Social Science, was designed to facilitate debate with local communities, charities, public health and environmental organisations about what constitutes significant health and well-being outcomes for the community and individual. This debate helped identify pertinent well-being outcomes that Green Care could provide for residents within Salford & Manchester.
Nature Based Activity in Salford
A diverse range of nature based activities and green care are located within Salford and surrounding geographical areas. The extent of this activity is currently unknown, the University of Salford is working with local organisations, and the RHS to map existing provision to enable a comprehensive picture of nature based work. Mapping existing provision will help to determine a more coordinated approach and enable CCGs, local authorities and public health to understand the extent of support and asset-based community nature-based approaches. This will help to develop a community referral process and support decision-making processes for those health and social care professionals who work in the NHS and community sector.
Event Structure
The Alternative Gardeners Question Time was structured in three parts:  sharing the science base about Green Care, discussing Green Care and key questions and, finally, developing questions for an expert panel for wider discussion.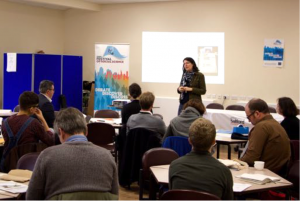 Further Information
The full report can be found here:  ALTGQT Report
Leave a comment
---